Two undefeated run-heavy offenses are set to collide in Sheffield on Friday night. The Newman Catholic Knights and the West Fork Warhawks will play in the Globe Gazette's game of the week.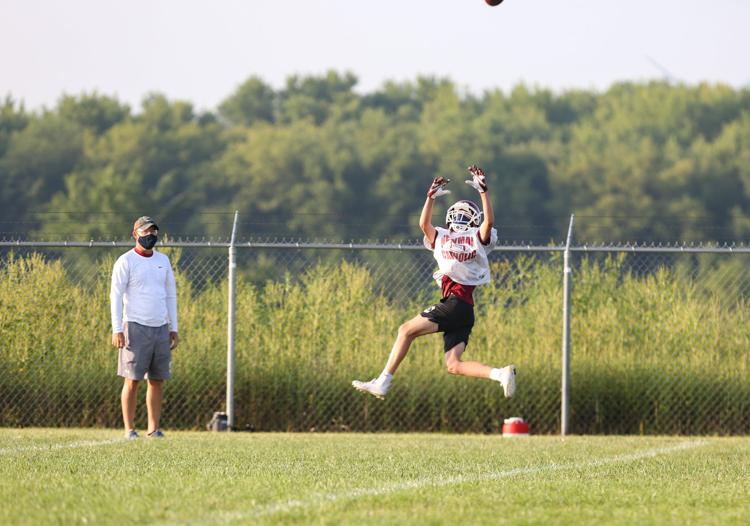 West Fork
There's been some uncertainty surrounding high school football this fall. Last week, Mason City, Osage and Charles City had to cancel games due to COVID-19 concerns. West Fork hasn't been affected by the virus within the program, but missed its first game of the year when Belmond-Klemme was forced to cancel due to COVID-19.
After missing Week 1, the Warhawks bounced back with an 18-7 win over Hampton-Dumont-CAL (HDC) in Week 2. Stifling defense combined with a run-heavy offense helped propel the Warhawks to the victory.
West Fork scored six points in each of the first three quarters. Although senior Kayden Ames completed six passes and had two touchdowns, it seemed he was more effective with his legs. The quarterback rushed for 151 yards and a touchdown on 24 attempts. Ames will be a dual-threat that the Knights will have to prepare for.
His top targets are three seniors in Ren Heimer, Kellen Cameron and Joe Ingham, who caught five of his six completions. Heimer and Cameron each had a touchdown catch.
Defensively, the Warhawks are led by sophomore Josiah Chibambo, who had 7.5 tackles and half of a tackle-for-loss. West Fork only gave up one touchdown in the game against HDC, but will have a tall task ahead in facing the Knights, who averaged 31.5 points between the first two games.
West Fork finished 5-4 a season ago and seem poised to make a stronger push with veteran players this season. Between a strong veteran group of skill position players on offense and a tough defense, the Warhawks should make a deeper push in the playoffs in 2020. But first, they have to get through Newman Catholic.
Newman Catholic
The Knights' offense is definitely a strong point. Newman Catholic scored 35 points in the win against North Union, and beat Bishop Garrigan, 28-20, last Friday. The wing-T offense is led by a three-headed monster in the backfield.
With 44 carries for 175 yards and three touchdowns, senior Cade Schilling is the feature-back. Junior Jack Maznio has rushed 24 times for 133 yards and junior James Jennings has 14 carries for 111 yards and two touchdowns. The three runners will be a challenge to game-plan for.
Leading the Knights under center is sophomore Max Burt, who is 12-for-22 for 185 yards, three touchdowns and an interception between the first two games.
Defensively, the Knights have given up an average of 23 points between the first two games. Burt also leads the defense and has 18 total tackles so far this year. Burt will look to rally the defense to step up and stop West Fork's veteran offense.
Newman Catholic finished with a 2-7 record in 2019, but played many young players and had injuries. In the first two wins of the 2020 season, the games have remained close, but the Knights have pulled it out.
"Now that they're a year older, they have the experience," head coach Rich McCardle said before the season started. "Going back to their baseball season, they learned how to win I think."
Prediction: West Fork 19, Newman Catholic 13 – OT
Be the first to know
Get local news delivered to your inbox!