Estus MMA is a gym hidden on a small back-road in Mason City, behind a nondescript house about two blocks from Pete's Kitchen.
Only a sign on a small building alerts visitors to the fact that this place is an important regional hub for the state's mixed martial arts scene.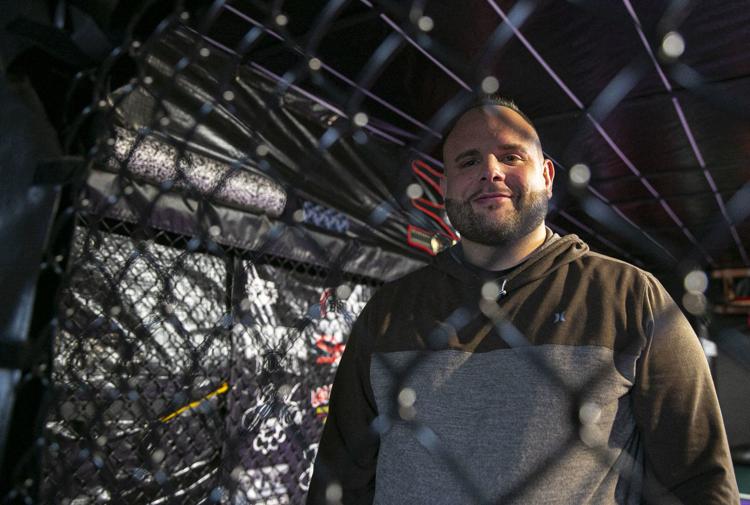 That, and the several gold fighting belts than hang above the fighting cage that visitors can see when they walk inside.
Mike Estus is a former professional MMA fighter who now owns and operates Estus MMA, a place where young fighters can come to train in many different martial arts disciplines, such as jiu-jitsu, muay-thai and kick-boxing. He was born in Stockton, California, and moved to Iowa with his mother at the age of 6 when his parents divorced, which proved to be tough on him. 
As he got older, Estus says that he would go to bars, just hoping to get into a fistfight.
"I always used to be angry," Estus said. "I had a hard time coping with people. Now it's totally different. I talk to thousands of people monthly. It's easy to interview. I love it. Back then, I'd be a totally different person."
The bar fights eventually turned into something better. People noticed his fighting prowess and suggested that he try organized fighting. He started training at a gym in Clear Lake called Cutting Edge Fitness with owner Randy Milhan, where fighters would come in after hours to practice mixed martial arts.
"I felt like the only way someone would respect you would be if you beat them up or if you were tough, people would respect you or like you more," Estus said. "I got into it for all the wrong reasons."
He remembers those first few months of fighting as a humbling experience. 
"I was going to different gyms and getting my butt kicked bad," Estus said. "Getting choked out constantly by the same choke, the same arm-bar and the same ankle lock. Then you're like, 'What just happened?' I thought I was good.'"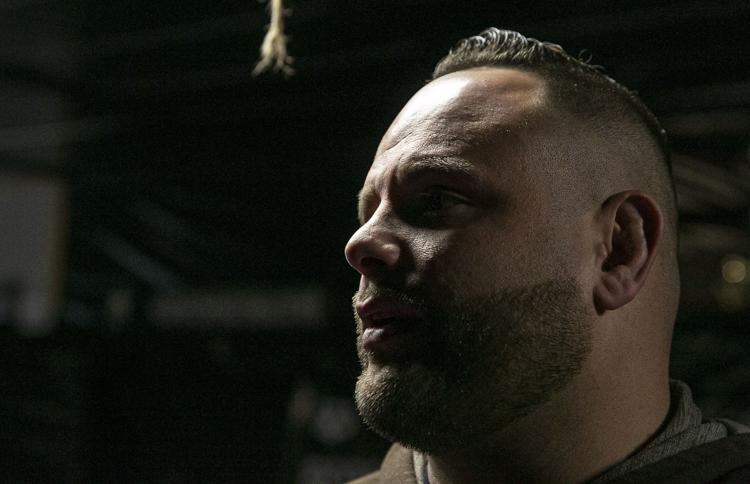 Estus lost his first three fights. The one that sticks in his mind as especially humbling came at the age of 26, when he fought and lost to an 18-year old wrestler.
"He came at me hard for a shot," Estus said. "He picked me up and slammed me repeatedly. I fought the same guy three months later and lost by the same way, decision. But they both ended up being fight of the night."
The losses stuck with him. Up-and-coming fighters oftentimes are responsible for selling their own tickets to their fights. When you sell tickets to friends and family and lose, it stings. 
"When I got my butt kicked in front of my people, in my first couple of fights, I sold like 50 or 60 tickets," Estus said. "All those people saw me lose, and it was embarrassing."
Estus eventually won his first fight when he knocked out his opponent with a head-kick. The win gave him a boost, and after winning a few more fights, Estus got a jolt of confidence. He asked his manager, Chad Bergmeier, how he could go pro.
"He told me, if you beat this guy, Nate Mackey, who was undefeated at the time, then you can go pro," Estus said. "I had some fall-backs going through fight camp, but it ended up being the fight of my life. I won by a split decision and beat a legit opponent."
You have free articles remaining.
After that, Estus' fighting career took off. He did go pro, fought at Bellator MMA events on Spike TV, and won five separate Iowa Challenge events. He also began to train with Des Moines-based  MMA fighter Josh Neer, who introduced him to well-known fighters Nick and Nate Diaz. 
"It was crazy," Estus said. "At first, I just wanted to have a winning record, and then I wanted to win a belt. I wanted to fight in the big show."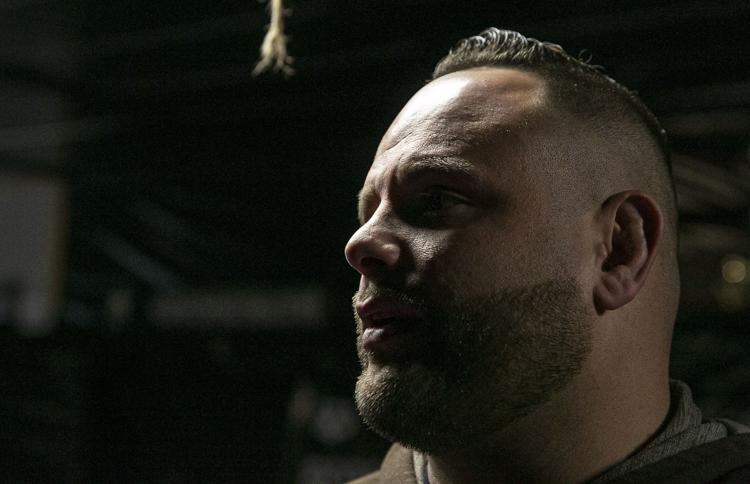 During his time training with Neer and the Diaz brothers, Estus eventually came up with the plan to open his own gym, and worked with Bergmeier to promote fights in the Iowa area.
In 2016, Bergmeier took a step back from the job and Estus took over the promoting. He now puts on his own events, including one this Saturday at North Iowa Events Center. 
He is semi-retired from fighting, and focuses on the business side of the sport such as training and promoting the young fighters that come through his door. 
But he has not closed the door on making a comeback. 
"I'm probably strictly promoting," Estus said. "Some guys want to see me come back and fight. It's just so much, you've got to focus so hard on one or the other."
His last fight was about three years ago at a Bellator event in St. Louis, and he now seems intent on just getting his own fighters to the big show. 
"I'm fully concentrating on my gym and promoting, getting the guys here locally to fight, bringing fighters in, recruiting, and stuff like that," Estus said. "I still train, but I just eat what I want."
On Wednesday, several fighters were training for this weekend's bouts as Estus watched.
"The atmosphere here is great," Austin Robinson said. "Even newcomers feel welcome, right along with our experts."
In addition to putting on his own events, Estus is engaged to his fiancee, Cathy, and hopes he can soon quit his day job, and work exclusively as an MMA promoter.
"I'm trying to get my guys to go further than me," Estus said. "I have no problem with that. I think it'd be the best thing in the world if these guys went to the big show."
Tickets to Saturday's event can be purchased in advance or at the door. Prices are $25 for bleacher seats, $40 for a table seat or $50 for a VIP seat. Prices increase by $5 if purchased at the door. Doors open at 6 p.m. 
Nate Diaz is expected be in attendance on Saturday to support main event fighter Jose Aguayo, who fights for the Nick Diaz Academy.
"My phone has been blowing up and people are thinking that we're going to have record attendance in Iowa history," Estus said. "It might be double the people as last time. That was pretty crazy."