Sometimes in basketball, it isn't the biggest guy on the court that gets to be the hero. 
On Tuesday night in Clear Lake, the Lions pulled off a big upset, beating No. 3-ranked Algona, 53-51, in front of a packed and rowdy crowd. At the end of the tense fourth quarter, the game went back and forth with both teams taking a lead only to see it wiped away.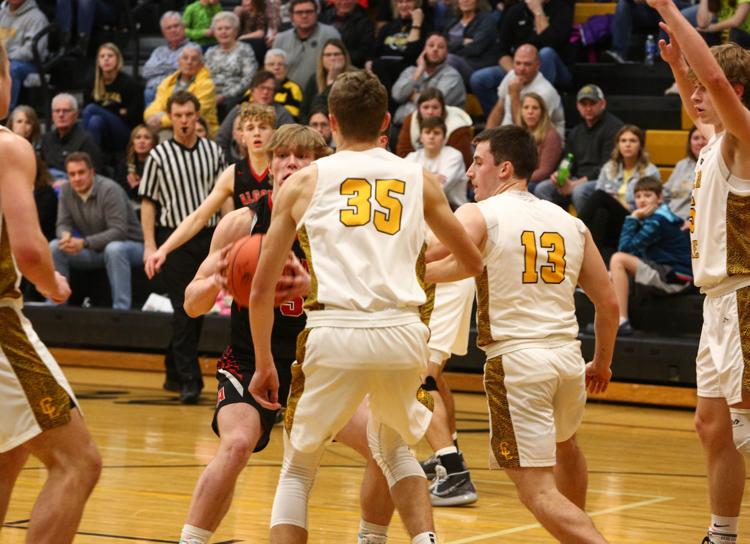 With only six seconds to go, 5-foot-9 senior Nick Danielson, who had scored only three points all year, came up big. As the seconds ticked down, Danielson received the pass and immediately unleashed a shot in front of the Lions' student section. 
The crowd went silent as the ball arced toward the basket, and erupted as it swished through the net. A timeout was called and Danielson's teammates swarmed him as the student section continued to cheer.
"It was huge," sophomore Carson Toebe said. "I knew it was going in right when it left his hand."
On the next play, senior Kody Kearns snagged a turnover on the Algona inbound pass and drew a foul to seal the game. 
"It was well-deserved," head coach Jeremey Ainley said of Danielson. "He puts in a lot of work, he's one of our captains, and it's paying off. He's got a lot of faith, and good things happen to good people."
It has been well-documented that Danielson has been through a lot in the past year. Last February, his father passed away after battling cancer. Since that time, the Clear Lake senior has kept the memory of his father close, and inspired his Clear Lake coaches and teammates with some big moments. 
Danielson was the second-leading receiver on the football team in 2019, and after missing three weeks with a stress fracture, came back in the postseason opener to catch a 75-yard touchdown pass, a moment he described as "surreal."
After Tuesday's game-winning shot, Danielson admitted that he still thinks of his father after those big moments.
"As soon as I made that shot, that was the first thing in my head," Danielson said. "That's him right there. He's with me, and I really felt his spirit there."
Going into a game against the third-ranked Algona, Clear Lake was expecting a battle. Against players like Wyatt Wegener and Collin Bleich, both averaging more than 15 points per game for Algona, Clear Lake had its work cut out for it.
"We knew it'd be a dogfight," Danielson said. "It is every year against Algona, whether they're ranked third or ranked 30th. They're a good team."
Following the crucial North Central Conference win, the team could be heard cheering from inside the school wrestling room. After they filed out, Danielson was congratulated by many different people, and was brought back to the bleachers to be interviewed on the radio. Beloved by his coaches and teammates, Danielson seems to come through in big moments.
"Nick has gone through a lot," Toebe said. "He is a great leader on this team, and we're lucky to have him. That was a huge shot."
Early on in the ballgame, the tilt seemed to be going in Algona's favor. At halftime, the Bulldogs held a 31-20 lead. In the second half, everything changed. The Lions outscored Algona after the break, 33-20.  Toebe knocked down several key baskets en-route to a team-high 22 points, Kearns showed off his skills with an impressive dunk and a key turnover, and the Lions got their biggest win of the season.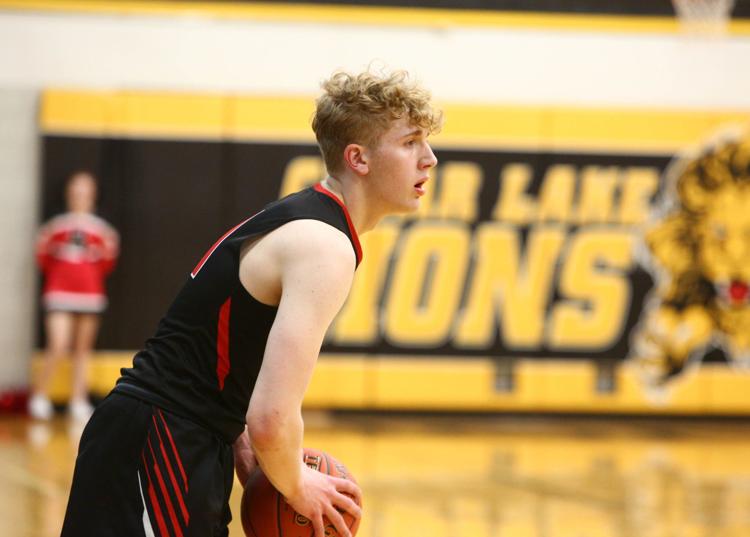 "They knew they weren't playing hard, knew they weren't getting it as hard as they could," Ainley said. "They started getting after it a little more that second half … I was very happy with our fight."
With the win, Clear Lake improved to 8-2 on the season and took the lead in the North Central Conference, while the Bulldogs fell to 8-1. The Lions will play again on Thursday at Waverly-Shell Rock, and Algona will play at Spencer. 
Be the first to know
Get local news delivered to your inbox!