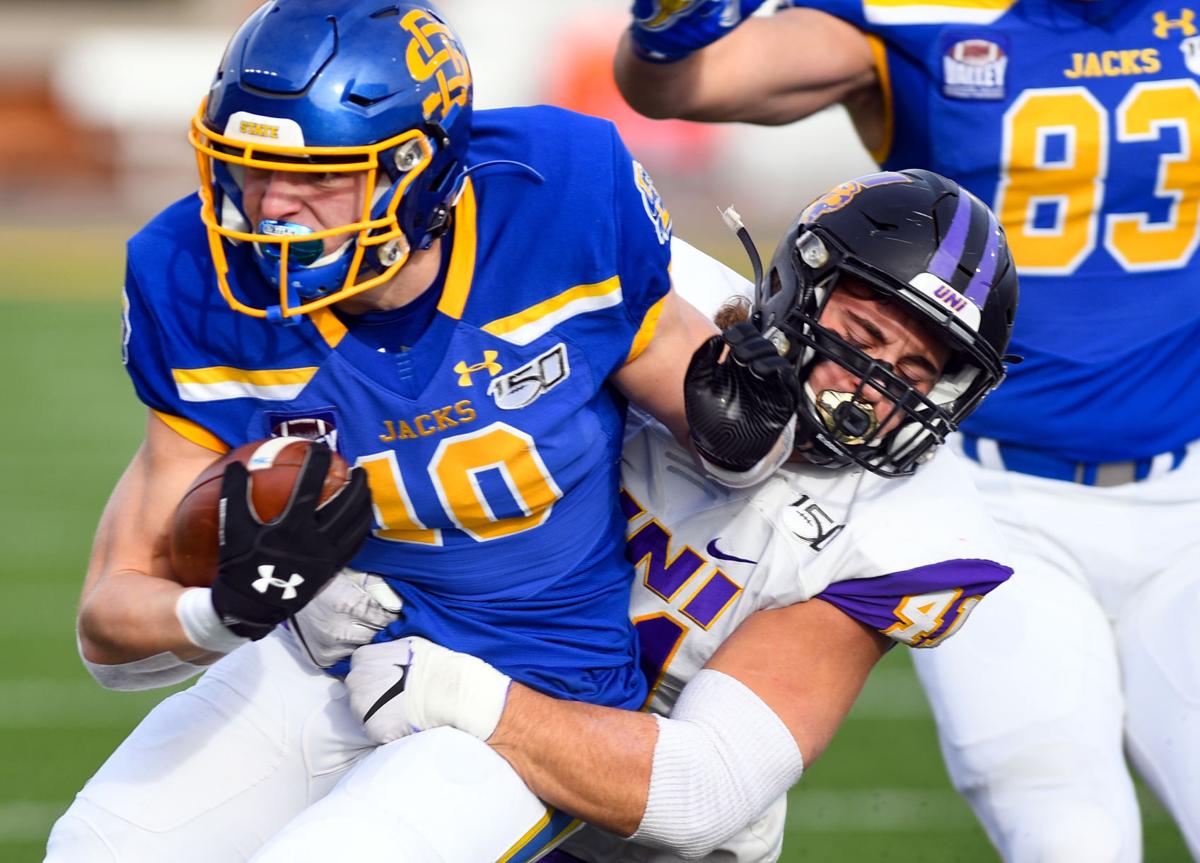 CEDAR FALLS – Adapt, adjust and move on to the next play.
It is a phrase that has been popular this week, whether it was Northern Iowa head coach Mark Farley or  head coach John Stiegelmeier.
There is going to be a college football game played inside the UNI-Dome for the first time since Nov 30, 2019, and it is a marquee meeting. Both Farley's Panthers and Stiegelmeier's Jacks have been ranked in most FCS Top 25 preseason polls, and the two teams were separated by one point in the Missouri Valley Football Conference preseason poll in second and third, UNI (92) and SDUS (91), respectively.
As much as the two programs have met each other — five times since 2017 — there is a lot unknown heading into Friday's 7 p.m. kickoff.
Familiarity helps, but neither team having played in the last 14 months and personnel losses throw a wrench into the picture.
"I think that is the standard for this first game for both of us," Farley said. "We played each other how many times in the last few years. The staffs are basically the same or very similar.
"But there is no question there are going to be things you will have to adjust to throughout the game based off personnel, guys each team has lost and how they are going to start the season.
"Adapt, I think there is at least the ability to understand what has happened in the past as far as knowledge of each other and we are both similar in that way."
UNI running back Tyler Hoosman agrees there is familiarity and unfamiliarity on both sides of the ball, and there will be an adjustment on the field just in terms of playing a game at full speed.
"Our bodies are in for a rude awakening," Hoosman said. "None of us are used being tackled right now and experiencing those full blows. I'm sure after a while we will get adjusted to it. I know it helped a lot to see other teams play in the fall and how they adjusted.
"We're excited. We are ready to get back to it, compete."
There are names that are familiar.
On the UNI offense there are guys like Hoosman, quarterback Will McElvain and wide receiver Isaiah Weston, and the kind of explosive plays those three can produce to have an impact in a game.
South Dakota State has those type of players, too.
Junior running back Pierre Strong Jr. has produced back-to-back 1,000 yard seasons for the Jacks. And then there is quarterback JBore Gibbs; the 6-foot-3, 230-pound sophomore has never faced UNI.
Gibbs played in six games in 2019 and was 5-1 with the only loss to Minnesota before suffering a season-ending injury. He did not play in either game against the Panthers.
"He is an exceptional player," Farley said. "He has the ability … big and strong with great arm strength. He has all the things that make it difficult because you have a quarterback with running capability, yet you have a good passer as well and then the size to go with it. He has all the tools to be very dangerous no matter how you play him."
Gibbs completed 73 of 124 passes for 1,058 yards and 10 scores and rushed for four more in his six starts.
SDSU must replace its top two receivers – all-world Cade Johnson (72 catches for 1,222 yards and eight scores) and Adam Anderson. Jaxson Janke is the Jacks' top returning pass catcher (29-353-4).
Defensively, SDSU returns three first-team MVFC preseason picks in defensive end Reece Winkelman, linebacker Logan Backhaus and cornerback Don Gardner.
In the end, Farley says whoever can take advantage of opportunities presented and adjust to the ebb and flow and momentum changes will win the game.
"That is a challenge we are going to have to overcome, because you can only do so much in practice," Farley said. "We have had enough practice. The speed of the game will be different once you hit the field, and you will have to quickly adapt to that."