Male athletes are leading the way six months after the NCAA cleared the way for college athletes to earn money on their celebrity.
They lead in total name, image and likeness compensation and have more NIL deals than women, according to third-party data from July 1 through Dec. 31 for some 125,000 athletes — about a quarter of the nearly 500,000 in the NCAA's three divisions.
NIL opportunities are clearly uneven, among genders and Power Five schools.
The Washington State women's volleyball team, for example, has zero deals. Several of its international players are not eligible for them but coach Jen Greeny, whose teams have gone to the NCAA Tournament six straight seasons, said women's teams just don't seem to be a priority.
"I am not aware of anyone that has approached any of our players, and we are (the) most successful sport at Washington State," Greeny said. "So, it is a little bit disheartening."
Men's sports make more money — often enough to help fund other sports — and have a much larger presence on TV and in media, so it's natural that businesses look to those athletes for the best return on investment, sports management experts say.
There is no public clearinghouse that tracks NIL compensation and activity, so the true size of the fledgling industry is somewhat unknown. NIL tech platform INFLCR declined to give an exact figure, but said athletes using its system have reported deals totaling "eight figures."
Most schools have balked at releasing details provided by their athletes, citing privacy concerns, though Ohio State said this week that 220 athletes had been paid a total of $2.98 million for 608 reported NIL activities since July 1.
INFLCR and Opendorse — another company that got into the industry early — have released some gender- and sport-specific details. The companies say they don't track deals by race or ethnicity.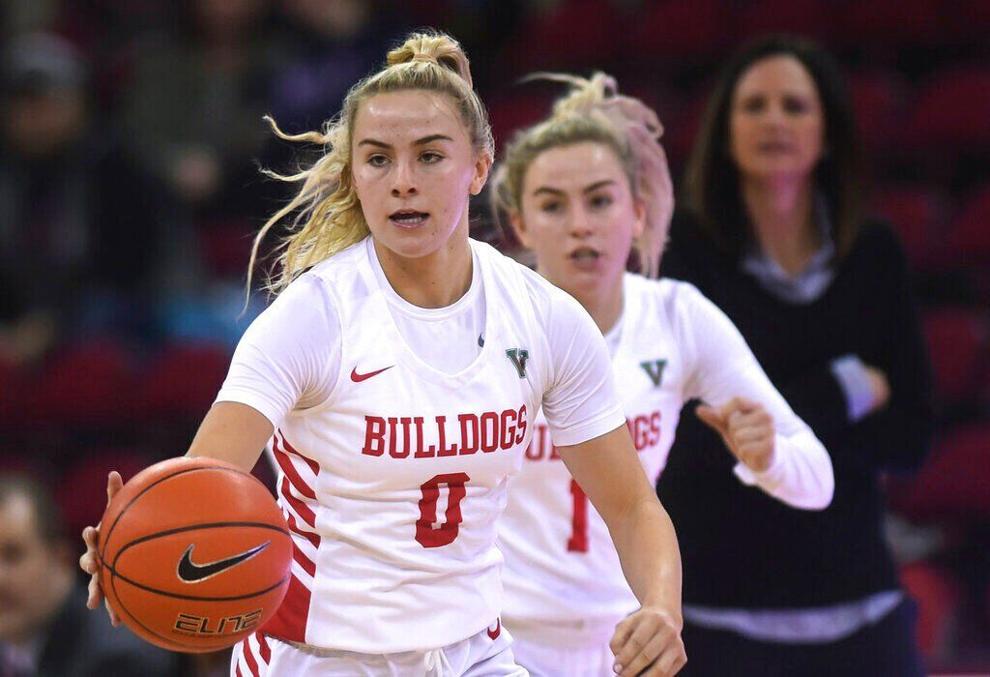 Male athletes in Division I reported more NIL deals than female athletes — 59% of the total, according to data from July 1 through Dec. 31 from INFLCR. Its data is based on transactions that have been reported by athletes in the INFLCR system — more than 70,000 across 200-plus schools.
Opendorse, meanwhile, found that Division I male athletes grabbed 67.4% of total NIL compensation compared with 32.6% of women through Dec. 31, citing data for some 55,000 athletes across more than 575 schools.
The NIL era allows athletes to tap the free market under broad rules in place from the NCAA, states and schools. Title IX, the federal law that requires athletic departments to provide general equivalence for men and women, does not apply because schools are not striking the deals.
"It's going to be up to whoever decides to pay the kid, sponsor the kid, endorse the kid, whatever it might be, that's their decision," said Matthew Robinson, a professor of sport management at Delaware.
That has so far favored male athletes, though INFLCR CEO Jim Cavale said "if you remove football from the equation, transactions or activities disclosed by female student-athletes make up more than 50% of the total for all other sports."
Five women's sports rank in the top 10 for NIL activities, based on INFLCR and Opendorse data: track and field, volleyball, basketball, soccer and softball.
Opendorse said six women's sports are also in the top 10 for NIL compensation, led by women's basketball (26.2%), which is behind only football (45.7%) and ahead of men's basketball (18%). Those three sports make up about 90% of total NIL compensation.
The vast majority of NIL deals are modest: Average compensation across all three divisions, per INFLCR, was $1,291 overall through Dec. 31, with a median compensation of just $51. Opendorse said the average compensation for a Division I athlete was $1,036 at the end of 2021.
Overall compensation figures are skewed by some reportedly massive deals for a small group of star athletes like UConn basketball player Paige Bueckers ( Gatorade, StockX), Fresno State basketball's Cavinder twins, Haley and Hanna (Boost Mobile, Baseline Team clothing company ), LSU gymnast Olivia Dunne (Vuori, American Eagle), UCLA soccer's Reilyn Turner ( Nike ), Kentucky basketball's TyTy Washington ( Porsche dealership ) and Alabama quarterback Bryce Young (Cash App, trading cards).
"You're going to have people making millions, and they're going to be the minority," Robinson said. "I think it's gonna be a lot of people making hundreds and thousands."
Florida's Trinity Thomas, the 2020 SEC gymnast of the year and a former member of the U.S. national team, has done several NIL deals has more in the pipeline. Most of them have been social media posts — and the number of followers matters.
"I've always been active on social media, but not as much as I am now," Thomas said. "I'm definitely trying to build a following now. I figure if I have the opportunity, it's something I should take and work on. It's been fun, stressful and a learning curve."
Black female athletes like Thomas earning lucrative NIL deals are believed to be more the exception than the rule so far, sports marketing experts say.
Thilo Kunkel, an associate professor and director of the Sport Industry Research Center at Temple, said "white women have a more affluent target market or followers than some who come from a diverse background" and "some brands don't see as much value" in a woman of color's target market.
Plus, getting sponsors' attention as a female athlete isn't quite as simple as an eye-grabbing Instagram post or a run of NCAA tournaments. It helps to be at a big-time Power Five conference school, Kunkel said, because the "large brand community — those alumni, those followers — get much stronger."
Of course, even if you are in a Power Five conference like Washington State, there is no guarantee the money will come your way as a female athlete. The Cougars "don't have the donor base that a lot of other schools in the Pac-12 or in the Power Five do," Greeny said.
"(I'm concerned) that us as a female sport are going to lose out on donor money in general for the things we actually need, and those donors are going to be called upon for NIL deals," she said. "So instead of us as a whole department reaping the benefits of these donors, it's going to go to a few male athletes. And we just don't have that many donors to go around."
Big Board: The top 50 prospects in the 2022 NFL Draft
1. Kyle Hamilton, S, Notre Dame, Jr.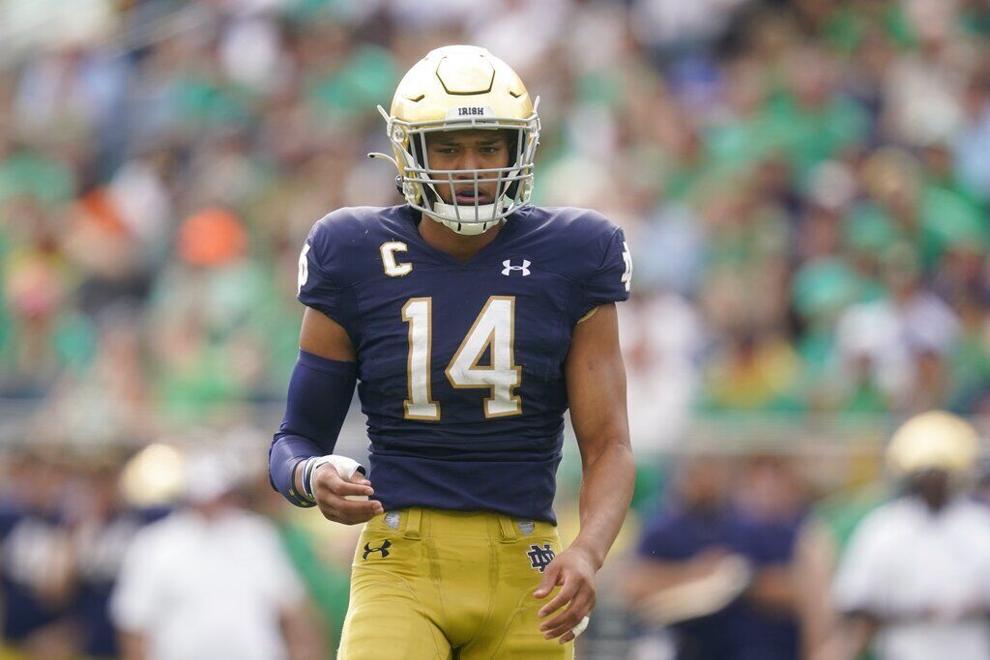 2. Kayvon Thibodeaux, Edge, Oregon, Jr.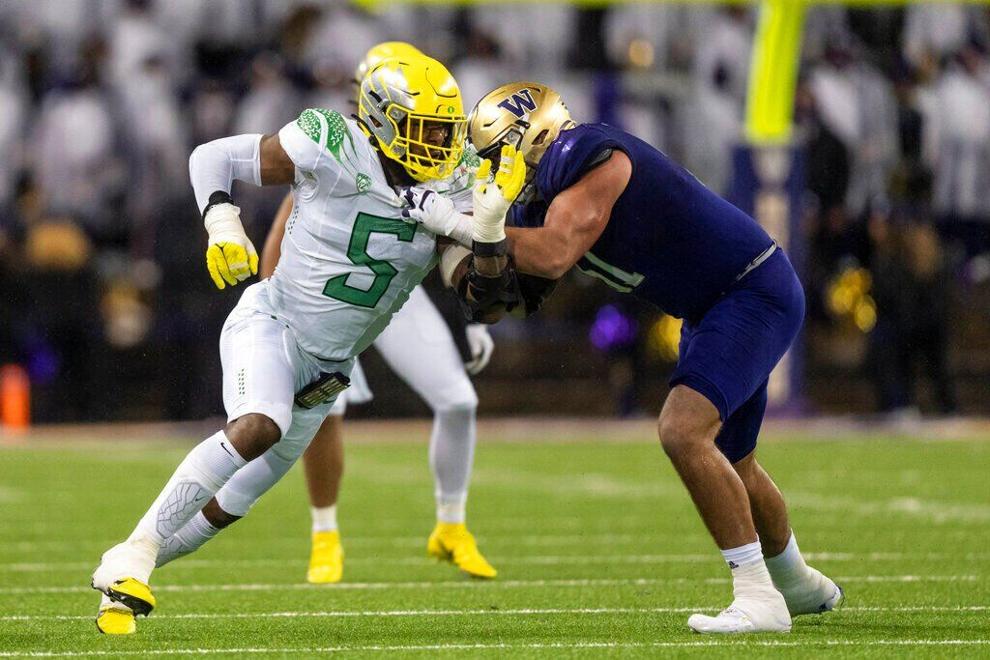 3. Aidan Hutchinson, Edge, Michigan, Sr.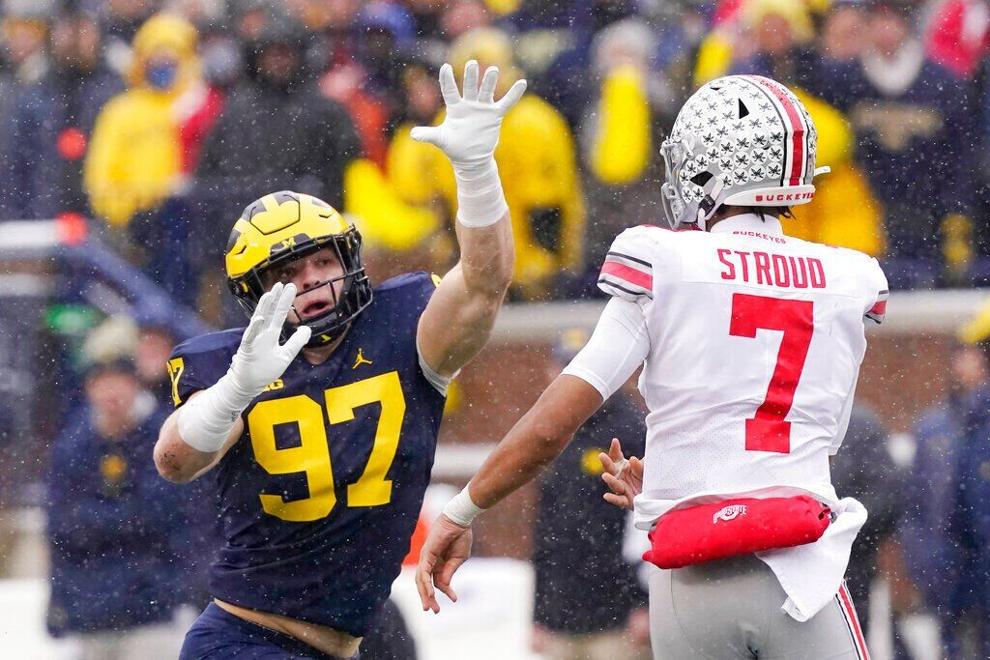 4. Derek Stingley Jr., CB, LSU, Jr.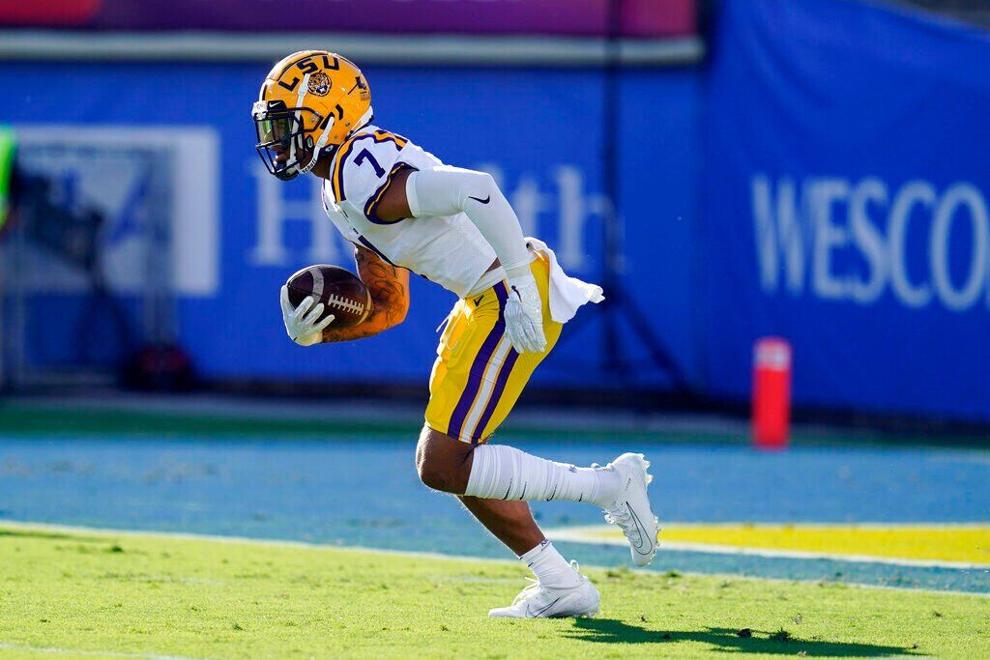 5. George Karlaftis, Edge, Purdue, Jr.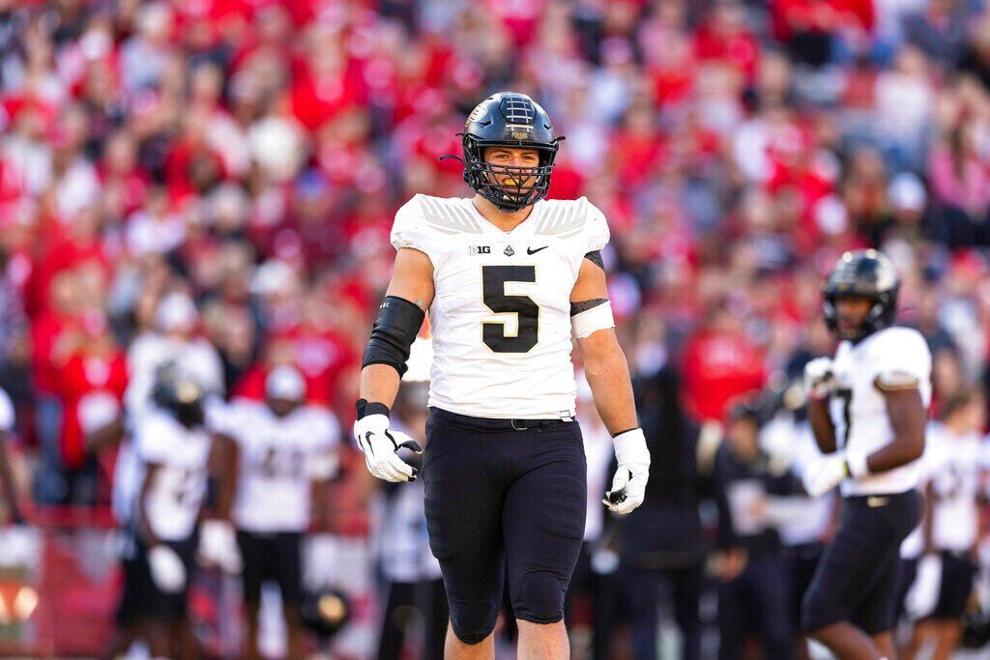 6. Evan Neal, OT, Alabama, Jr.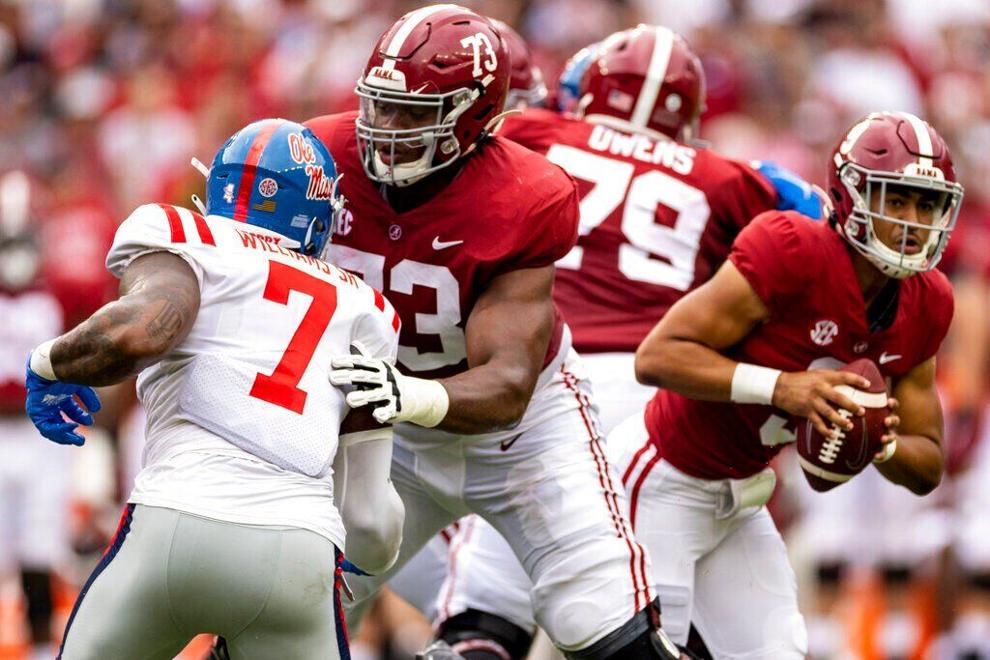 7. Devin Lloyd, LB, Utah, Sr.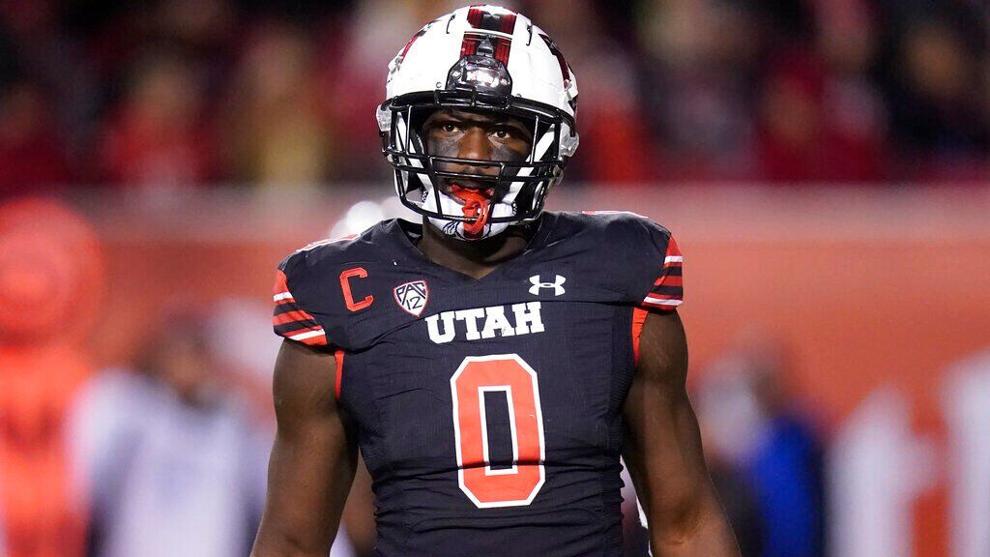 8. Ikem Ekwonu, OL, NC State, So.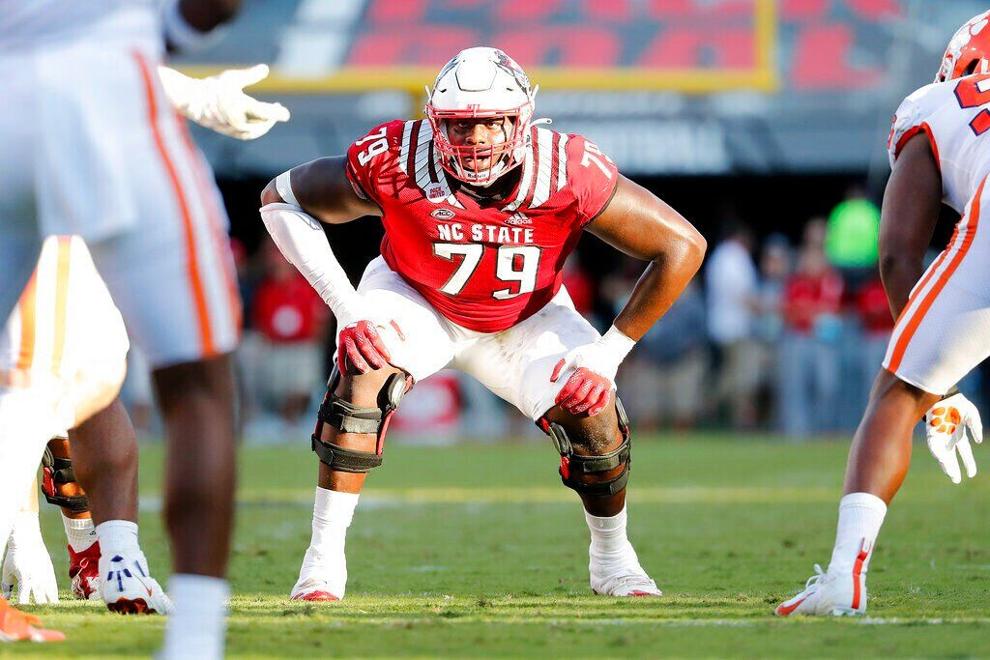 9. Tyler Linderbaum, C, Iowa, Jr.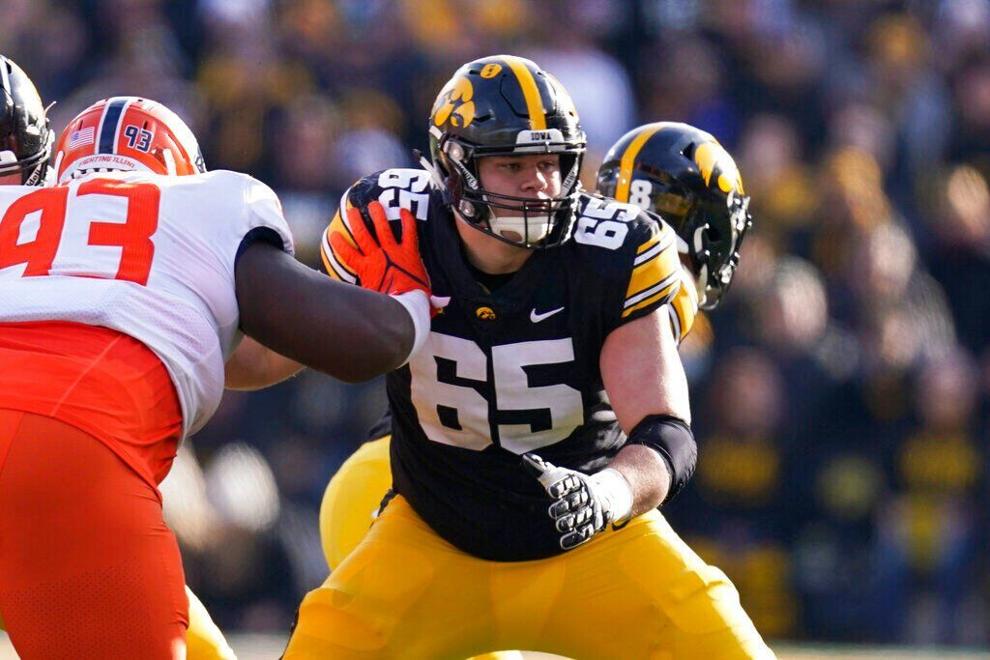 10. Ahmad Gardner, CB, Cincinnati, Jr.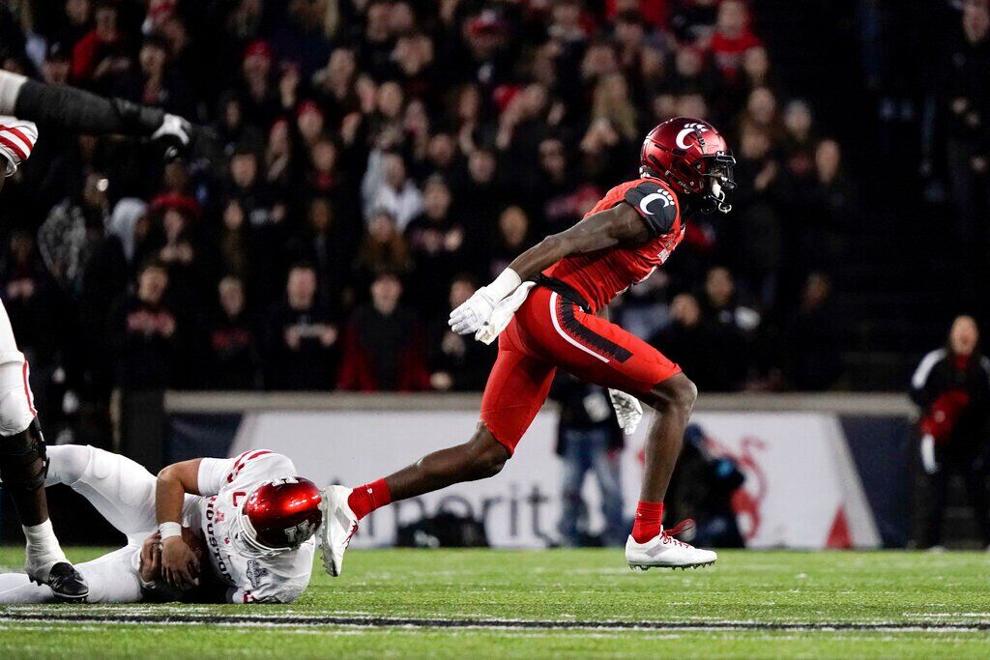 11. Drake London, WR, USC, Jr.
London led the nation in contested catches with 19 and he only played eight games after his season ended with a broken ankle. His size, athleticism, route-running and flair for the spectacular catch will make him a problem for defensive coordinators in the NFL.
12. David Ojabo, Edge, Michigan, Jr.
After playing only 26 snaps for the Wolverines before his junior year, Ojabo has been a revelation this season with 11 sacks and five forced fumbles.
13. Jameson Williams, WR, Alabama, Jr.
Williams is a home run hitter with game-breaking speed. He's also a weapon on special teams, as a returner — he returned two kicks for touchdowns in 2021 — and in coverage. The dynamic receiver injured his left knee against Georgia and will have an MRI to determine the severity.
14. Charles Cross, OT, Mississippi St., So.
Cross is a powerful blocker who can do damage at the second level in the run game with premium athleticism and his target-lock awareness. He developed into a dominant pass protector this season and could end up cracking the top-10 in April.
15. Kaiir Elam, CB, Florida, Jr.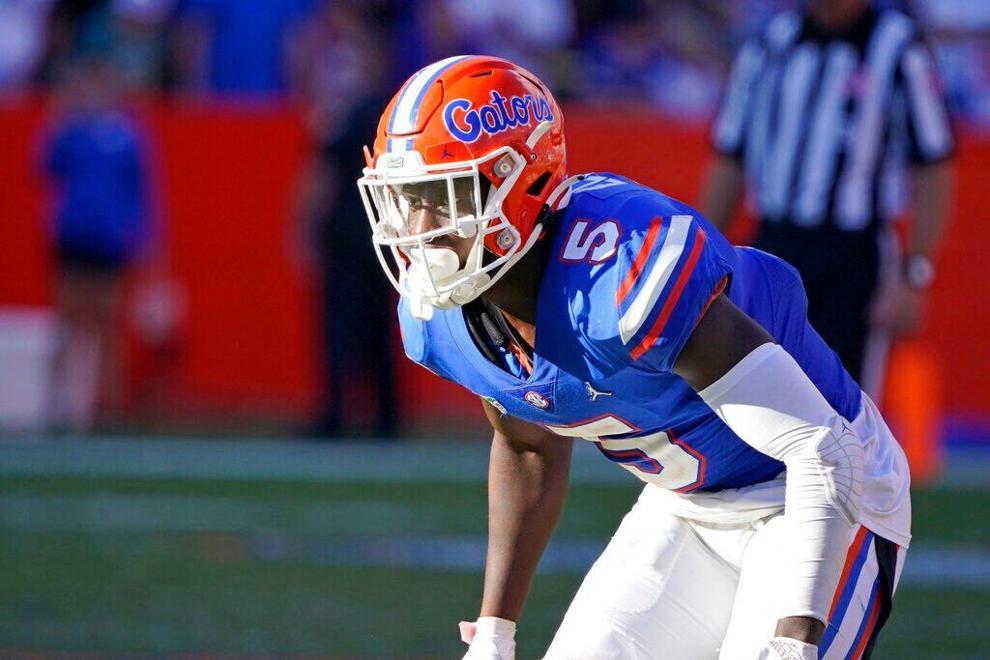 16. Matt Corral, QB, Ole Miss, Jr.
Corral is slightly undersized, but he's an NFL-caliber playmaker with genuine arm talent. His X-rays were negative after he injured his ankle in a loss to Baylor in the Sugar Bowl.
17. Jordan Davis, DL, Georgia, Sr.
At 6-foot-6, 340 pounds, the Outland and Bednarik trophy winner is an immovable object who could anchor a run defense for years to come.
18. Chris Olave, WR, Ohio St., Sr.
It's rare you find a route technician with reliable hands who can also run this fast. Olave might have snuck into the first round had he left school last year and it wouldn't surprise me if he cracks the top-20 in April.
19. Nik Bonitto, Edge, Oklahoma, Jr.
Bonitto is slightly undersized for an edge defender, but he's a dynamic pass rusher and relentless in his pursuit of running backs.
20. Jahan Dotson, WR, Penn St., Sr.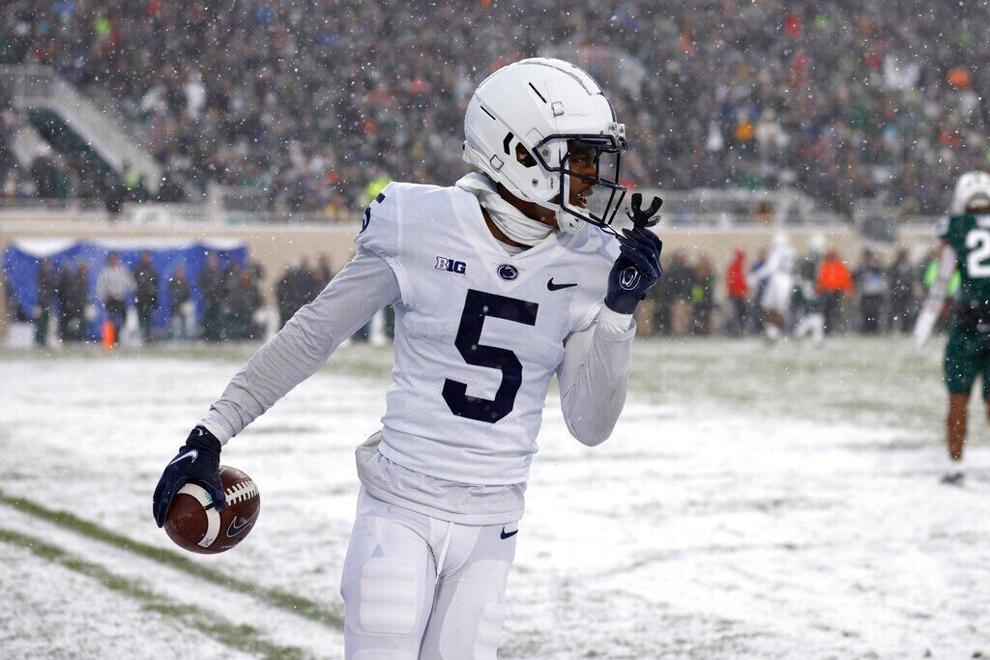 21. Nakobe Dean, LB, Georgia, Jr.
The Butkus Award winner is a dynamic blitzer who is capable of making plays all over the field.
22. Trent McDuffie, CB, Washington, Jr.
McDuffie plays bigger than his 5-11 frame. He's one of the surest tacklers at the position in this draft class and his instincts are elite.
23. Garrett Wilson, WR, Ohio St., Jr.
Wilson can threaten a defense at every level, but will need to improve against physical press corners.
24. Jaquan Brisker, S, Penn St., Sr.
Brisker is a polished, physical playmaker with few holes in his game.
25. Jermaine Johnson, Edge, Florida St., Sr.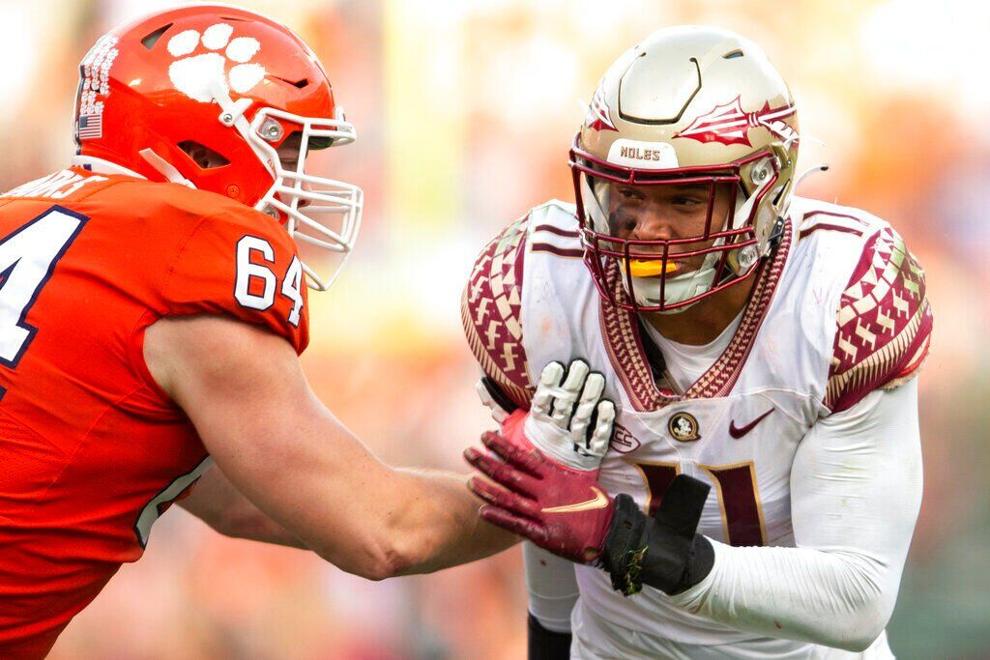 26. Darian Kinnard, OT, Kentucky, Sr.
Kinnard is a mauler who happens to be a gifted athlete as well. You won't find many 6-foot-5, 345 pounders who move and change direction like him.
27. Roger McCreary, CB, Auburn, Sr.
McCreary simply doesn't allow much separation and he's battle-tested out of the SEC. He's capable of thriving in man and zone.
28. Travon Walker, Edge, Georgia, Jr.
Walker offers premium versatility and immense power. He is an elite run defender, but will need to sharpen his technique to become a more consistent pass rusher.
29. Treylon Burks, WR, Arkansas, Jr.
You're not going to find a better combination of size (6-foot-3, 225 pounds) and speed at wide receiver in this class. Burks is a vertical threat, but also features immense YAC ability — he broke 15 tackles on 66 receptions this season.
30. Jordan Battle, S, Alabama, Jr.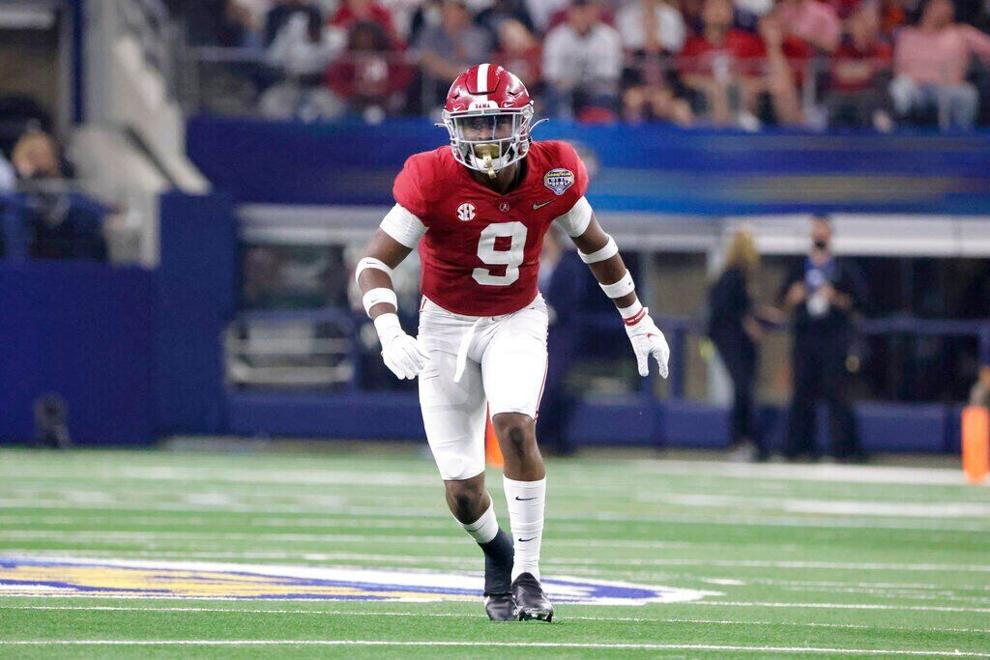 31. Kenyon Green, OL, Texas A&M, Jr.
This former five-star recruit can play either guard or tackle at a high level — Green made starts at every single offensive line position except center this season.
32. David Bell, WR Purdue, Jr.
Bell's route-running is advanced and his YAC ability should make him an impact player early in his career.
33. Kenny Pickett, QB, Pittsburgh, Sr.
The Heisman finalist is most dangerous outside of the pocket when he goes off script. Pickett has good size, overall athleticism and solid arm talent, but needs to work on his anticipation throws and his comfort within the pocket.
34. Cameron Thomas, Edge, San Diego St., Jr.
Thomas was the most dominant pass rusher in college football this side of Ann Arbor. He racked up an FBS-leading 77 pressures this season and finished sixth with 29 run stops, according to Pro Football Focus.
35. Brandon Smith, LB, Penn St., Jr.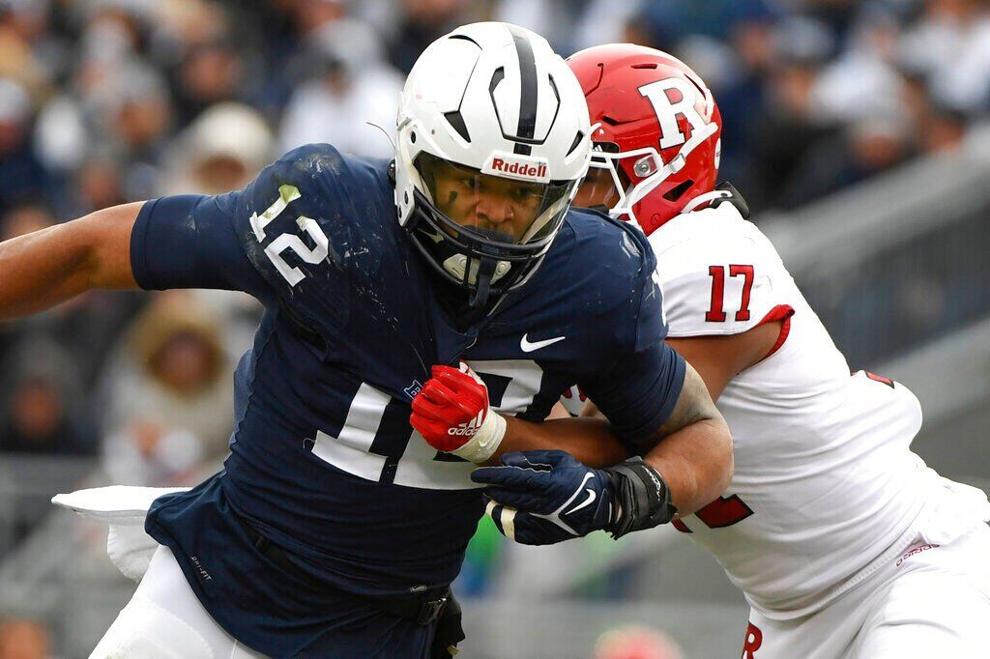 36. Kenneth Walker III, RB, Michigan St., Jr.
The Walter Camp National Player of the Year and Doak Walker Award winner features legit home run speed, but doesn't shy away from contact either. He led all of college football with 89 broken tackles this past season, according to Pro Football Focus. Walker will need to develop as a pass protector to maximize his potential.
37. Drake Jackson, Edge, USC, Jr.
Jackson can play in space or rush the passer off the edge. He has another level that could be unlocked with NFL weight training and coaching.
38. Derion Kendrick, CB, Georgia, Sr.
Kendrick was a three-year starter for Clemson before transferring to Athens. He's an asset against the run and thrives in man or zone coverage. Kendrick is vulnerable to receivers with top-end speed, but who isn't?
39. Zion Johnson, OL, Boston College, Sr.
This team captain has thrived at left tackle and guard, but he projects as an impact interior lineman in the NFL.
40. Breece Hall, RB, Iowa St., Jr.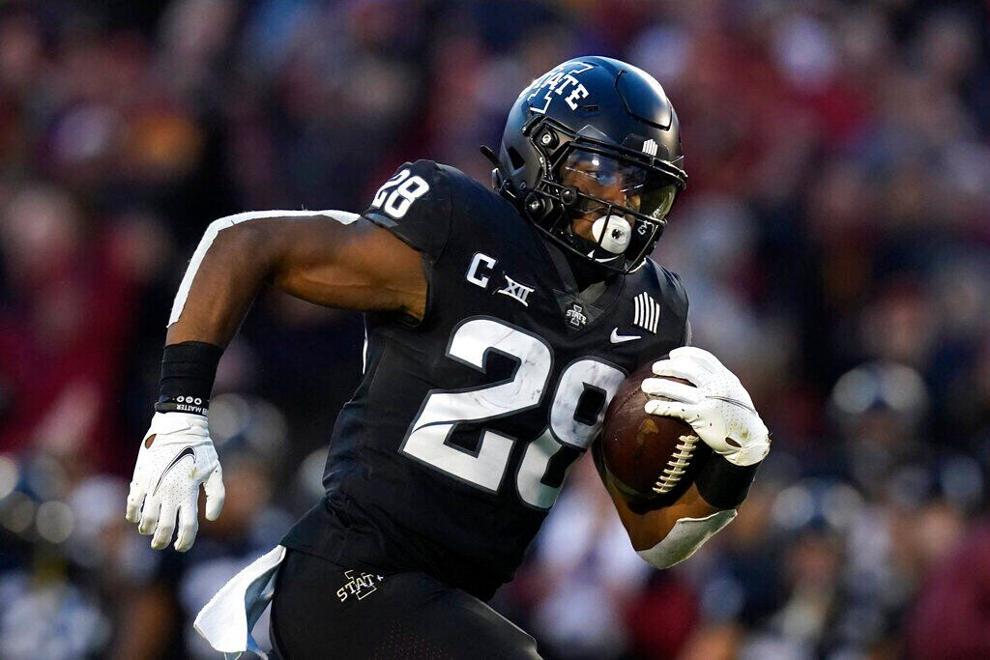 41. Kyler Gordon, CB, Washington, Jr.
Gordon is an aggressive, uber-athlete who showed significant development in his technique this season.
42. DeMarvin Leal, DL, Texas A&M, Jr.
Leal features inside-outside versatility and explosiveness, but will need to work on becoming an asset against the run after not taking a step forward his junior season.
43. Sam Howell, QB, North Carolina, Jr.
Howell possesses impressive arm talent and proved he is a legitimate threat as a runner this season despite failing to meet big expectations.
44. Trey McBride, TE, Colorado St., Sr.
The 6-foot-4, 260-pound tight end had a highly-productive senior season — 1,121 yards on 90 receptions — and showcased significant blocking prowess along the way.
45. Bernhard Raimann, OT, Central Michigan, Sr.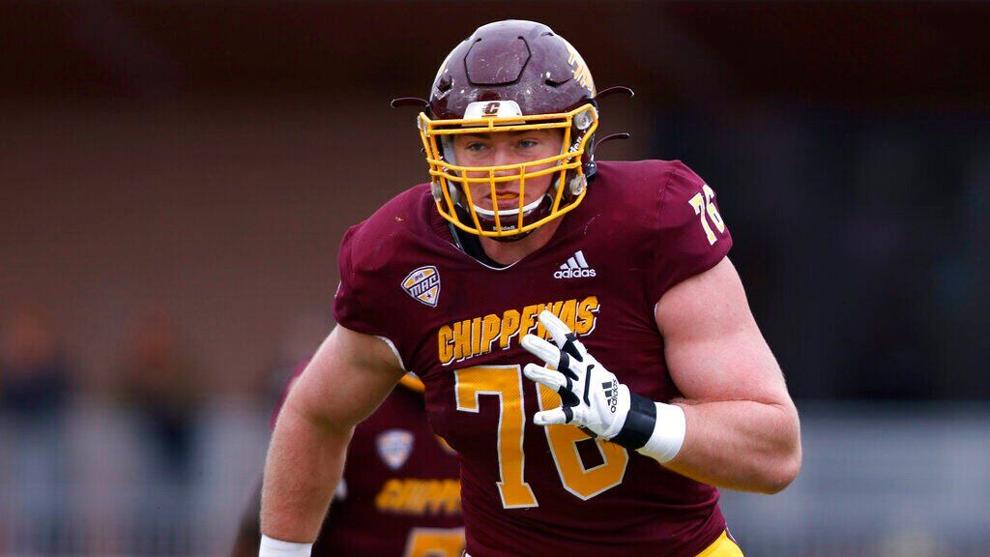 46. Andrew Booth Jr., CB, Clemson, Jr.
Booth's ball skills enable him to thrive while playing in press or off coverage. He exhibits physicality in defending the run, but needs to sharpen his tackling technique.
47. Daxton Hill, S, Michigan, Jr.
Hill features a mix of athleticism, intelligence and instincts that will enable him to play every position in the defensive backfield. He will need to tamp down his tendency to gamble.
48. Myjai Sanders, Edge, Cincinnati, Jr.
Sanders features great speed and explosiveness off the edge to enter the league as a designated pass rusher. He'll need to add some muscle and finetune his focus to become an impact run defender.
49. Daniel Faalele, OT, Minnesota, Sr.
Faalele achored one of the best offensive lines in the nation this season. He's a massive man — 6-foot-9, 379 pounds — who is relatively new to the sport. He grew up playing basketball and rugby in Australia. He learned football in 2016 so there's a lot of clay to mold.
50. Trevor Penning, OT, Northern Iowa, Sr.