MORGANTOWN, W.Va. — The numbers are prodigious, mind-numbing, almost unfathomable.
Forty years of coaching college basketball, including the one that starts Nov. 9.
Nine hundred wins, sixth-most all time in Division I.
It seemed like the right time to call on Bob Huggins.
"The 40 is the number that sticks with me," Huggins was saying this week. "I can't believe how long I've been doing this. I can't believe how old I am. I woke up one morning and my wife told me I was 68. I was like, 'I'm what? Really? How did that happen?' "
Huggins might be well into the back nine of life, but he hardly is slowing down. That was clear during our visit Monday, which started in the afternoon at West Virginia's spectacular, $24 million basketball facility that he raised funds for and designed across a parking lot from the WVU Coliseum and lasted into the evening at his state-wide radio show at a local sports bar. It was a fascinating conversation with one of the more fascinating people in all of sports. We talked about everything in college basketball, from the transfer portal to the names/image/likeness issue to his wild idea for the heavyweights of the college game to break away from the NCAA and stage their own postseason tournament. But mostly, we talked about his life and his long, decorated career, which can rival just about anybody's in college coaching.
We started with the 900 wins, which put Huggins behind only Mike Krzyzewski, Jim Boeheim, Jim Calhoun, Roy Williams and Bob Knight. Three wins this season will move him past Knight, four past Williams. West Virginia opens the season Nov. 9 against Oakland and plays Pitt Nov. 12.
"I don't really remember the first win," Huggins said of his first season as a head coach at Walsh College in 1980. "I think we won at Oberlin. I do remember the first home game. We had 37 people in the stands. I counted."
We talked about how Huggins, starting his 15th season at West Virginia, still isn't in the Naismith Hall of Fame. He was nominated each of the past four years but wasn't a finalist. His exclusion is one of the most ridiculous oversights in sports. His teams made a postseason tournament 34 times in his first 39 seasons, 25 times to the NCAA tournament. He has had 30 seasons with at least 20 win.
"I don't worry about what I can't control," Huggins said. "But I will say this about hall of fames. I got in the Ohio Basketball Hall of Fame before my dad. Are you kidding me? He had the best winning percentage in the history of Ohio high school basketball. He won three state championships."
We talked about how the Naismith voters hold the fact Huggins hasn't won a national championship against him. His 1992 Cincinnati team made it to the Final Four as did his 2010 West Virginia team. Each came up short.
Huggins said he is convinced his 2000 Cincinnati team would have won the national title if star Kenyon Martin hadn't broken his right leg during the Conference USA tournament. He thinks the 2010 West Virginia team would have had a chance if star Da'Sean Butler hadn't had major injuries to his left knee in the national semifinal against Duke.
"Not winning doesn't eat at me," Huggins said. "The Kenyon thing eats at me because that was my best team. The Da'Sean thing eats at me. Kenyon's injury killed me. I wanted to throw up. I was so afraid he wouldn't play in the NBA. He ended up being the Number 1 overall pick.
"Da'Sean's injury, another bad deal. I was like, 'Oh, my god, not again.' He was a pro, but he didn't get to play in the NBA. That was so sad to me. Those teams never had a chance. It was like somebody put voodoo on us. I want to find that son of a [gun] who did it."
The pictures of Huggins cradling Butler's face on the floor in Indianapolis after Butler's injury is one of the most poignant at any NCAA tournament. It belied Huggins' image that he is a brutally tough coach who is not afraid to abuse his players verbally and put them through grueling practices. Those same players swear by him and will tell you they appreciate the tough love. Twenty have been NBA draft selections.
"I've always been close to my guys," Huggins said. "I just try to explain to them, 'You want to make money playing basketball, right? You're not going to make money doing what you're doing.' They know I'm trying to make them better. Just because we fight from time to time doesn't mean we don't like each other."
We talked about the influence of Huggins' parents on him. His father, Charlie, died in April. He was more demanding on him than Huggins is on his players. Huggins is the oldest of seven children.
"A funny story about my dad," Huggins said. "He once said, 'Yes, I have seven kids. Three boys and four others.' My sisters were irate."
Huggins' soft side comes from his mother, Norma Mae, who passed away in May 2003. He does a fish fry in her honor each year that attracts nearly 2,000 people and has raised countless millions for cancer research and the Remember the Miners scholarship fund. Former West Virginia stars Jerry West and Rod Thorn have been honored guests, as has Huggins' good friend, Kentucky coach John Calipari.
"They're building a hospital in town with my mother's name on it," Huggins said, making it clear he as proud of that as he is of any of those 900 wins. "I was born in Morgantown. When I came back here, I saw the opportunity to do some really good things. I know that's what she wanted. We were really close."
We talked about how Huggins still might be coaching at Cincinnati, where he was from 1989-2005. The rap against him there was he didn't graduate players. A DUI in June 2004 didn't help and made it easier for the administration to push him out the next year despite his season-in, season-out success.
"That graduation thing was a terrible rap," Huggins said. "I had junior-college players who didn't count toward the graduation rate even though they graduated. One year, I didn't have a freshman. Another year, I had one. How can you have a good graduation rate if you don't have anyone to graduate?"
Huggins takes great offense at the suggestion he didn't represent Cincinnati well. He still hears comments and complaints about his attire for games. He wears a pull-over instead of a suit.
"It's funny, isn't it?" Huggins said. "Now, all the coaches wear pull-overs. No one wears a suit. I guess that officially makes me a trendsetter. ...
"Ask my guys if I represent them well."
Huggins remains proud of his work at Cincinnati, where his teams won 399 games and made the postseason in each of his 16 seasons.
"Somebody asked me if I had seen what they have done to Nippert Stadium," he said of the university's football facility. "I told them they should build a statue of me outside of it. I paid for it. They took all of our money from basketball and used it for football."
Huggins understands that football controls college athletics. He understands that West Virginia needed a football home and ended up in the Big 12, a long way from Morgantown. The travel to games, he said, is brutal.
Huggins said college basketball needs to start looking out for itself instead of the NCAA. That's why he suggested a postseason tournament strictly for the bigger schools.
"Why should basketball be different than football? A bunch of presidents got together with TV people and created the four-team football playoff. Who does that help? The Alabamas and the Ohio States. The blue bloods. Why shouldn't they do the same for basketball? Virtually all the schools are losing money. The NCAA is keeping all the money and not doing a very good job with it.
"I hear people say you can't eliminate Cinderella. But when was the last time Cinderella won a national championship? How often do they get to a Final Four? As it is, those schools get paid by the win. The mid-majors could make a lot more money if they ran their own tournament."
As for the transfer portal?
"I don't like it," Huggins said. "There's nothing wrong with transferring. I transferred [from Ohio University to West Virginia]. But we're giving people too easy of a way out. If you don't like something, you just get in the portal and transfer. If you don't do something right, it's someone else's fault, not yours. There are 200-400 kids in the portal right now with nowhere to go. Is that good for the game?"
And the name/image/likeness business?
"It's great for our kids," Huggins said. "Everyone knows who they are in this state. They have their own billboards.
"I think, if it's used the right way, it can help kids after they graduate. If they can get a job because they're doing a good job with the people they're working with now, I think that's wonderful."
Huggins couldn't help himself and had to point out a little ancient history:
"I'm old. When I played here, we got $10 a month. We lined up to get it."
Huggins is making significantly more now. He is signed at West Virginia through 2027. He talked as if he plans on fulfilling that contract.
"This has never been a job for me," he said. "My wife thinks I'm crazy sometimes, but why not keep doing it as long as you are having fun?"
Huggins knows his health will determine how long he continues to coach. He knows all about his potential mortality. He had a major heart attack at the Pittsburgh airport in September 2002.
"I was dead," Huggins said. "They had to bring me back to life twice."
That led to one of Huggins' favorite stories, obviously because it has a happy ending. Calipari's cousin was a medical technician in the ambulance that took him to the hospital.
"His cousin says to me, 'Cal says I can't let you die until he beats you,' " Huggins said. "Absolutely a true story."
We finished our conversation at Kegler's Sports Bar where Huggins does his weekly radio show. More than 200 people came out for the first show of this season and the first since COVID-19. They listened closely as he talked about his team, which was ranked as high as No. 5 in March last season and finished No. 13 in the Associated Press poll but isn't ranked this season because of the losses of guard Miles McBride to the NBA and top rebounder Derek Culver to the NBA G League. Those same fans laughed at all of Huggins' jokes. It was clear they love him and he loves them. He spent nearly an hour before the show mingling. These were his people.
"I could run for governor," Huggins deadpanned.
The man was kidding, I think.
Good thing that won't happen with Huggins.
The gain for West Virginia politics would be an enormous loss for college basketball.
5 things to know about Jon Scheyer, who will succeed Mike Krzyzewski as Duke coach
1. He beat out Derrick Rose, among others, to be Mr. Basketball of Illinois in 2006.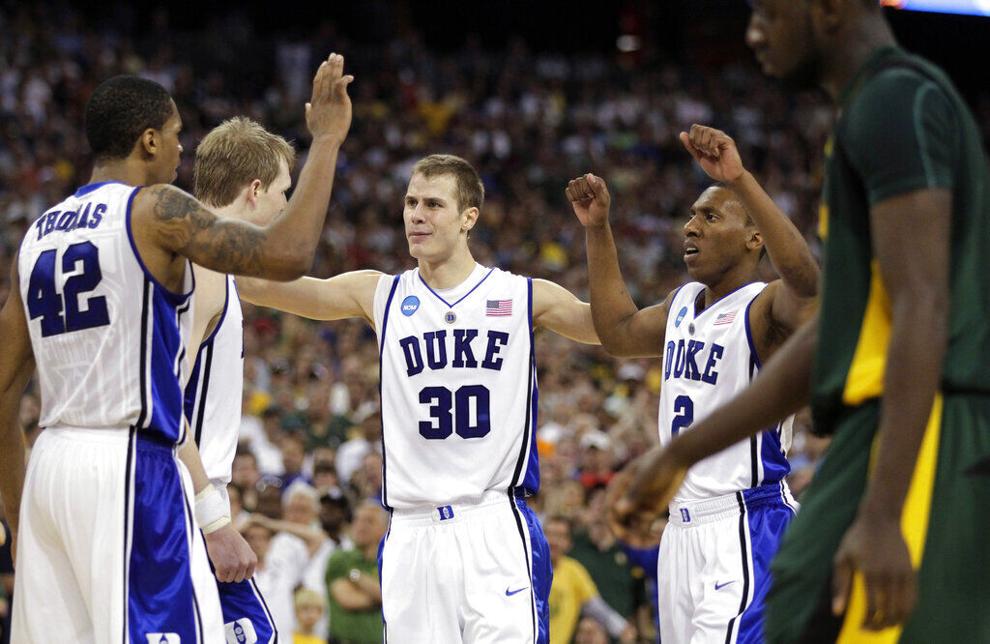 2. He won a national championship in his final college game.
3. An eye poke during an NBA Summer League game left him legally blind in his right eye.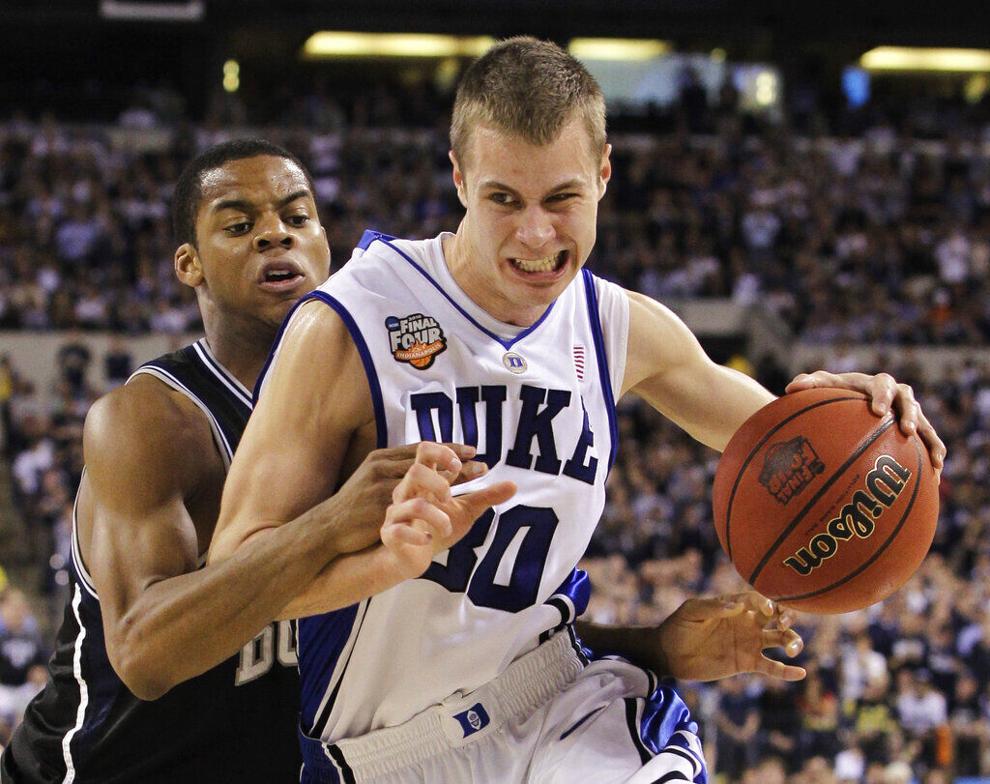 4. He replaced fellow Glenbrook North alumnus Chris Collins on the Duke coaching staff.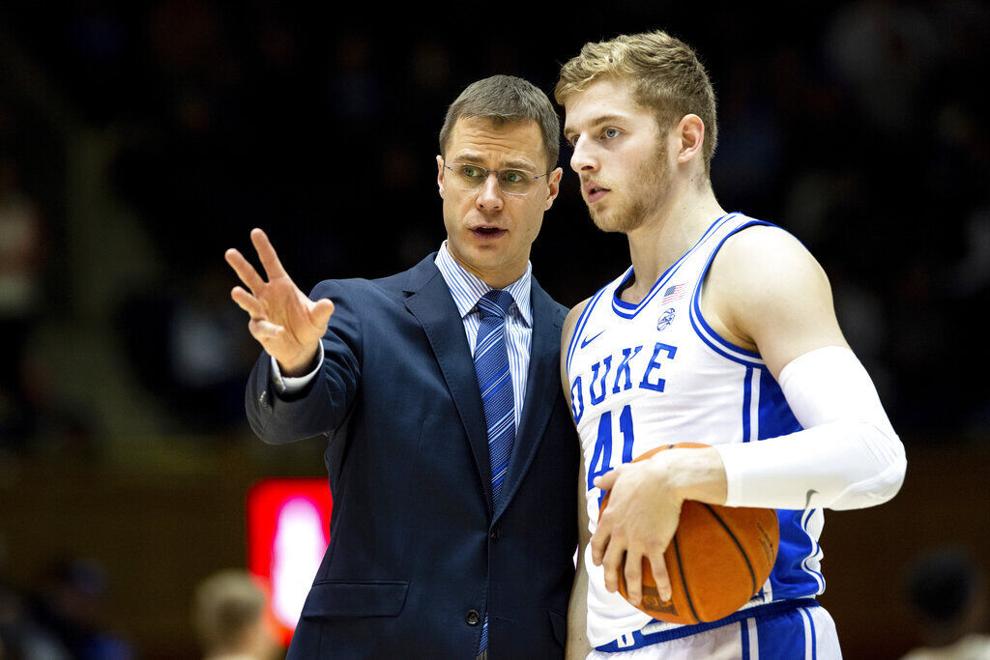 5. He's a member of the National Jewish Sports Hall of Fame.