The North Iowa Bulls have postponed this weekend's games against Granite City with plans for makeup games set to be determined at a later date…
The North Iowa Bulls will continue to host home games with spectators in attendance, the team announced on Wednesday, after receiving permissi…
For the North Iowa Bulls, the players have had a sizable impact on the team's 2020 success so far.
The North Iowa Bulls secured the 400th victory in franchise history on Friday night, with a 4-1 win over the New Ulm Steel. 
For the North Iowa Bulls, the 2020-2021 season is all about unfinished business.
A lot of sports fans grow up with childhood dreams of someday playing for their hometown teams.
After a landmark season for the North Iowa Bulls, the franchise received one final honor.
North Iowa sports have provided a lot of exciting and dramatic moments over the past year, leaving us all with plenty of memories that we can …
The postseason ended before it could even start for the North Iowa Bulls. 
The NA3HL has suspended all competition until further notice, which will delay the North Iowa Bulls' West Division semifinal games scheduled f…
There have been a few constants in North Iowa life over the past several years. Cold winters, discussions about the River City Renaissance pro…
A long-awaited party finally went down on Friday night in downtown Mason City, as fans, players and city government officials all soaked in th…
Photos from the North Iowa Bulls' first game played at the new Mason City Multipurpose Arena in downtown Mason City on Friday against Breezy Point. 
The North Iowa Bulls kicked off a new era with a game for the ages. In the team's very first game at Mason City Multipurpose Arena, the Bulls …
The days are dark, cold and short right now in North Iowa, but a new beginning is here.
It may be hard to believe, but another decade is at its end. Over the past 10 years, a lot of fantastic athletes have graced the fields and gy…
On Saturday night, in the North Iowa Bulls final game at North Iowa Ice Arena, the fans and players had an experience none of them is likely t…
File photos from the first hockey game played at the North Iowa Arena, when the North Iowa Huskies played Austin on Oct. 15, 1983.
Photos from the North Iowa Bulls' final game at "The Barn" in Mason City. The Bulls will play its next home game at the downtown Mason City Ar…
When you first pull up to North Iowa Ice Arena, it can be easy to wonder if you've arrived at the wrong place.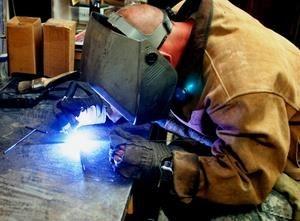 J & J Machining, Welding & Fabricating
As the North Iowa Bulls look to a future playing in the the new Mason City multi-purpose ice arena currently under construction in downtown, t…
North Iowa Bulls associate head coach Kevin Murdock has been hired by the Kenai River Brown Bears of the North American Hockey League, accordi…
The North Iowa Bulls season came to an abrupt end on Saturday night, with a 3-1 loss to the Texas Brahmas in the NA3HL semifinals.
This weekend means more than most to the North Iowa Bulls. Not only will the Bulls play Alexandria in the West Division Finals, but this weeke…
For young North Iowa Bulls players such as forward Jordan Roo and defenseman Evan Junker, the postseason is a brand new experience. Both playe…
One of the most common sights in Mason City on Sunday was frustrated people digging in vain to try to free their trapped vehicles. The snow, p…
Life in the NA3HL is far from glamorous, but the young men who play in the league are happy to be there. Between the bus rides, traveling to c…