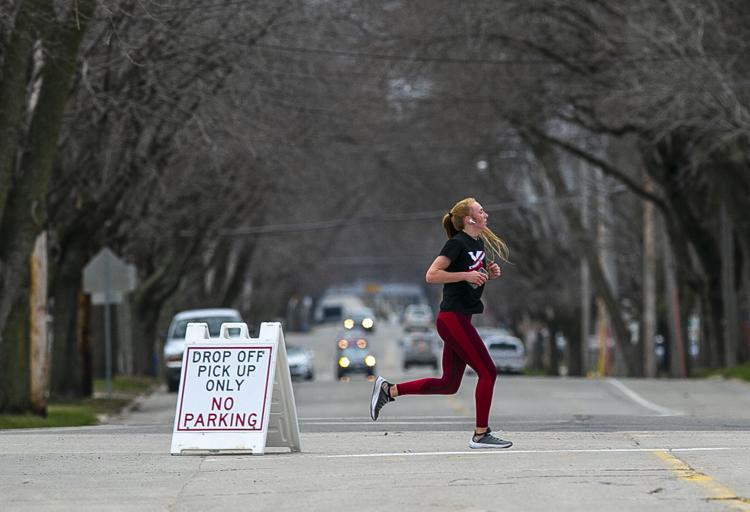 In this time of social distancing, there is one sport that has more or less kept on chugging along, so to speak.
Competitions are canceled all over the world, and almost every sport has had to find unique ways to keep its athletes in shape. Running, although a solitary sport at its core, has seen participants adjust as well. 
At the school team level, the COVID-19 pandemic has turned what once were team activities into ones that must be done alone. 
Even though coaches and athletes are not allowed to have any face-to-face interaction, they are still managing to work from a distance. The downside  is that those solo workouts are largely dependent on the unpredictable North Iowa weather. 
"I can't get any feedback from coaches if I'm doing a drill wrong," West Hancock junior Josef Smith said. "Coach (Matthew) Welp and coach (Bill) Cook send out daily workouts to do, which I have been doing. But the weather and things I have available to me play a factor in how much of the workout I can get done."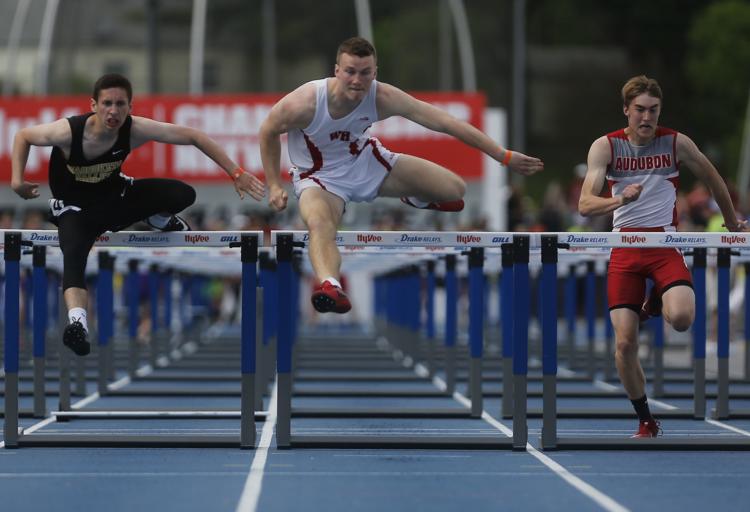 Robin Kuhn is a teacher and a runner in Riceville who has been training for the Lake Wobegon Trail Marathon (St. Cloud, Minnesota) in May, which is still currently scheduled to be run.
For Kuhn, the shutdowns have forced her to adapt her training schedule. She has started working from home and implementing things like online Yoga and Barre classes into her routine. 
"I can no longer use the school to train inside or run in the halls," Kuhn said. "My weekly mileage is actually down from what it should be, but my cross-training activities have increased. The only real precaution I have taken is solo running, which is actually what I have always done. Riceville does not have a running group or club, so I have always just run by myself, and with my dog."
Alex Brayton is the head track and field coach at West Fork High School, and has done his best to adapt to the circumstances, both as a coach and in his personal training schedule. One thing that he has found valuable to communicate with his athletes is PLT4M, a fitness app run by a company that has provided free fitness training for students. Furthermore, a little bit of competition might be in the future for the state's spring athletes, even if school doesn't come back anytime soon.
"At West Fork, we host a video conference workout each morning to interact with the athletes and help each other stay accountable," Brayton said. "Over the next few weeks we hope that some kids will participate in a virtual track meet set up by some other coaches in the state. It's great to give the kids a chance to compete still."
The daily workout lasts 45 minutes and consists of body weight exercises. For those that have weights at home, the workouts add some modifications, but Brayton says that the workouts can also be done with something as simple as a backpack full of soup cans. The coaches also send out speed and conditioning workouts, preparing for the hopeful day when they can gather together again with their athletes to train. 
Outdoor workouts are vital right now for runners. In this time where so many people are cooped up in their homes, getting out in the sunshine and burning off steam is one of only a few exercise options available. 
"Personally, I typically work out with my wife, Briana, later in the day in our garage and around Clear Lake if the weather permits," Brayton said. "That's mostly to keep us sane."
Though runners and track athletes are still able to train alone, being separated from their team or training partners is a strange, though necessary feeling. Social distancing is the newest popular phrase to enter the English lexicon, and whether runners are a part of a team, training for a race, or just jogging around town, solo workouts are the new way of life.
"We strongly encourage social distancing, and doing the workouts alone or with your immediate family at home," Brayton said. "It's important the kids don't take their time off from school as an opportunity to be social, so we can get back to normal as soon as possible."
Concerned about COVID-19?
Sign up now to get the most recent coronavirus headlines and other important local and national news sent to your email inbox daily.