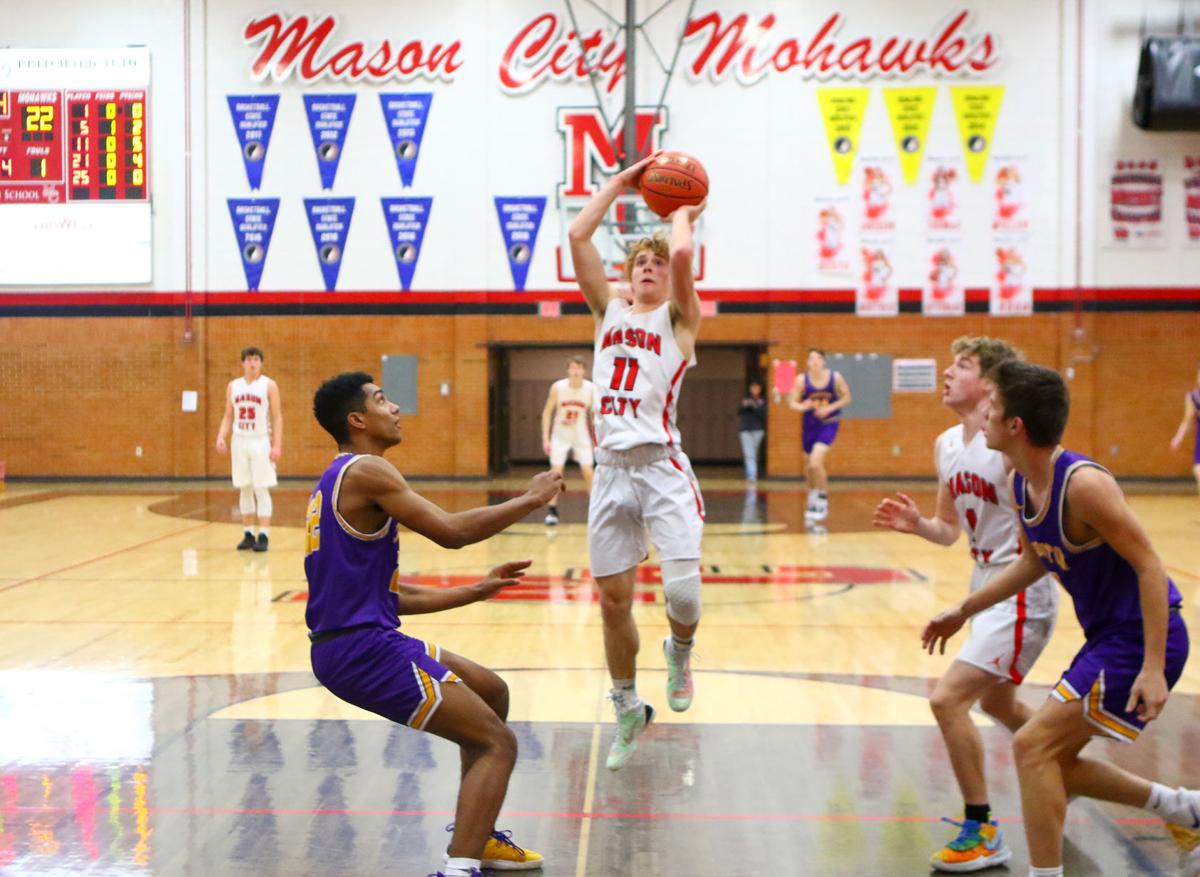 It was a big night for the Mason City basketball team on Monday as the Mohawks broke a six-game losing streak thanks to a breakout performance from its starting point guard. 
Sophomore Corey Miner scored 33 points against the Bobcats on 12-of-16 shooting, with four 3-pointers, in the Mohawks' 84-59 victory. 
"He's our starting point guard, so he's not a guy from who I'm expecting 33 a game, but I know that he has that potential on any given night," head coach Nick Trask said. "We've just been waiting around knowing that in any given game, he can blow up for us like that."
The win was an important one for the Mohawks, who hadn't won a game since their Dec. 2 matchup at New Hampton. Most of those losses came against ranked Class 5A opponents, but it still felt good to get a victory. 
"It was nice to get a good CIML win against Marshalltown," Trask said. "Corey did a great job of sparking us right away, and everybody just kind of fed off of that confidence, which carried us through the game."
Miner is the second-leading scorer for Mason City, with 127 total points and 14.1 points per game, behind only Jeffrey Skogen. In addition to those two, Carter Thomas and Avery Mellman are both players Trask has confidence in to provide the Mohawks with points. 
"One of the fun things about coaching this team, on any given night any of our top six could be our lead scorers," Trask said. "Any given night, one of those guys can go off, so it's tough for people to scout us on who they can take away."
Mason City plays West Des Moines Valley on Tuesday.
Osage 47, Hampton-Dumont-CAL 26: The Osage boys basketball team scored a 21-point victory over the Bulldogs on Monday night, 47-26. Senior Jonah Bluhm led the way for the Green Devils with 23 points, while also collecting seven rebounds. 
The Green Devils' defense dominated in the first half, allowing just six points to the Bulldogs. Osage improved to 10-1 on the season, while Hampton-Dumont-CAL fell to 2-7. 
Osage will play Tuesday night against Newman Catholic. Hamton-Dumont's next game will be Friday, against Clear Lake. 
Riceville 41, Central Springs 36: The Riceville boys basketball team beat Central Springs by five points on Monday night. The Wildcats scored their third win of the season with a 41-36 victory. Junior Sully Fair had a team-high 18 points for the Wildcats, while senior Brody Koenigs and junior Charlie Ring tied for a team-high 11 rebounds. 
The loss dropped the Panthers to 2-10 on the season. Their next game is Tuesday night, at St. Ansgar. Riceville improved to 3-7, and will play at Clarksville. Results were unknown at press-time.
Girls basketball
Mason City 67, Marshalltown 31: The Mason City girls basketball team crushed Marshalltown on Monday by 36 points, as senior Anna Deets continued her fantastic offensive season. 
Deets scored a team-high 17 points for the Mohawks, with Jaeda Whitner close behind at 14 points. 
The Mohawks got out to a 46-15 halftime lead, and outscored the Bobcats in the second half, 21-16. After a tough stretch full of ranked 5A competition, the dominant win was a welcome development. 
"We were able to get our presses going and push the lead ahead throughout the game," head coach Curt Klaahsen said. "It was nice to get everyone a lot of playing time as well."
The Mohawks improved to 7-5 on the season with the win. Their next game was Tuesday, against Valley. Results were unknown at press-time.
Riceville 39, Central Springs 33: The Riceville girls basketball team eked out a win over Central Springs on Monday night, 39-33. The Wildcats improved to 8-3 on the season, while the loss dropped Central Springs to 4-7. 
Riceville played Tuesday night at Clarksville, while Central Springs played at St. Ansgar. Results for both games were unknown at press-time. 
Charles City 46, Iowa Falls-Alden 33: The Charles City girls basketball team beat Iowa Falls-Alden 46-33 on Monday night, breaking a five-game losing streak for the Comets. Dani Stock Liz Fiser, and Lauren Connell all tied for the team-high with eight points. Sophomore Rachel Chambers snagged a team-high seven rebounds. 
Charles City improved to 4-9, and played on Tuesday against New Hampton. Results were unknown at press-time.
Bowling
Mason City boys rolls past Fort Dodge
The Mason City boys bowling team beat Fort Dodge on Monday night, with a season-best score of 2985 to 2903. 
Joe Uker had a team-high game score of 285. 
Mason City's next match is Jan. 22, at Mystic Lanes.
Be the first to know
Get local news delivered to your inbox!