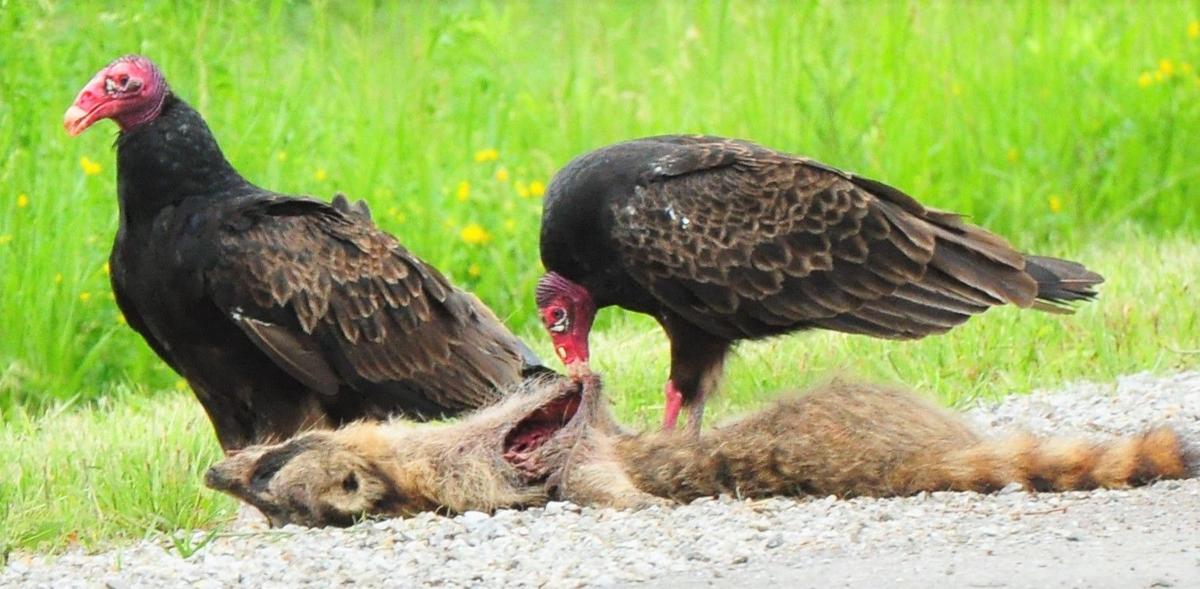 One robin may not make a spring, but when the turkey vultures return to Clear Lake's Clausen's Cove, you know the season has changed.
With its featherless red head, sooty plumage, and dour demeanor, I doubt many folks are going to list turkey vultures as their favorite bird. But popular or not, vultures have become an increasingly common feature of Iowa's summer landscapes. They glide over corn fields. They roost in our cities. They decorate the lattice work of steel communication towers.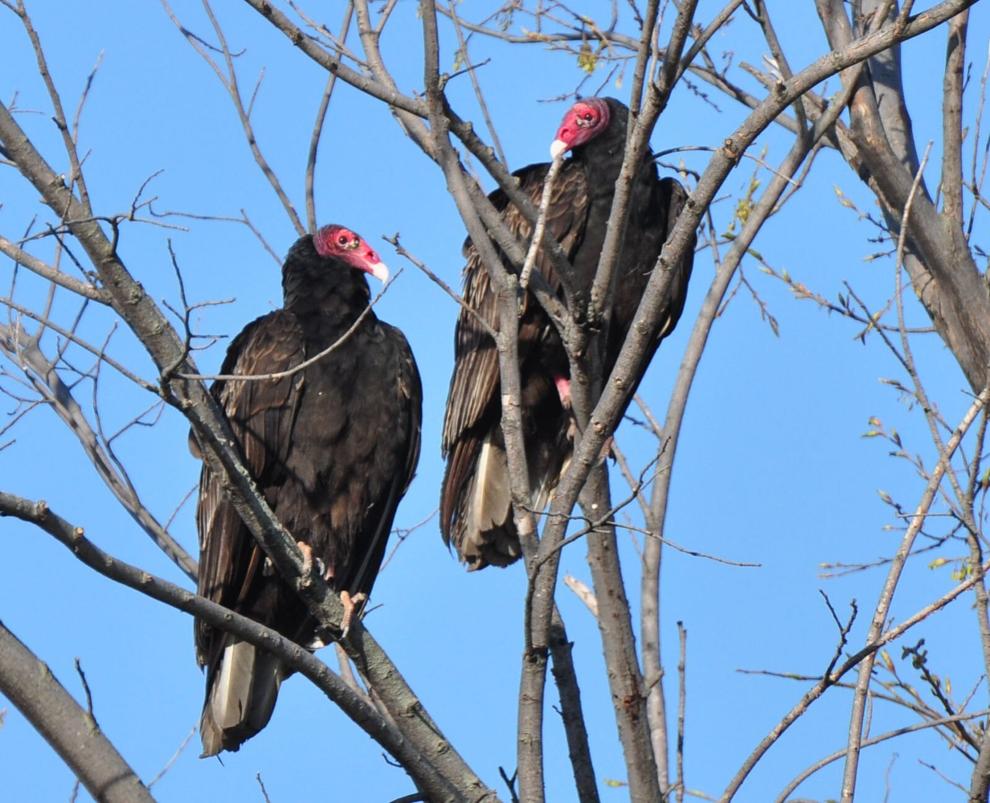 With six-foot wingspans, carnivorous lifestyle, and soaring flight, most people naturally assume that vultures are members of the raptor family. Amazingly, the birds are more closely related to flamingos than to hawks and eagles. 
Growing youngsters have a benign, almost penguin-like appearance. But don't let the docile demeanor fool you. When threatened by predators, a nestling's primary means of defense is to take aim and projectile vomit the partially digested, already indescribably nasty contents of its crop. 
Turkey vultures subsist on carrion with road kills providing a significant portion of their daily diet. But although their dining habits may seem repulsive, vultures aid in sanitizing the countryside and help suppress the spread of disease --- particularly to domestic animals.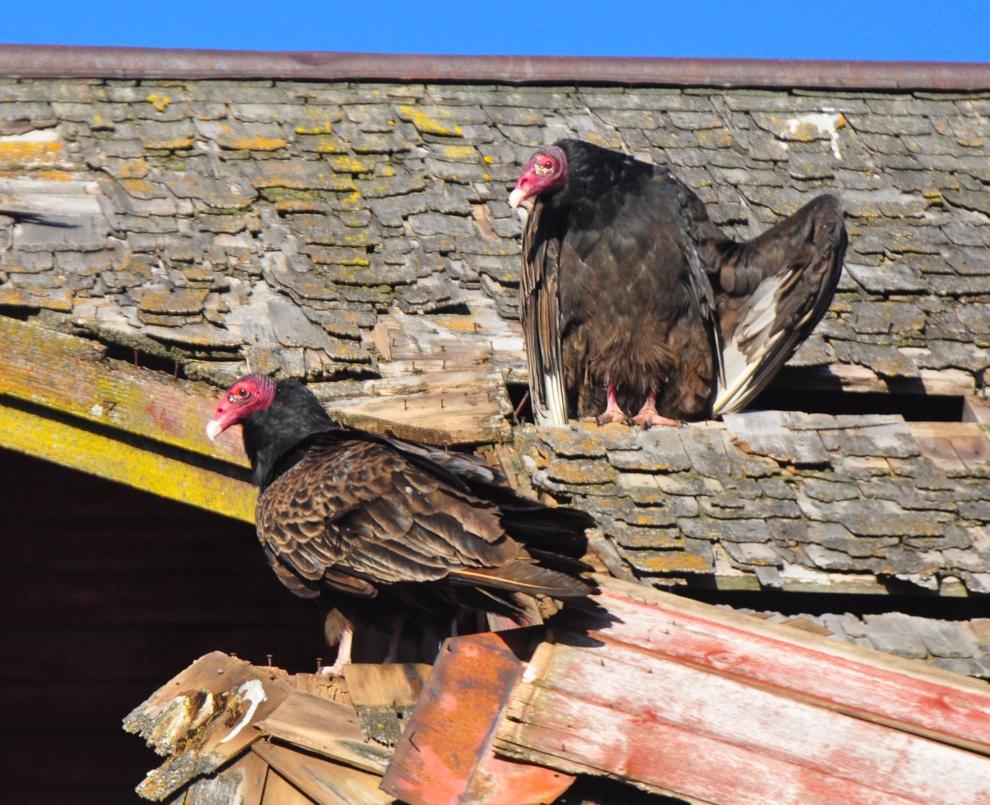 In the process of consuming carrion, vultures also ingest wholesale quantities of potentially dangerous bacteria. To survive the ordeal, the scavengers employ a unique 108-degree digestive system that effectively cooks and destroys any living organisms that may happen to slide down their gullets -- including such nasties as cholera, anthrax, salmonella and E.coli.
Although vultures have keen eyesight and may locate food while soaring at great heights, they also have a very advanced sense of smell. Unlike other birds, they have the ability to track down a meal by simply following their noses. Natural gas companies have employed the vulture's acute olfactory to locate suspected leaks in underground lines. After adding a carrion-like scent to their odorless product, gas workers simply sat back and watched the skies as circling vultures pointed the way to defective lines.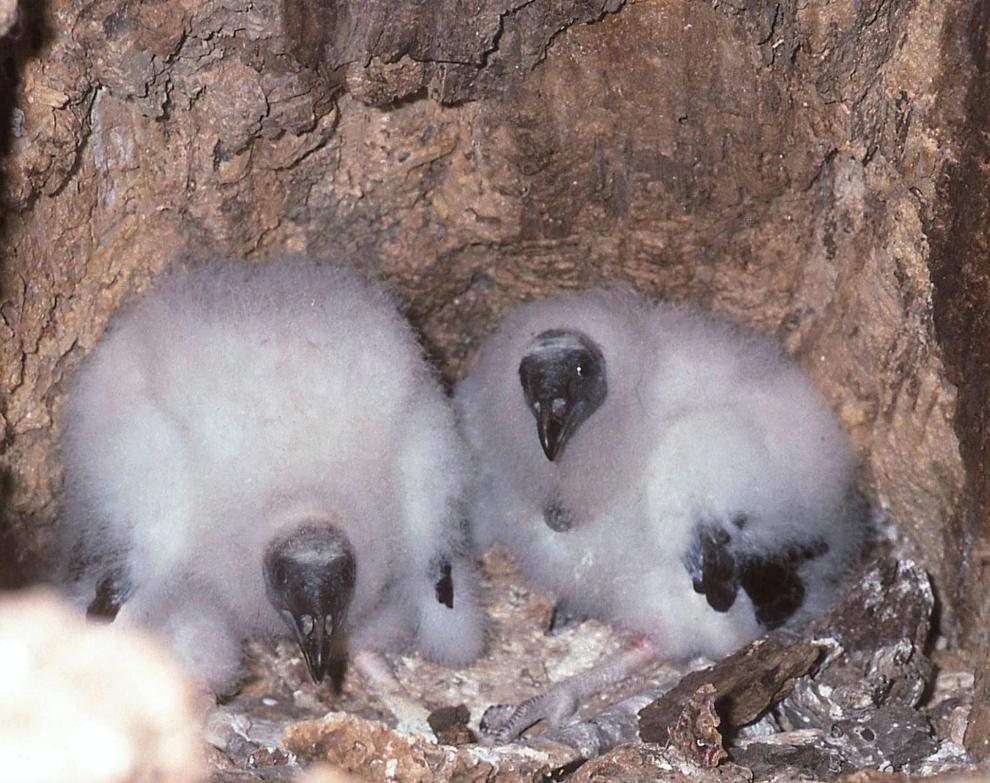 Whether a vulture depends most heavily on its keen vision or acute sense of smell is an ongoing topic of debate. Although I can't answer that question, I did have one memorable encounter that made me wonder. It occurred several years ago while hunting spring gobblers in the rugged blufflands located near the Missouri river. After hours of negotiating some particularly rugged terrain, I fially gave in to what had become a unseasonably warm and beautiful spring morning. Stretching out in a sun-drenched forest clearing, I quickly fell fast asleep. Sometime later, I was awakened by the sound of flapping of wings. Opening my eyes, I was greeted to the intense stare of an adult vulture standing less than a dozen feet away. To me, it appeared as if the feathery scavenger had been sizing me up as a potential meal. Upon discovering that I was still very much alive, the huge bird lumbered back into the sky.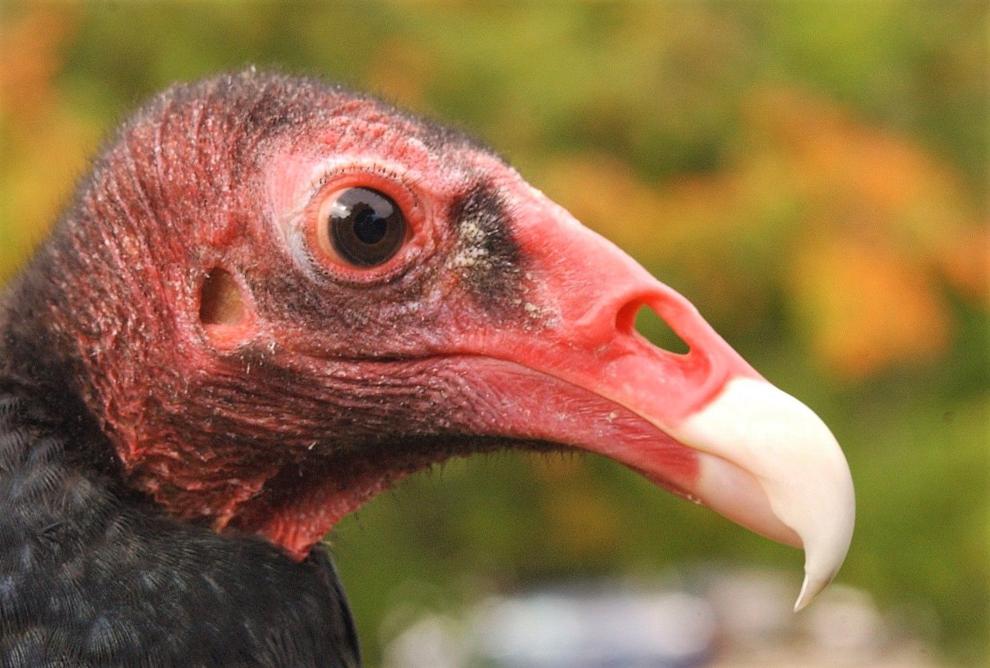 I still think about that big vulture from time to time. Like I said, the day was unseasonably warm, and I had been climbing a lot of ridges. Although I'll never know what led that bird in my direction, I've always hoped that it was guided by its eyes and not its nose.
Our environment: Spring 2021
Seasonal coverage of the land we live on: