This year's Fourth of July celebration turned out to be what it always is at Clear Lake – HUGE! And although there is never any lack of tourist town-type activities during the Fourth, the lakeside fireworks display is regarded by many as the Crown Jewel of the annual celebration. Pulling all the stops, this year's pyrotechnic event turned out to be what it always is at Clear Lake – HUGE!
But the bombs bursting in air weren't – and aren't -- the only fireworks taking place at Clear Lake this month. Beneath the lake's shimmering surface, area anglers have been enjoying their own brand of explosive summer action.
Ever since rising summer temperatures arrived in Northern Iowa in late June, walleye have been on a full out, nonstop feeding rampage. The action typically commences at the crack of dawn with some anglers catching and releasing a dozen of more walleyes during the first hour of fishing. If obtaining a walleye dinner is your goal, three-fish limits of "keeper walleyes" measuring 14½ to 16 inches are the norm.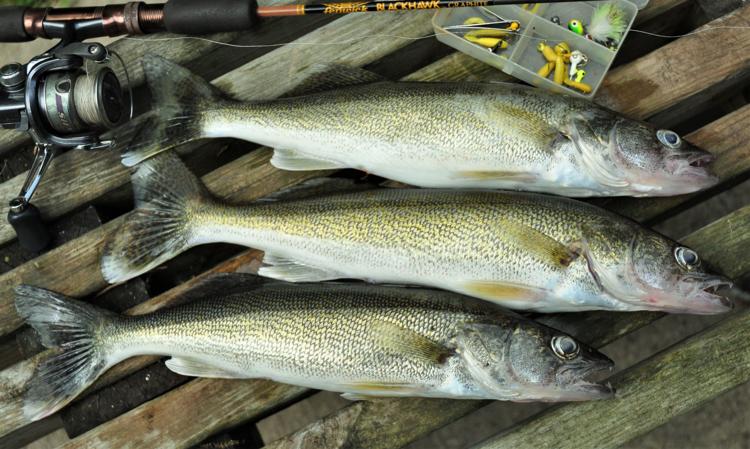 The vast majority of Clear Lake walleyes are residing in and around submergent beds of a highly desirable aquatic plant species known as potamogeton. Commonly referred to as "pond weed," potamogeton supports the lake's food chain from the bottom up. Aquatic insects find food and shelter here. The insects attract young fish, which attract larger fish, which attract even larger fish, which ultimately attracts human anglers.
The lake's largest and densest stands of submergent vegetation are located along the north shore from Venetian Village west and along the south shore in the vicinity of Farmer's Beach. Attracted by unlimited forage and the security of jungle-like plant cover, most walleyes are staying shallow; feeding in anywhere from three to five of water.
For most anglers, cashing in on the July walleye frenzy will require a dramatic change in tactics. Because the most productive plant beds are also the thickest, traditional watercraft may be unable to get you to where the fish are living. Fortunately, there are some viable alternatives. Since fish are so shallow, wading the plant beds can be extremely productive. Stem density being what it is, there is no room for fancy casting on this one. Instead, simply find an opening – any opening – and drop a minnow or 'crawler loaded jig head toward the bottom. Once your bait touches down, simply twitch or hop the offering along the bottom. If you happen to catch a "weed" instead of a fish – and you will – simply control your temper, remove the plant and keep fishing.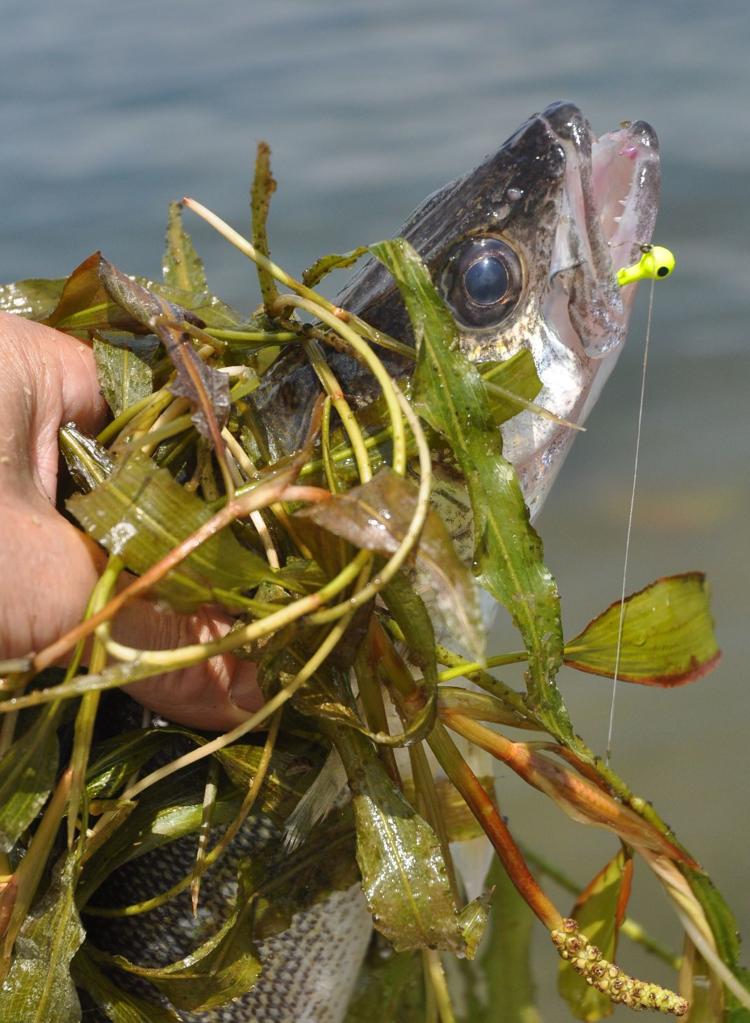 Not all hits will happen on the lake's sandy bottom. Warm water predators can be ill tempered and hyper aggressive; at least some strikes will occur while the bait is still on its way down. The high speed, near-the-surface hits are positively explosive, and one or two of these are guaranteed to make your day.
Although most outboard motors can't cut it in thick vegetation, a growing number of anglers are learning to access fish by means of lightweight kayaks. Although kayaking may not be for everyone, it is arguably the most effective way to capitalize on submerged habitats and put fish – including some big ones -- on the stringer.
Summer dock fishing is also productive; especially at sunset and beyond. Look for the "weediest" dock you can find and employ the same basic tactics as you would while wading.
Walleyes are not the only fish currently lurking in submerged vegetation. Anglers are also encountering good to excellent numbers of bluegill, channel catfish, yellow perch, largemouth bass and crappie. During the past week, I've had the pleasure of hooking eight different fish species while angling in shallow water around thick vegetation. I've also received two separate, up close and personal encounters with Clear Lake's most formidable predator -- the pure-strain muskellunge. Amazingly, both muskies pounded a 1/16-ounce jig head tipped with half a nightcrawler; not exactly what most people would categorize as a viable Muskie Lure.
The first fish was a beautifully colored sublegal; the second was a real monster that boiled the water and nearly emptied the reel before finally breaking my line. Although I didn't manage to land either fish, having them temporarily attached to the end of my four-foot ultra-lite was a thrill I'll be remembering for the rest of the summer.