The Iowa Department of Natural Resources will release trout in seven locations across Iowa this winter in areas that would not support them in warmer months.
Winter trout stockings are a great place to take kids to catch their first fish. A family-friendly event is paired with most stockings to help anglers have success and fun while fishing.
The popular program is supported by the sales of the trout fee. Anglers need a valid fishing license and pay the trout fee to fish for or possess trout. The daily limit is five trout per licensed angler with a possession limit of 10.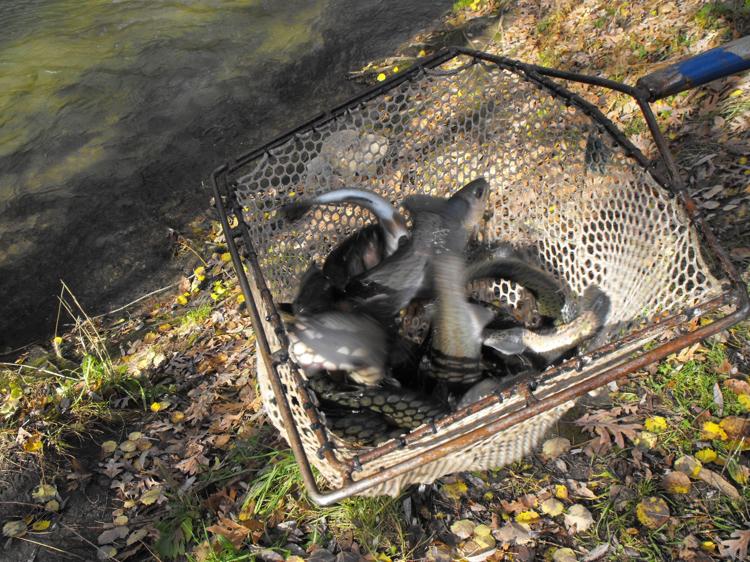 Children age 15 or younger can fish for trout with a properly licensed adult, but they must limit their catch to one daily limit. They can buy a trout fee which will allow them to catch their own limit.
Winter trout stockings are dependent on favorable weather and safe ice conditions. Check the DNR Trout Fishing website at www.iowadnr.gov/trout for possible changes to the schedule.
With this year's mild winter weather, use caution when venturing out on any ice. Find tips for staying safe on the ice on the DNR website at www.iowadnr.gov/icefishing.
2020 Winter Community Trout Stocking Schedule
Jan. 11, Blue Pit, Mason City, at 11 a.m.
Jan. 18, Moorland Pond, Fort Dodge, at 11 a.m.
Jan. 18, Big Lake, Council Bluffs, at 2 p.m.
Jan. 25, Bacon Creek, Sioux City, at 1:30 p.m.
Jan. 25, Lake Petocka, Bondurant, at Noon
Feb. 1, Ada Hayden, Ames, at Noon
Feb. 1, Scharnberg Pond, Spencer, at Noon
You have free articles remaining.
Public meeting on chronic wasting disease
The Iowa Department of Natural Resources is hosting a public meeting to discuss chronic wasting disease and a new, enhanced monitoring effort on Wednesday at the Sergeant Bluff Community Center, 903 Topaz Drive, in Sergeant Bluff. The meeting is scheduled from 6-8 p.m.
Woodbury County is part of a new chronic wasting disease zone after a road killed wild deer tested positive for the always fatal disease. Doug Chafa, local wildlife management biologist for the Iowa DNR, is coordinating the meeting.
"We will discuss the increased surveillance effort here in Woodbury County as well as our focus along the Missouri River and will provide hunters and landowners an opportunity to get their questions answered and to discuss their concerns with our staff," Chafa said.
The Iowa DNR will present information on CWD and inform the public about surveillance sampling effort.
There are several things hunters can do to stop or slow the spread of CWD, Chafa said, including not using feed or salt-mineral to congregate deer. Bringing infected and susceptible deer into close contact can increase the rate at which the disease is spread.
"Deer hunting is an important tradition and, for some, a large part of their identity. It is also important to us and we need to work together to combat this disease. Our goal is to provide quality deer hunting for future generations," he said.
CWD is a neurological disease belonging to the family of diseases known as transmissible spongiform encephalopathies or prion diseases. It attacks the brain of infected deer and elk causing the animals to lose weight, display abnormal behavior, lose body functions and die. It is always fatal to the infected animal.
The Iowa DNR has more information about CWD and other infectious disease online at www.iowadnr.gov/cwd.
Any person attending the public meeting that has special requirements such as those related to mobility or hearing impairments should contact the DNR or ADA Coordinator at 515-725-8200, Relay Iowa TTY Service 800-735-7942, or Webmaster@dnr.iowa.gov, and advise of specific needs.
Gates removed on Upper Iowa River dam
An emergency project to remove damaged gates from the southern segment of Lower Dam on the Upper Iowa River in Winneshiek County is underway. The $60,000 project restores flow to nearly a mile of the Upper Iowa River that was dewatered after the dam was built.
This initial project helps preserve downstream river access and the parking area by diverting scouring flows away from infrastructure, and releasing sediment from the upstream section in a controlled manner.
A second phase of the project will address the issues of fish passing through and boaters navigating the river in the area of the gates after sediment movements throughout high water events.
"Canoeists and kayakers will not be able to navigate the river through the dam until the second phase of the project is completed," said Nate Hoogeveen, River Programs coordinator for the Iowa Department of Natural Resources. "They will need to land upstream of the dam as they have before. Conditions will still be hazardous as at any dam."
Stability issues have been ongoing at the Lower Dam area since a large portion of the dam peeled off the top in 2008, changing the course of the river. Since then, chronic bank failures have led to bluff slumps. Two projects to stabilize banks and set back the parking lot have cost $215,000 since 2010, and a future project may cost several hundred thousand dollars to further stabilize the banks and bluff to keep the parking lot in its existing location.