I dropped in from time to time during the day on Monday to watch the protesters at Central Park.
In the evening, my husband, son and I took a spin around town again, watching for signs of interlopers from out of the area. We had heard that since there were curfews being imposed in other towns that there might be people intent on damaging property coming into the area on Monday.
That's why the manager at Fleet Farm on Monday night had his employees on forklifts lining up pallets side-by-side in front of the exits and entrances. Customers streamed out, stopping to take pictures of the rather unusual occurrence.
Thankfully, it wasn't necessary. It was a quiet night in Central Park and around town, with people gathered on their decks, porches and front stoops enjoying each other's company.
While I watched the protesters a few thoughts struck me that I thought I'd share.
I was heartened to see both the diversity and the youthfulness of those participating. Mason City is an overwhelmingly white community, so to see those of color coming together to say "Hey, see us and hear us," was a real clarion call to me. 
Roughly 6 percent of Mason City's population is non-white. Do you see that reflected in our elected officials, or community and business leadership?
It's not reflected in my newsroom. And it should be.
The fact that most of the protesters are young isn't surprising, but it is heartening. That means the message won't be forgotten. And we need to hear it, over and over and over again until meaningful change takes place in our society. Mason City isn't ready yet; though there was no violence reported,  there were signs nonetheless that the protesters' message of justice and equality for people of color wasn't uniformly well received. We need the young to hold us accountable.
Finally, as I looked over the small crowd I realized how few faces I recognized.
Mason City Police Chief Jeff Brinkley has said time and again his department's philosophy is about de-escalation and building bridges -- it's clear he's worked hard to make sure that's a priority to all who work for him. And his officers on Sunday were professional and sensitive in dealing with the protesters. 
But what a message it would send if he came out to visit with them. Perhaps he did and we never saw it. If so, bravo Chief Brinkley. If not, there's always tomorrow.
(UPDATE: Late Tuesday afternoon, Chief Brinkley did hang out with the protesters, distributing water and chatting with them. Kudos to him!)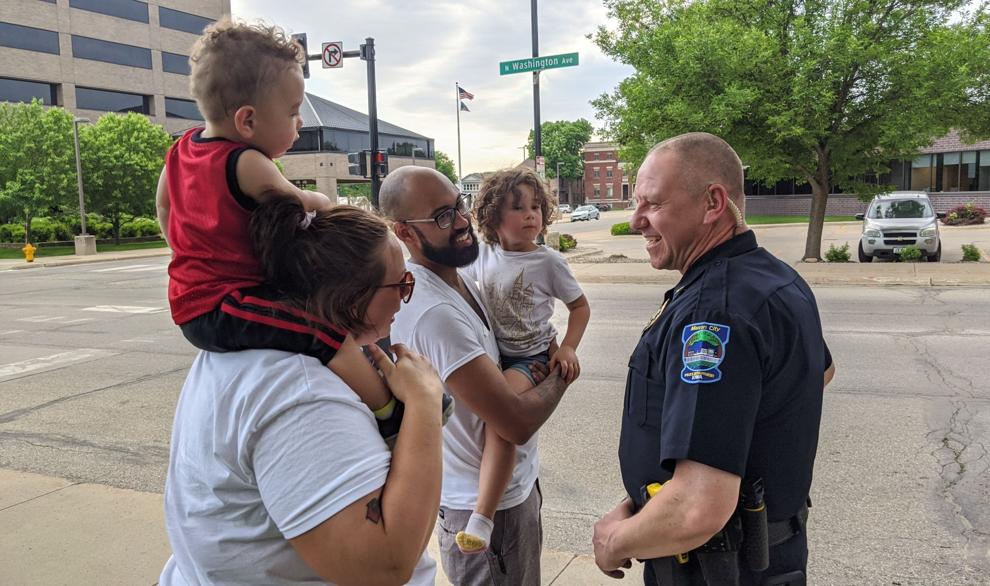 He's not the only one I would love to see out there, mingling and listening. What about our mayor? I have been so impressed with Mayor Bill Schickel's commitment to communication and transparency. I frequently see him out at public events, talking to residents. He has the wisdom of years as a politician that would benefit young protesters looking for change. What a great learning experience it would be to see them together. 
What about city councilors, county commissioners, the fire chief, business owners, and non-profit leaders? What if we all surrounded those protesters with our support and the message that in this community, racial injustice will not be tolerated?
What if we legislated it and lived it? What if we really meant it?
What a powerful message that would be.
Jaci Smith is editor of the Globe Gazette.