Oral histories of World War II are being lost at an accelerating rate to the ravages of time, yielding to the inalterable truths that all generations will eventually succumb.
It seems appropriate and relevant as yet another Pearl Harbor Day comes and goes that I share one of those lost stories with you here today. This is a 20th century American story, but it is not a story that has ever been part of American history textbooks.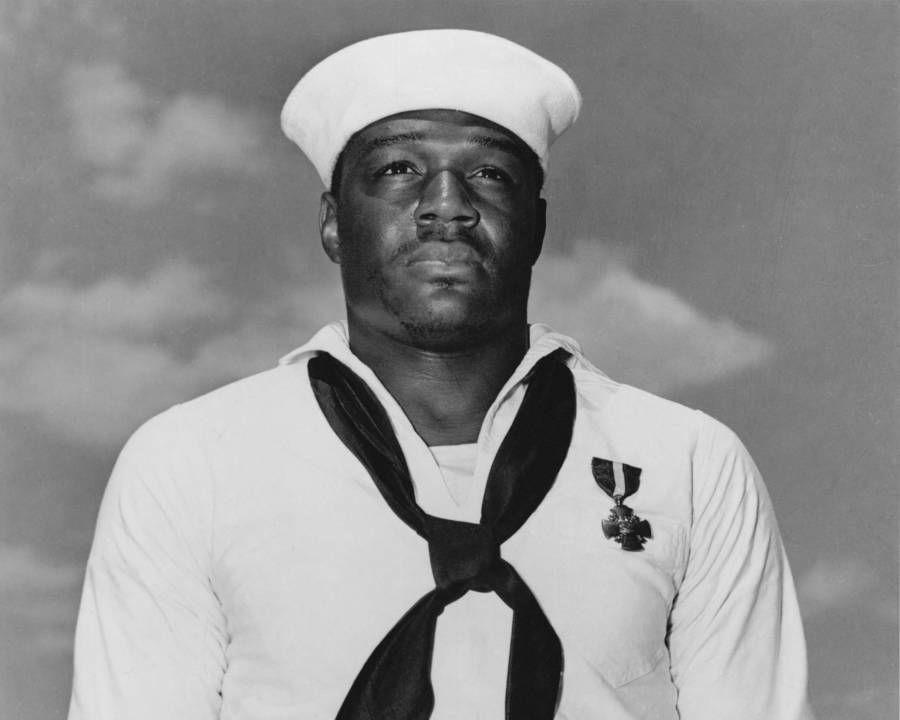 Doris Miller was born in 1919 in Waco, Texas; known as "Dorie" to friends and family. The life of Dorie Miller represents an example of oral history at its best.
You see, Dorie Miller was an unlikely decorated hero of the Japanese attack on Pearl Harbor, but the road to that honor was rough and winding, with roadblocks that have not been yet overcome in 2019.
Dorie Miller was a young black man from the segregated south who served his country in the segregated US Navy as a Mess Attendant, or basically a waiter, from 1939 to 1943.
He is a hero nearly forgotten because of the widespread active suppression of the heroic actions of African Americans throughout World War II.
While serving on the Battleship USS West Virginia on Sunday morning December 7, 1941, Dorie Miller was cleaning up after officers breakfast mess, when at 8 a.m. the first of nine direct hit torpedoes would rock the bowels of the massive ship. 
While making his way amidship, Miller discovered the explosion had destroyed multiple decks and passageways.
Through the sooty smoke and flames, Dorie Miller assisted dozens of his wounded and burned shipmates make exit from the area.
Then, Dorie made his way to the main bridge. There he found the ship's communications officer tending to the unconscious and mortally wounded captain of the ship.
Under constant strafing fire and explosions, Miller and the communications officer removed the skipper from the bridge, carried him to a sheltered spot behind the conning tower.
In that same area, there were two unmanned 50-caliber machine guns and ample ammunition. As a black sailor, Miller was never trained on any of the weapons of the US Navy; that's just the way it was in 1941. African Americans could be waiters or cooks.
Yet Dorie climbed into the gun's turret and began firing at the hive of enemy aircraft that continued to pummel the Pacific Fleet. Plane after plane dropped torpedoes and armor piercing bombs on the ships of Pearl Harbor. He continued to fire the machine gun in accurate bursts at the enemy.
There are conflicting reports on the record within the chaos of that day, that credit Mess Steward Dorie Miller with downing from two to six Japanese Zeroes and aiding 17 sailors of the West Virginia to escape certain death.
By the time his ammunition was exhausted, nine torpedoes, and four armor-piercing bombs had hit the USS West Virginia. The order to abandon ship was given and Miller and his surviving shipmates escaped where 106 of their brothers were killed directly.
As quickly as it started, the Japanese attack was over.
Black heroes of that day were not only forgotten but relegated to being an unidentified footnote to history.
There are multiple tragic and grievous ironies to the story of the Pearl Harbor heroics of Doris Miller. 
Initially, in the public reports of Dec. 7, even though he was clearly identified by survivors for his acts of heroism, Dorie Miller was collectively lumped into acts of combat attributed to "Black" (sic) sailors never named and certainly not honored.
Dorie Miller's name began to be acknowledged by predominantly black newspapers without which he would have never been known.
Even then, the initial list of Medals of Honor awarded were 16 white sailors most of whom were officers. Admiral of the fleet Chester Nimitz is quoted as saying "There were hundreds of examples of valor demonstrated on that day, no less important than those already acknowledged."
Dorie Miller got a letter of commendation for his file.
Letter writing campaigns exploded. There are dozens of examples of this groundswell filed in his personnel records. President Roosevelt got involved and mostly through public pressure, the President awarded the Navy Cross to Doris Miller, the first African American so honored.
While many of the white award of valor recipients were called stateside making public appearances for War Bond tours, Admiral Nimitz declared that Dorie Miller's Mess Steward duties were critical to the war effort and reassigned him to the USS Liscome Bay somewhere in the South Pacific.
On Nov. 24, 1943, 13 days shy of the 2-year anniversary of Pearl Harbor, the USS Liscome Bay took a torpedo in the ordnance magazine and sank within minutes. Six hundred and forty-six sailors died that day, including Mess Mate Doris Miller of Waco Texas.
Every year since his death, someone, be it an organization of veterans, a member of congress, or an ordinary citizen, has made an effort to have Dorie Miller awarded the Medal of Honor for his actions at Pearl Harbor. Here and there, but mostly around Waco Texas, you can find parks, community centers, football fields and schools named to honor him.
Yet, how many people really know his story?
This is a story of honor, courage and action in battle and American life, and you can look it up.