In the weeks since the death of George Floyd, demonstrators have demanded "defunding" police, although what would fill that abyss isn't entirely clearly.
One spontaneous experiment with a "no-cop" zone in Seattle devolved into accidental anarchy and two killings, finally ending July 1 when Mayor Jenny Durkan and Police Chief Carmen Best again took charge. For President Donald Trump it was an "I-told-you-so" moment.
Meanwhile, with little fanfare in June, Denver began a six-month pilot project — the first in a major U.S. city — aimed at "reimaging" police work by having mental health professionals answer 911 calls to deal with problems that should be the immediate responsibility of law enforcement.
The Support Team Assisted Response (STAR) in central Denver has a van carrying a mental health clinician and a paramedic, providing free medical care, first aid, or mental health support for a broad range of non-criminal emergencies, including drug overdoses, suicidal individuals, mental illness and intoxication.
It is a modeled on a successful program in Eugene, Oregon, called the Crisis Assistance Helping Out in The Streets (CAHOOTS), which attempts to intervene in situations before they become violent. The White Bird Clinic — with one medic (a nurse or EMT) and a crisis responder trained in behavioral health — has run it successfully for 30 years.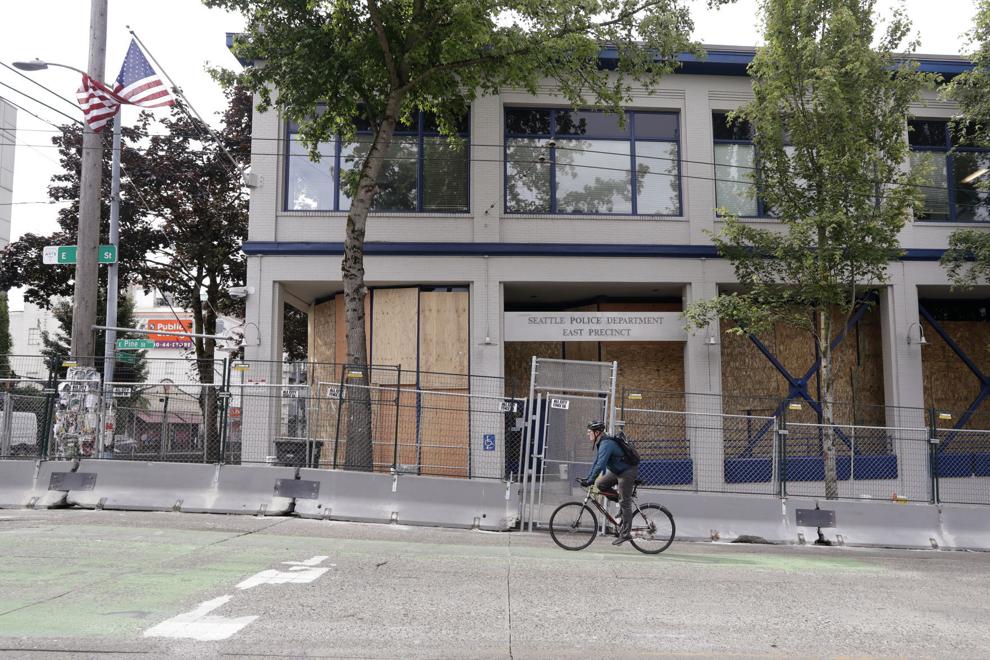 "When they show up, they have better success than police officers do," Eugene Police Chief Chris Skinner told CNN. "We're wearing a uniform, a gun, a badge - it feels very demonstrative for someone in crisis."
CAHOOTS answered 24,000 calls in 2019, nearly 20% of dispatches, and required police backup on 150. Eugene saves about $8.5 million in public safety costs annually and $14 million in ambulance and ER costs.
Last year, Olympia, Washington, followed suit.
On June 8, Seattle police left the East Precinct at Durkan's behest after protesters driven from downtown created the Capitol Hill Organizing Protest area — a six-block "no-cop zone."
Durkan feared Minneapolis-type riots with elevated force, but Trump blasted state and local Democratic officials, saying, "If they don't do the job, I'll do the job." Durkan responded, "Make us all safe. Go back to your bunker."
CHOP or CHAZ (Capitol Hill Autonomous Zone) was initially reminiscent of Berkeley, Calif., in the Sixties with a communal-like atmosphere — free food, tents and a no cop "co-op."
Someone, though, forgot to tell residents, who weren't happy with all the newcomers, including when urban farmers who decided to turn part of a park into a vegetable garden to feed the homeless.
CHOP did have volunteer medics; the Sentinels, an armed leftist security group; and the Puget Sound John Brown Gun Club, an anti-fascist organization pledging non-violence.
Then paranoia set in — first with rampant fist fights, then an influx of homeless people, including an altercation after a man dubbed his grill KKK (Klay's Kommunity Kitchen), and gang violence.
A 19-year-old man was shot June 20 and died when paramedics arriving in an ambulance were turned away by protesters blocks away at the barricades. Nine days later, a 14-year-old and a 16-year-old in a car were shot while near a barricade. The older boy died.
The alleged security teams subsequently left.
Andre Taylor, a community organizer whose brother was killed by police during an arrest in 2016 was among those brokering a return to normalcy.
He told the New York Times, "If you put yourself in the shoes of anyone in authority that has to care for the well-being of its people, you can't allow killings and shootings to happen on a daily basis. You can't do it. I wouldn't do it."
If CHOP made an area devoid of police seem nonsensical, "reimaging police" by having mental health professionals intervene when possible seems quite logical.
Even when police have crisis intervention training, the sight of an authority figure with a weapon could exacerbate the situation when dealing with an individual with mental problems. A Washington Post database of officer-involved shootings found 25% of those killed had mental health problems.
Iowa, of course, was recently last in the nation in providing mental health services, following former Gov. Terry Branstad's budget-cutting obsession, reducing available beds in state-run facilities.
It stands to reason that when the situation calls for mental health professionals, their expertise should be put into play. That would lift an unnecessary burden from police. Better outcomes likely would ensue.
That's worth imaging and enacting.