The immigration crisis is one because we've made it one. How: an inadequate system short on immigration agents, lawyers, and judges; spending …
We received a letter from the city auditor yesterday. I could not believe what the land value was. We have a postage stamp size yard. I would …
The new law ensures a lengthy early voting period and absentee voting while protecting the integrity of elections with Vote ID. The law is alm…
Today's (April 2) Globe Gazette has this on page A5, "Fewer in the US belong to houses of worship." I read it.
What? Another mass killing. Ten beautiful people murdered.
I received my second shot today at the old Sears. I want to commend all the volunteers and staff who worked this operation. It was a flawless …
I hope everyone will show their displeasure to the Elmwood Cemetery Board for deciding we could no longer have flower boxes or anything else o…
The older I get, the more amazed I become about the oddities that happen around us. First, I found out that it is possible for dead people to vote.
Broken promises about rail road crossings.
Rene Abels served as a school board member of the West Hancock School District. In less than six months of starting her term, COVID hit Iowa. …
The crisis at the border intensifies. There is evidence that this "migration" is closer to an "invasion" and organized by those unfriendly to …
Last week, I joined biofuel leaders from across Iowa, who gathered virtually to update our state's lawmakers on the industry's top priorities.…
In 2002, Iowa's Environmental Protection Commission (EPC) overturned a decision made by the Iowa Department of Natural Resources (DNR) that wo…
Years ago, an economics teacher in Council Bluffs, Jefferson, stressed this: Prime the pump.
We seem to be proud of not increasing taxes. I guess we should be proud of the old MCHS Building sitting on the demolition list. Lets be proud…
What the Republicans in Congress have been occupied with most recently is what could be called, "Solutions searching for a problem."
Guebert: Farmers and corn are the big winners? What about the $30,000,000.00 Biden isn't giving to the people that were destroyed by the grain…
I'm a fourth generation family farmer in north central Iowa. When I consider all the ways I can improve upon my farm while also benefiting my …
Most utility providers were forced to purchase natural gas at much higher prices recently because equipment froze in the South during the pola…
President Biden's bold immigration plan seeks to offer a pathway to citizenship. However, immigration reform is a holistic matter, and other s…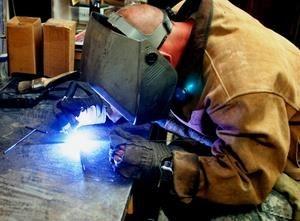 J & J Machining, Welding & Fabricating
I am appalled at the sign that is clearly viable on Hwy 218 coming into Osage that reads "F**k Biden".
I am appalled at the sign that is clearly viable on Hwy 218 coming into Osage that reads "F**k Biden."
Paul Harvey when he was on his program on the radio said this about abortion that he saw on a bumper sticker.
The stimulus package presents an opportunity to extract lessons from both the Biden administration and Gov. Reynolds. Some charge the package …
Every day I get older and I believe wiser. Instead of watching sports or reality television, I watch science and history. I make every attempt…
Currently there is a bill ready for debate in the Senate, SF 483, also known as the Working Animal Protection Act.
I scratch my head when I see all the delivery vehicles on the roads. It make me wonder about all the time, effort, resources wasted in trying …