Head out your front door sometime this week and take a little walk.
Are the sidewalks clear and mostly level? At busy intersections, are the crosswalks painted and clearly visible? How about bike lanes? Can you easily see them? Do you feel safe using them?
Most importantly, when you step off the curb, are drivers stopping?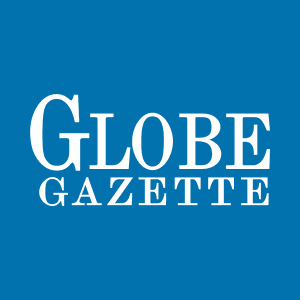 A group of Newman Catholic High School students are in the midst of a "walkability" study of their school's neighborhood. The audit, which was funded by a state grant awarded to Healthy-Mason City, has been replicated at the city's elementary schools and will soon include John Adams Middle School. 
Similar work has been done at colleges around the state.
What the students found in their audit was alarming. At an intersection just steps from where hundreds of kids come and go on a daily basis were crosswalks one student said he wasn't comfortable using. 
A radar gun quickly backed up the student's fears; cars were streaming by at a speed that easily exceeded the posted limit.  
"Everybody knows people speed on this road, it's no secret," said another student.
If it's not a secret, then it begs the question: why hasn't this been addressed?
And let's be clear, we don't lay the blame on the police. Of course they could devote more resources to policing roads like 19th Street Southwest for speeders. 
Although that would be an effective deterrent, it comes at a cost. There are other public safety issues the police could spend their time on, and at some point, priorities have to be established.
Traffic cameras can also serve as an effective deterrent, but they've received a rather cold welcome here; they're criticized as a quick way for a city to make extra revenue. Several in Iowa, including Waterloo, have used them and have had to pursue action through the courts to be able to continue to use them after the state attempted to shut them down.
You have free articles remaining.
"This turns up the heat a little bit on vehicles that are out there routinely …violating our traffic laws by running red lights and speeding and our cameras are catching them," Trelka said.
And there's a bill still hanging on at the statehouse -- though action this session seems unlikely -- to ban them completely. The bill is not part of the end-of-session "funnel," but remains alive by virtue of the fact that it remains before the Appropriations Committee.
A lot of debate and red tape still attached to that option.
Here's an easier path to consider: How about we consider our surroundings and make more of an effort to slow down?
And while we're at it, let's put ourselves in the shoes of those who either can't or don't drive every once in a while.
Sure, we're all pretty busy people and it's easy -- so easy! -- to get behind the wheel and try to make up time by racing through a yellow light or to multi-task by taking a call or sending a text or pretending you don't see that person at the curb about to enter a crosswalk.
It only takes a second before you can end up regretting those decisions for the rest of your life.
This isn't a new argument, we know. Try this one on instead: Making a town more walkable and bikable improves its economy.
For example, did you know that most cars are worth a lot less than the spot they're parked on? If you used public parking spots less by walking and biking more, Mason City could consider more mixed use development, retail could grow and ... your property taxes would decline.
Another example: San Diego examined the economic impact of creating a more walkable community and found that there is a direct correlation between walkable communities and housing values.
The Walking the Walk study found that homes located within a walkable community commanded a price premium of $4,000 to $34,000.
We've heard the slogan "slow down, it saves lives" argument so many times that despite its truth and importance, it can go in one ear and out the other. Perhaps this will stick a little more: slowing down (and walking more!) may put more bucks in Mason City's coffers and in your own pockets.