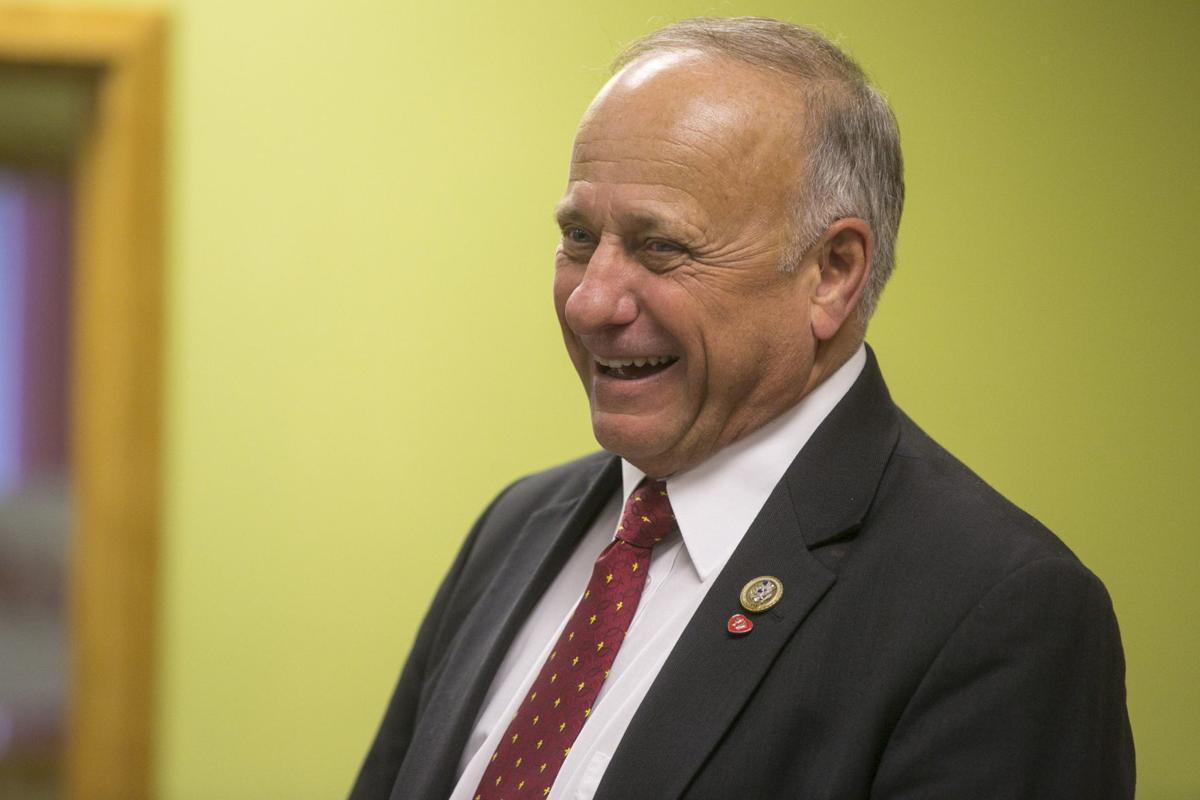 That was in 2012. Little has changed in our view of the Congressman.
King won re-election that year, in 2014, 2016 and 2018. King has also, at a faster pace than an election cycle, managed to disparage different groups of people and embarrass Iowa with slight variations of the same off-key, out-of-sync, inappropriate ignorance and hate.
We were angry about it then, we were tired of it before, and we believe Steve King should resign. His party deserves better, and his constituents deserve representation. Neither is possible with King in D.C.
King, serving his eighth term in Congress, later called the story fake news, claimed the quote was taken out of context, and termed his role in it a "freshman mistake."
Given his history of hate, no one but his blindest supporters believe that.
Based on our own recollections and the reminders from AP and Burns, the only context needed for King's comments are the pattern. He's failed to learn, failed to grow up, and failed to be a leader.
This should anger even those who are tone deaf to treating and speaking about people in an appropriate manner. Iowa's unofficial default assignment in Congress is ag, and if you lose that seat because of your actions, you are a worthless representative.
You have free articles remaining.
King's effectiveness in Washington was questionable before. Now it's completely neutered.
Fast forward to July 2016, when King's mouth found more headlines. We weren't amused. "The identity politics well has provided life to King's congressional career for years. And no amount of toxicity will keep him from lapping it up."
"It's one thing for Republicans to occasionally distance themselves from the party parasite. It's another to continue to tell voters he's the best your party has to offer. Surely there is at least one rational Republican between Mason City, Ames and Sioux City?"
Since he first took his seat in the D.C. Swamp in 2003, King lost Cerro Gordo County for just the third time and Floyd for the second time in November 2018. He won Winnebago by just 1 percentage point but maintained double-digit victories in Hancock, Franklin and Kossuth counties.
U.S. House, Iowa District 4
| Candidate | Percent | Votes | Winner |
| --- | --- | --- | --- |
| 39 of 39 counties reporting | | | |
| Steve King (R) | 50 | 157,221 | X |
| J.D. Scholten (D) | 47 | 146,698 | |
| Charles Aldrich (L) | 2 | 6,312 | |
| Edward Peterson (NP) | 1 | 1,939 | |
Overall, however, the narrow victory (3 percent) over a newcomer and – gasp – a Democrat in this Republican stronghold should have made King watch his mouth. Few expected that to happen though, and whispers of challengers in 2020 started almost immediately.
Canned press releases softly denouncing King's verbal garbage aren't acceptable or enough. A combination of silence and four-figure checks will result in another King victory.
North Iowa can't afford that. We'd welcome King's resignation, but we don't expect it. He's too out of touch.
This remains a Republican problem to solve. Push him to resign and prepare for the next election.
Local editorials represent the opinion of the Globe Gazette editorial board, which consists of Publisher Samuel Gett, Editor David Mayberry, and Regional Editor Jim Cross. Contact the board or send letters to news@globegazette.com.