Iowa Gov. Kim Reynolds' aversion to following the science on masks is puzzling.
In July, she said there is disagreement about their effectiveness. (There really isn't, not in the medical community).
Last week, she complained that states with mask mandates weren't enforcing them, the suggestion being that those states aren't really that different from Iowa.
Obviously, that's not true, either.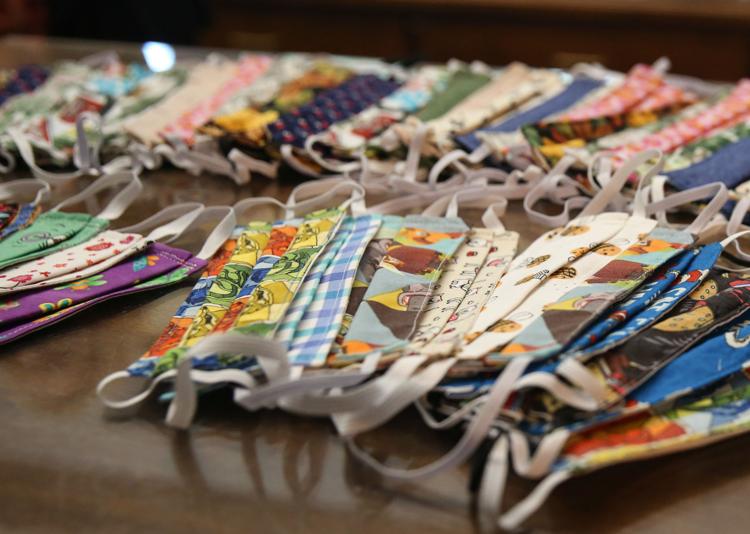 A June study in Health Affairs that looked at states with mask mandates and those without found that more than 200,000 cases had been prevented in a roughly 7-week period in states with mandates in place.
There is further evidence. It's not hard to find. Public health organizations around the world have found it and adjusted.
The CDC and the World Health Organization, which initially argued against masking, switched positions. Even the White House coronavirus task force has urged, for weeks, that Iowa put a mask mandate in place.
Medical and public health officials throughout this state have practically begged the governor to do so. The Iowa Medical Society, along with a lengthy list of other organizations representing more than 12,000 health professionals in the state signed a letter making the request in July – long before Iowa last week became the worst state in the nation in rate of infections.
As this pandemic has worn on, researchers have learned a lot about the virus and applied those lessons.
Reynolds refuses. She says she follows the science, but in this case that's just not true.
We're used to politicians not wanting to admit to their mistakes, who are loathe to backtrack from previous positions. The sin of pride is strong in the class. But Reynolds takes it a step further – she prevents local governments from applying the lessons of science to protect their own communities from the virus.
Some have gone ahead and done it, anyway, because they know what Reynolds refuses to admit – that such mandates send a signal to the population. Even with lax enforcement, a mandate, followed by strong public health messaging, makes a difference.
More importantly, it's not too late.
"Social norms can change rapidly," social psychologist Catherine Sanderson of Amherst College said in a May article in the Scientific American, "and it doesn't take everybody."
It's true. Already, Iowans are wearing masks in greater numbers as it becomes more expected. But there still are significant gaps; the issue of masks still is bogged down in political and cultural muck.
To extract it takes leadership.
The governor has failed that test. She has refused to follow the science. She has leaped from one excuse to the next to push away what the best medical experts in the country, and in her own state, are telling her.
As the number of cases have climbed, she has stuck to her guns. That's been apparent on a number of fronts.
Last week, Iowa State University said it planned to let the Cyclones football team hold its home opener in the company of 25,000 fans, a move that outraged many in the community and across the country. The governor just shrugged her shoulders.
"Don't go if you don't think it's safe," was her reply.
Luckily, Iowa State President Dr. Wendy Wintersteen found the courage to reverse course. A statement by the athletic department said she took into account feedback from the community and decided it was not a good idea.
Such humility is not easy, and we applaud Wintersteen for taking this step.
It would be nice to believe a mask mandate would solve the problem. It won't. But it helps, and even those who doubted are learning. Texas Gov. Greg Abbott initially refused to let local governments impose their own mask mandates. Then, infections soared. Abbott reversed course and put into place a mandate throughout most of the state.
We now are into September, with the cold and flu season on the horizon. And public health experts are worried what impact this will have as we continue battling the coronavirus. We are hopeful this sudden spike in coronavirus cases will reverse itself. But, as it now stands, the state is in an awful starting point as we approach the fall and winter months.
The governor can help to reset the state. She can find it within herself to reverse course and require that the people of Iowa wear masks while they are in public and can't socially distance. Then she should use the messaging power of state government to work to change behaviors, so this isn't a political and cultural question but one of public health and welfare.
The science is clear: A mandate would reduce the number of cases, and it would save lives. It is time the governor finally acts on this truth.
This editorial was written in conjunction with Lee Enterprises' Iowa editors from the Sioux City Journal, Quad Cities Times, Waterloo Courier and the Daily Nonpareil of Council Bluffs.
Concerned about COVID-19?
Sign up now to get the most recent coronavirus headlines and other important local and national news sent to your email inbox daily.