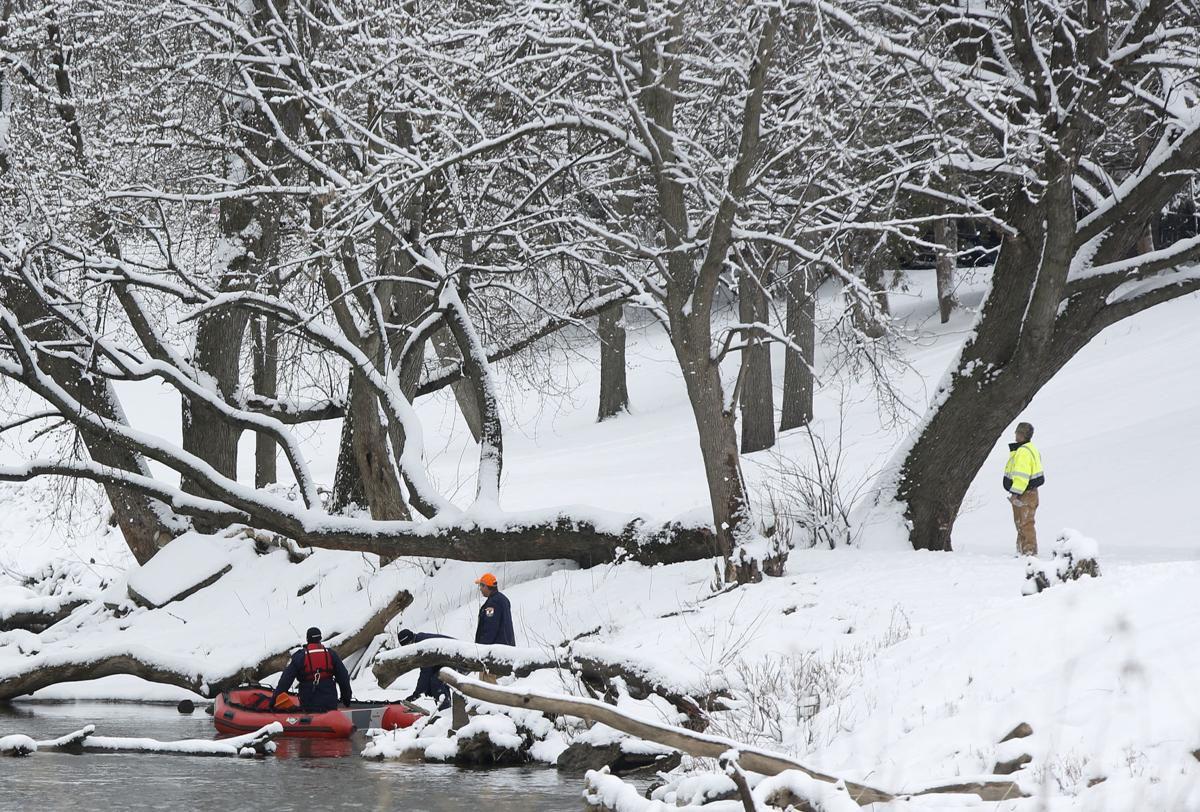 Following a couple of weeks of the most trying, frustrating but still somehow empowering times of my tenure as Black Hawk County sheriff, I feel compelled to express my gratitude, and to give our citizens a "behind-the-curtain" peek into what it takes to carry out a search of the scope of our recent efforts in La Porte City.
On Saturday evening, April 7, Jake Wilson disappeared after telling family members he was going to walk to Wolf Creek. Within 45 minutes, officers from the La Porte City Police Department and the Black Hawk County Sheriff's Office began assisting the family in searching the area. Soon joined by officers with the Waterloo Police Department and their K-9 team, searchers looked until about 1:30 a.m. Sunday.
At 5 a.m. Sunday, sheriff's office teams converged on La Porte City. Searchers started arriving, and we signed them in with the help of Black Hawk County Emergency Management. Rob Inouye, with the Cedar Falls Fire Department, coordinated the search under La Porte City Police Chief Chris Brecher. Iowa TaskForce 1, a state-sponsored search and rescue team headquartered in Cedar Rapids and Sioux City, assisted.
Throughout that first day, more volunteers and resources were added. The methodical search used United States National Grid coordinates.
Investigators from the Iowa Division of Criminal Investigations, the Federal Bureau of Investigations and many area sheriff's offices and police departments also converged on La Porte City. They canvassed the town, interviewed witnesses and reviewed any possible sources of information to aid in locating Jake.
Paper sign-in forms turned into electronic tags for people and equipment through a program managed by Black Hawk County Emergency Management, supported by 17 county EMAs from across the state. Our logistical concerns moved from basic needs to providing support for more than 850 daily staff and volunteers.
Operations quickly moved from informal "what do we do next?" meetings to structured briefings several times a day. We held two press briefings daily. We met routinely with the family to keep them updated. The logistics of how to feed, outfit, keep safe, coordinate, assign locations, communicate and ensure proper equipment for so many staff and volunteers is easily lost when all you see are a few photos or a brief video on the evening news.
Ad hoc dispatchers managed our radio needs on two or three radio channels to communicate with each discipline of responder. Operations staffers managed input from teams in the field, ensured no locations were missed and planned for needs, support and approaches for areas requiring additional equipment, manpower, specialty equipment or vehicles, including horses and ATVs.
The planning section worked on all facets of current and future missions. A small contingent of investigators was tasked with emergency response, crime scene investigations of materials, questionable items located while searching, and follow-up on leads and areas deemed important.
Logistics coordinated professional volunteers, meals, water, toilet paper and every other asset to make sure staff were supported, equipped and worked safely.
Administrative elements changed every couple of days, and the Iowa Incident Management Team proved to be a blessing. They are multi-agency, multi-discipline and multi-jurisdictional professionals who took over the operations cell from Iowa Task Force 1. They brought extensive management and incident response experience.
While this structure remained in place for about 10 days, after four days of searching it was clear we were covering areas three to six times because we had the staff to do it, even though they had been thoroughly searched. The focus shifted to technical search teams. The need for volunteers began to dwindle.
Those good-hearted volunteers skipped work to help the search. They remained dedicated despite sometimes horrible weather conditions — snow, rain, hail, sleet, rising creek and river levels and 39-degree water that varied from a few inches deep to over your head.
I am humbled and honored by their efforts.
On day three, an expert from the National Center for Missing and Exploited Children was on scene. The former homicide detective from Chicago flew in during our first snow storm. He gave advice and provided information and assistance. He later wrote me that our staffs "implemented the most coordinated and thorough search and rescue operations I have ever witnessed. Everyone can hold their heads up high, knowing that all that could have been done, has been done."
Chief Brecher and I worked tirelessly beside some of the bravest, finest, most dedicated professionals in the fire, police and EMS/EMA disciplines on this planet. Our volunteers gave us their very best efforts in unrelenting conditions. But I and my colleagues made a promise to the family. While I hold my head high for having been blessed to work with all these folks in very rough conditions, we have not yet done the one thing we promised to do — bring Jake home. The work continues until that time.
Catch the latest in Opinion
Get opinion pieces, letters and editorials sent directly to your inbox weekly!