I'm marking the passing of the seasons this year by playing more golf. I do this out of love, though I curse like a sailor every time I'm out on a course.
My husband, Jerry, likes to golf. I do not. However, we're both relatively new empty nesters and as such, we've started exploring different activities one or the other of us likes that we can do together with our newly acquired free time and disposable income. 
I have a great passion for community theater and have performed all my life. He, on the other hand, had never been on stage before he sang, danced and acted in a musical. 
I thought it would be a fun, "empty-nester" kind of thing to do, and since we both agreed it was time to find things to do together, he was kind of stuck.
He auditioned for the show by singing along with James Taylor on a CD (he can't read music, mind you) and reading from a script. The director loved his voice -- he has a beautiful singing voice -- and cast him as the Bing Crosby-type character in a locally written "White Christmas"- like show.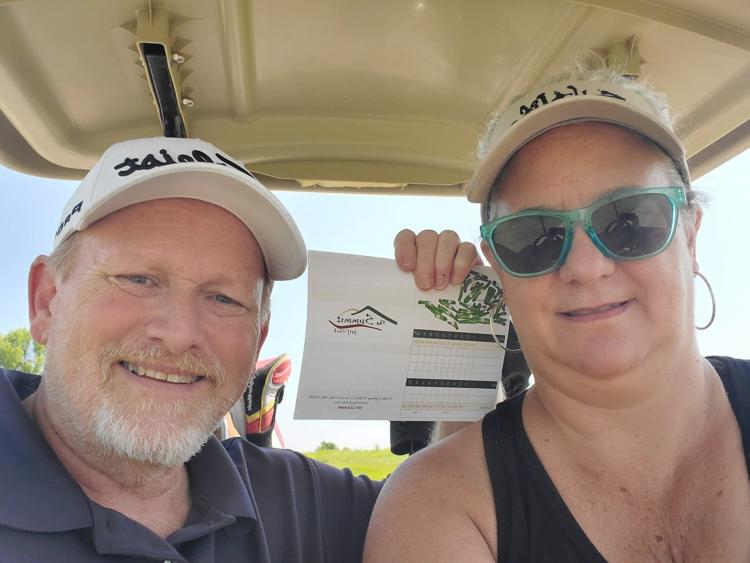 He even danced a jig while singing. The audience loved him.
I wasn't even cast in the show.
Next up was bike riding. Jerry has two bikes, one of which he took on a 350-mile trip when we both lived in Wisconsin. The other is an Italian number that he bought with the money he earned one summer while umpiring.
I, too, have a bike. And I, too, took a trip on a bike -- when I was 14.
As soon as I get on my bike, I start to sweat. Since I am of an age where I already sweat when I don't want to (ladies, you'll understand), this was quickly discarded as an option for an activity we'd do together on a regular basis.
I will eventually ride my bike on the trail between here and Clear Lake, but it will have to be 40 degrees outside.
You have free articles remaining.
I have played golf since I was 15 and have burned out every loved one who has ever tried to help me improve my game. Despite this, my loving husband hangs in there with gentle coaching, positive reinforcement and the occasional snootful of alcohol as I flail away at an area course each weekend.
He even bought me new clubs this spring as an anniversary gift to himself.
So we go to the driving range here in town and I get to watch all the people in the stalls jump as I repeatedly hit the ball off the toe of my driver into the wood stall divider next to me with an ear shattering "bang."
You're not supposed to hit that. Ever.
On the course, I usually top the ball, so I've taken to standing Happy Gilmore-like with my legs spread far apart to stop myself from lifting up as I swing through the ball. 
There are only two results: I connect and the ball soars well beyond the intended target or it rolls 20 feet and stops. There is no in-between.
Load the club in the bag, hop in the cart, get the requisite piece of advice and encouragement and head to the ball.
Repeat. Card a 115 or so for 18 holes and hit the clubhouse.
Breathe a sigh of relief.
Jerry wants so badly for me to improve enough to enjoy myself. And so do I.
But I fear then a couples league may be in our future. I just hope they're used to swearing.