Recently, I struck up a conversation in the check-out line at HyVee East with a woman I did not know.
You can tell a lot about a person in a check-out line just by looking at their cart. Is it filled with beer or baby food – or both? A birthday cake or a couple of boxes of doughnuts are evidence of an upcoming celebration or breakfast treats for the family. Sometimes you'll encounter a "cheater" who is in the "express line" with far too many items.
On this particular day, my attention was drawn not to the groceries of the woman ahead of me in line, but to her apparel. She was obviously a Mason City High School booster and, as it turns out, the mother of a Mohawk football player.
"It's been a long year, hasn't it," I said. (Prior to Friday's night's game against Ottumwa, the Mohawks had lost their first eight games, giving up 50 or more points in five of those games.)
"Yes," she said with a slight smile, acknowledging her son is on the team. "He's five-foot-ten and weighs about 160 pounds and he's a linebacker," she said.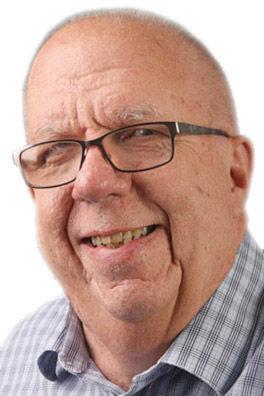 I asked her if she had fears of him getting hurt and she said "sometimes." Did she have any reservations about him playing? "No," she said. "He's participating."
I want to direct some thoughts to her son and to others involved in the high school football program. You don't realize this now, but you're going to encounter "long seasons" of one kind of another all of your life. The biggest lasting values of high school sports are not the wins and losses but how you deal with them and what you learn from them.
Good for you for showing up week after week, listening to your coaches, supporting and encouraging your teammates and doing your best to represent your family, your school and your community. In life, it's easy to be a good winner. In the end, people will remember you more for how you persevered during a "long season."
A friend of mine tells the story of a friend of his who was coaching a team of kids in one of the youth leagues around town. "How are you doing?" he asked his friend.
"Well," said the friend, "we're getting harder to beat." Sometimes success comes in small steps.
Years ago, when I was general manager of the Mason City Bats baseball team, I struck up a conversation with Matt Brown, a catcher who at one time played in the Minnesota Twins minor league system. He told me about one season in which his team had a 12-70 record – and had about 50 more games to play.
"How do you stay motivated in a situation like that?" I asked.
He said, "You say to yourself, `There's always tomorrow. Be ready'."
To the Mohawk football team and to others who find themselves in similar circumstances, I end with a famous quote from Theodore Roosevelt who spoke about the thrill of competing. His comments came in a speech in Paris in 1910. Roosevelt told his audience the importance not of winning or losing but having what it takes just to be in the arena…
"But who does actually strive to do the deeds, who knows great enthusiasms, the great devotions, who spends himself in a worthy cause; who at best knows, in the end, the triumph of high achievement and who, at the worst, if he fails, at least fails while daring greatly so his place shall never be with those cold and timid souls who neither knew victory or defeat."
From the checkout line at HyVee to high school football fields to Theodore Roosevelt, the message seems to be the same:
Some seasons are long – but there's always tomorrow. Be ready.
John Skipper retired from the Globe Gazette in February 2018 after 52 years in newspapers, most of that in Mason City covering North Iowa government and politics.