I mentioned in previous columns that North Iowans looking toward a brighter future often mention characteristics that are associated with the fruit of the spirit as professed in the Bible in Galatians 5:22-23.
"But the fruit of the Spirit is love, joy, peace, patience, kindness, goodness, faithfulness, gentleness and self-control."
Whether you are a Christian or not, it's hard to deny the value of living by the fruit of the spirit.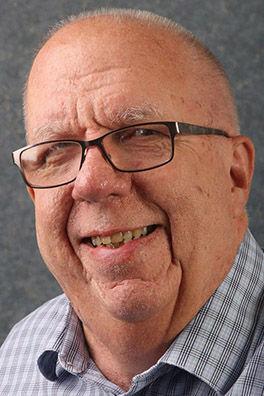 We all ought to have a code of ethics on which we judge ourselves from time to time.
I decided to rate myself on how well I am doing with the fruit – and I invite you to do the same.
In my self-evaluation, I determined I was doing pretty well with love and joy and peace and kindness – although there's always room for improvement. But I sometimes come up short with two of them – patience and self-control.
I think I have done pretty well in handling life's biggest challenges – enduring the loss of a job, the death of a spouse and the onset of a serious illness – all in the space of two years, for example.
But it's the little things in life – not finding matching socks, misplacing the TV remote or my cell phone, running out of postage stamps – that can drive me nuts. In these circumstances, I'm not real good at either patience or self-control.
Taking all of this into consideration, I am once again thinking about abandoning something that rattles me unnecessarily -- social media and cable news hogwash.
My generation listened to Walter Cronkite and Huntley and Brinkley. This generation listens to Rachel Maddow and Sean Hannity. We are no longer encouraged to be informed. We are encouraged to be enraged.
Facebook is another example of fool's gold.  
I am distressed by all of the mean-spirited political diatribe that flows through its veins, the number of people who consider themselves righteous and yet spew hatred without giving it a second thought.
For instance, despite what I read, I don't believe either President Trump or Joe Biden is Satan. They are two men with polar opposite political views and conduct themselves in polar opposite ways. But the world will not come to an end no matter which one of them is elected.
I don't understand how people who present themselves as loving individuals in person can express hatred on social media to people who disagree with them.
In the past, I have threatened to give up Facebook because it is such a colossal waste of time. I hooked on to it years ago because it was a way of keeping track of my kids and grandchildren who live in different parts of the country. And that's what I look for every day. But in that search, I find myself reading a lot of the verbal vomit that pops up on the screen. And then I get mad.
And there you go. Patience and self-control. Out the window – and it's my fault for letting it happen.
So should I give it up, tune it all out … or just do better in dealing with it?
I could go on and on … but right now I have to go look for my cell phone.
John Skipper retired from the Globe Gazette in February 2018 after 52 years in newspapers, most of that in Mason City covering North Iowa government and politics.