Enough about Trump, Democrats, natural disasters, tariffs, hotels, malls and everything else that consumes our thoughts. Enough, at least for the moment.
Today, we focus on an everyday dilemma that affects every one of us and needs to be addressed.
I see my friend Gail Krutsinger about once a week. Gail is a middle-aged pleasant man who almost always greets me with a fist bump. So when I saw him the other day, I quickly made my right hand into a fist to be prepared for my weekly bump. And as I approached with knuckles forward, I saw that his hand was outstretched, ready for a good old-fashioned hand shake. I was able to make a quick adjustment but he clearly threw me off my game.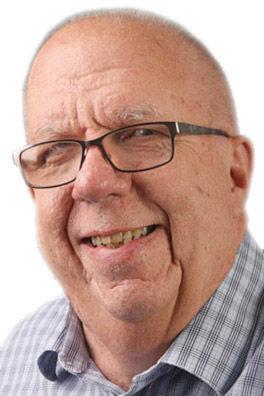 It isn't the first time I've been caught in the grip of the great greeting etiquette. Society has evolved over the years from the handshake to the high-five to the low-five to the fist bump -- and I'm probably leaving some out.
Where did all of this come from, I asked myself. Silly me.
Turns out, the handshake goes all the way back to medieval times and was not intended as a greeting. By extending the right hand, it showed that the person had no weapon and intended no harm to the person he was approaching. The two people shook hands to show they were at peace with one another. Soon it became customary.
Centuries later, the "high five" became popular but, once again, not as a greeting but as a means of congratulations. There are conflicting reports as to when it all started (or became popular) but it was seen by millions of people on national television on Oct. 2, 1977. Los Angeles Dodger outfielder Dusty Baker hit a home run and was greeted at home plate by teammate Glenn Burke who gave him a "high five." It is also reported that the University of Louisville basketball team popularized the gesture in 1978 by congratulating one another on the court.
By the way, National High Five Day is unofficially the third Thursday in April when Americans are asked to high-five as many people as possible and donate money to charity for each high-five they give out.
You have free articles remaining.
Before any of this took place, jazz musicians and their fans were giving each other "low fives," also known as "slapping skin" after some of their rousing performances by people like Al Jolson and Cab Calloway in the 1920s and '30s.
The fist bump seems relatively new but it actually goes back a long way, although for a different purpose than how it is used today. For decades, professional boxers have met in the center of the ring and tapped gloves before fighting one another, as if to say "good luck" or perhaps "no hard feelings when I beat you to a pulp."
Baseball star Stan Musial is said to have used the fist bump in the 1950s and '60s because he believed shaking hands could cause the spread of disease. The gesture escalated in popularity in 2008 when Barack Obama fist-bumped his wife after he had been elected president.
Incidentally, I have never seen a woman initiate a fist bump.
So, there you have it, folks, a veritable "handful" of information. And to my friend Gail, I say I'll be ready for anything you want to throw at me next time.
By the way, we haven't even touched on another form of greeting – hugs – and who likes 'em and who doesn't, and how can you tell?
Sounds like a research project.