If you didn't know Bob Amosson, or even if you had never heard of him, Bob would have laughed and said that was all right.
Amosson, who died July 21, accomplished a lot in his life but never did anything to purposely call attention to himself.
Amosson, 73, served on the Cerro Gordo County Board of Supervisors for 14 years and prior to that served on the county's Board of Adjustment. He served on many other boards and commissions and was a farmer for 40 years.
I learned a lot from Bob in chats I had with him in his office at the courthouse, away from the hum-drum of county government. One of the many volunteer positions he held over the years was as a mediator for the state of Iowa in which the ultimate goal was dispute resolution.
If mediators are successful, they help bring disputing parties together and try to work out their differences without going to court. That makes for a much happier solution for all parties involved, is cost-saving to everyone involved and helps unclog an already crowded court system.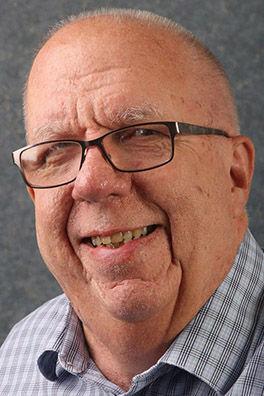 "What's the secret to successful mediation?" I asked Amosson one day.
He didn't hesitate. "Common ground," he said. "Finding common ground."
Our conversation took place years ago but I have thought about it often. When I think of all the contexts in which I knew Bob Amosson, I think he applied that principle in governing and in most other areas of problem-solving.
He said many of the disputes that involved his mediation were between estranged husbands and wives or neighbors who weren't getting along.
My takeaway from all of this is this: If we can look for common ground in family and neighborhood disputes, why can't we do it at the state and national levels?
Last week, many of us watched Attorney Gen. William Barr testifying before a U.S. House committee. Congressmen and women from both sides of the aisle were given five minutes each to question him. Almost without exception, the legislators used most of their time to bloviate on their personal, partisan views and then complained about how they didn't have enough time to ask questions.
It was like most congressional hearings that are televised – a national embarrassment.
In Washington, there is no effort between the two political parties to find common ground. Many Republicans and Democrats demonize each other and never the twain shall meet. We need some Bob Amossons in Washington --. dozens of them, in fact – people who care more about outcomes than name recognition.
Common ground makes me think of common sense, common denominator, common cause, common purpose and common good. Isn't it interesting that peaceful, casual gathering areas in public buildings are often called the Commons?
Amosson had a knack for getting his point across in sometimes difficult situations. There is the story about when he was serving on the Board of Adjustment and a zoning dispute came up between next-door neighbors over a deck one of them had built that did not meet county regulations, according to the other neighbor. They both lived in beautiful homes on the lakefront.
At the meeting, they exchanged nasty comments, apparently oblivious to the fact they were still going to be neighbors, regardless of how the dispute was resolved.
Amosson listened patiently and then told the men, "I grew up on a farm and I always thought that one day, it might be nice to live on the lake and have a nice home like you two do. But I wouldn't want to be a neighbor to either one of you."
How's that for common ground!
John Skipper retired from the Globe Gazette in February 2018 after 52 years in newspapers, most of that in Mason City covering North Iowa government and politics.
Catch the latest in Opinion
Get opinion pieces, letters and editorials sent directly to your inbox weekly!