There it stands, strong and sturdy and full of symbolism, like the Washington Monument, the Eiffel Tower or the Empire State Building.
You can't help but look at it and have all sorts of thoughts running through your mind.
And yet … and yet … it is nothing more than an elevator shaft, for goodness sake, a slab of concrete encompassing a big hole, poking upward from its perch near downtown Mason City.
It is tangible proof that something beyond talk is actually happening, and that's important because, as we all know, when all is said and done, it's been mostly said.
The elevator shaft is the start of construction of the Talon Apartment complex that won't be too far from the Hyatt Place hotel that won't be too far from the ice arena/multipurpose center in downtown Mason City.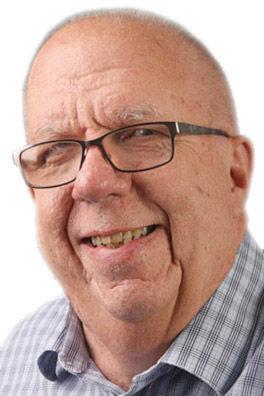 In other words, it might be just an elevator shaft, but it also might be the start of something big, and we've been waiting a long time for something big.
You have free articles remaining.
When you combine Mason City's projects with the hotel/conference center being planned by our neighbors in Clear Lake, it would seem like the best days for North Iowa are ahead of us.
I am among those who have concerns about whether the Mason City-Clear Lake region can support the new hotels, in addition to those we already have. But we ought to have confidence in the marketing specialists of the new hotels who have scouted the area, know the competition and are willing to be a part of it. These people are making huge investments and they do not take them lightly.
But all of this is just a start. I am reminded of a situation I found myself in several years when I wrote a two-part series for the Globe on a complicated topic that was controversial at the time. On the day the first article was published, Gary Metro, the Globe editor at the time, burst out of his office, came over to my desk and said, "Good job." Before I even had a chance to savor the compliment, he said, "And I expect the same thing tomorrow." Then he went on his way.
To Aaron Burnett and Scott Flory, city administrators in Mason and Clear Lake, to Mayors Bill Schickel and Nelson Crabb, to the respective City Councils, and to North Iowa Corridor EDC staffers, we citizens say, "Good job – and we expect the same thing tomorrow."
There's an old Irish expression that goes like this: May you have the hindsight to know where you've been, the foresight to know where you're going, and the insight to know when you've gone too far."
In the meantime, let's all enjoy the sight of that elevator shaft. For goodness sake.