Recently, I was sitting in my car waiting while my kids had piano lessons. I decided to use the quiet time to start working on my next column. When I write I like to first jot down ideas and a rough draft on paper with a pen. Then later I move to a computer. I reached for a pen from my console and started to write. I was immediately disgusted with the pen. It was too inky as what I wrote was bleeding and smudging. I searched for another pen and began to write again. This one was much improved. It was drier, there was no smearing and it just felt better.
As I realized what I had just done, I thought how peculiar it is how we can have favorites of everything, no matter how big or small, tangible or not. With some things, it seems perfectly logical to have a favorite, such as with a pair of shoes or jeans. But we often have favorites of unexpected things, as well. Such as ink pens.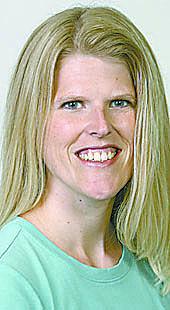 When I'm at home, I always reach for the same pen. Or at least the same style. We probably have 100 pens in our drawer but I always want the same one.
Everyone in my house has "their spot" to eat dinner and a favorite place to sit while watching TV in the family room. When I take a shower, I always like to use the same type of towel. I give my kids the big, fluffy towels because they seem so soft and comfy. But for me, I always grab a thinner towel, as it's more comfortable to wrap my hair in after my shower.
Another odd example is having a favorite parking spot at work, school, or somewhere else we frequent. I have a favorite spot I like to park when I pick up my kids from school. When this regular spot is taken and I have to park elsewhere, it feels a little weird.
In writing this column I started to wonder if I was strange for having these preferences or if other people felt the same. So I surveyed a few family members to see if they had these tendencies, as well. It turns out I am not alone. What a relief!
My mom said she always parks in the same spot at the YMCA and church. Every time. She also has a favorite kitchen knife and pan to cook with. My husband always likes to drink from the same glass. He has four of the same kind, but he always chooses one out of this set. He also has a favorite calculator. In his office he has several to choose from but he always searches out and uses the same one. My dad always uses the same can koozie when enjoying a cold beverage. Just like many of us, he has a pile to choose from but he never grabs just any old koozie. It's always the same one. My grandpa has a favorite pillow that he has used for far too long. It's so peculiar it earned its own nickname. We call it "the nothing pillow" because it's basically nothing as it is so thin and flat. But it's his favorite.
We certainly are creatures of habit. What odd favorites or tendencies do you have? Do you always go to the same pump at the gas station? Choose the same booth at your go to restaurant? Do you have a favorite pen, too? Think about it, it might make you chuckle just as it did me.
Addie Rugland is a freelance writer who lives in Northwood with her husband, daughter and son.