Exciting times! Those two words best describe the state of the city.
A vacant big box store (J. C. Penneys) has been transformed into a state of the art arena, finishing the first phase of our River City Renaissance. By spring, ground will be broken for the Performing Arts Pavilion and the Hyatt Place Music Man Square Hotel.
With the opening of seven new businesses or organizations, the Southbridge Center is almost seventy percent occupied. One of the newest is the Mason City Parks & Recreation Department, giving this key service a highly accessible permanent home.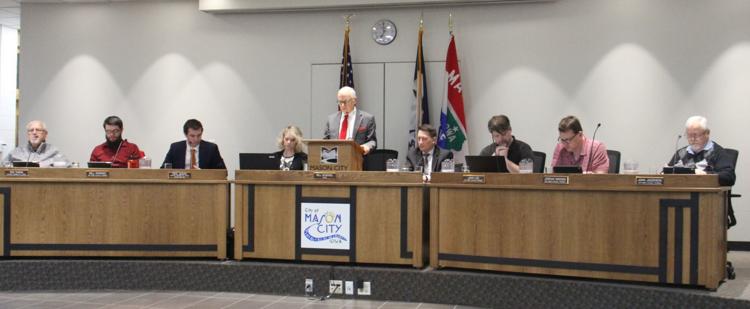 Further south, another groundbreaking is bringing new life to an empty parking lot. Talon's housing project will showcase our plans to keep and recruit workers. This time next year there will be a ribbon cutting for 133 apartments and townhouses along Willow Creek.
On Main Street, vacant upper levels are being transformed into more needed housing. The street looks beautiful with new sidewalk and plaza entrance cobblestone.
The dilapidated hotel on Fifth Street Southwest is being transformed into a 46-bed Econolodge.
New life is being breathed into a 72-year-old Mason City landmark. The newly renovated Suzie Q's Cafe is set to reopen next month. We owe our gratitude to Tahmyrah Lytle, the young entrepreneur who is making this happen.
All of this will complement our riverwalk. Removal of overgrowth and underbrush, along with trail improvements, should begin this year.
The grand opening of Quick Star has given Mason City's South Federal Avenue a new convenience store.
Also on the south side of town, Bushel Boy Farms broke ground for one of the largest greenhouses in Iowa. They will open their $35 million tomato growing facility in September.
Nearby, Golden Grain Energy is undergoing a major expansion, adding 10 good paying jobs. This ethanol manufacturer is the largest property tax payer in Mason City.
On the north end of town, a $63 million investment is placing Kraft-Hines on the cutting edge of food manufacturing. Plant Manager Janell Kruger said the upgrade demonstrates the company's long term commitment to Mason City.
You have free articles remaining.
Elsewhere, our economic development team is working with 21 active projects, with a possible investment in North Iowa of $231 million.
The Winnebago River is cleaner and will be more navigable thanks to the Active Living & Transportation Commission and partners, who cleaned up more than two tons of trash this past summer. The river will be a mecca for wildlife and recreation this spring after the removal of dam barriers below Illinois Avenue.
Solar power is already saving utility costs at the public library. This year it will be expanded to the Water Reclamation Facility and Multi Purpose Arena.
People are coming home to Mason City. Mason City Schools actually saw an increase of 31 students in the current school year. This is the largest increase in the last 10 years.
One resident, Faruk Jessa, described his decision to move here in a Globe-Gazette guest opinion. He said Mason City has "what every right minded American aspires to have as a good quality of life."
Are you listening California? Illinois? Minnesota?
Which brings me to the 2020 census. Please join me in participating. It impacts everything from roads to schools to public safety. If we don't participate, Mason City loses money. Let's make sure Mason City counts!
Of all the good things that are happening, the one I love the most is our community working together with mutual respect and friendship to get things done.
That's why I am so grateful to our City Council and to all of our partners who are working so well together, including the powerful team formed between Mason City, Clear Lake and Cerro Gordo County.
We have just completed a decade of change: Changes to the face of community and our attitudes about what Mason City is; what it can be.
Now we're entering a decade of doing: Putting the finishing touches on the arena, building a world class hotel, finishing the downtown housing project, creating a river walk for dining, shopping and recreation.
We are not resting on our laurels. There are big challenges that await us. We must do more to improve neighborhoods with aggressive infrastructure improvements. Flood mitigation is essential. Identifying properties in need of repair or demolition is a priority. In addition, we must be responsible stewards of the taxpayer's money.
We know there will be setbacks along the road, but we will meet these challenges together one by one.
This city we love can be a shining example of the very best in all of us. Thank you for helping to make that dream come alive in the New Year.
Bill Schickel is the mayor of Mason City. This guest opinion was adapted from his State of the City Address at the January 7, 2020, City Council meeting.