SPIRIT LAKE | Twenty-two Spirit Lake High School students took an eight-day course of study in the Rio Grande River Valley this month, meeting immigrants and refugees who had recently made their way across the border that divides Mexico and the United States.
Those students and four adults spent time helping to build homes for newcomers, while also visiting a respite center, where officials worked to connect those who crossed the border with family members who reside in the U.S.
The class was offered through Spirit Lake High School's J-term, an intensive course of study that allows students to focus on one discipline for a 2 1/2-week period that fits between the first and second semesters. While most of their peers took a class back home in Spirit Lake, members of this group paid $675 apiece to fly to Texas, allowing them to witness the border wall and issues surrounding immigration and the influx of immigrants who entered the U.S. illegally first-hand. 
Students and adults read Enrique's Journey before embarking on the trip. The story details the arduous and frightening path a 13-year-old took from his native Honduras to the U.S. in search of his mother, whom he eventually found in North Carolina. Enrique often rode atop cargo trains as they sped north toward Texas and the border.
"We talked with family members who had a three-month journey on foot from El Salvador," said Josh Bolluyt, the district's assistant principal who led the entourage. "They had gang violence in El Salvador."
The Spirit Lake group witnessed the border wall at various points and could see a homemade ladder persons used to scale the structure. At a site near McAllen, Texas, Bolluyt said a levee wall on the Mexico side served a dual purpose: Flood control and border security. Then, closer to the U.S., a second chain link fence served to separate the two countries.
Bolluyt said the group learned that, in many cases, families will attempt to cross the border with a minor in the party, which may lessen their chance to be deported. Having a minor along may help those traveling to have their case be heard by immigration authorities.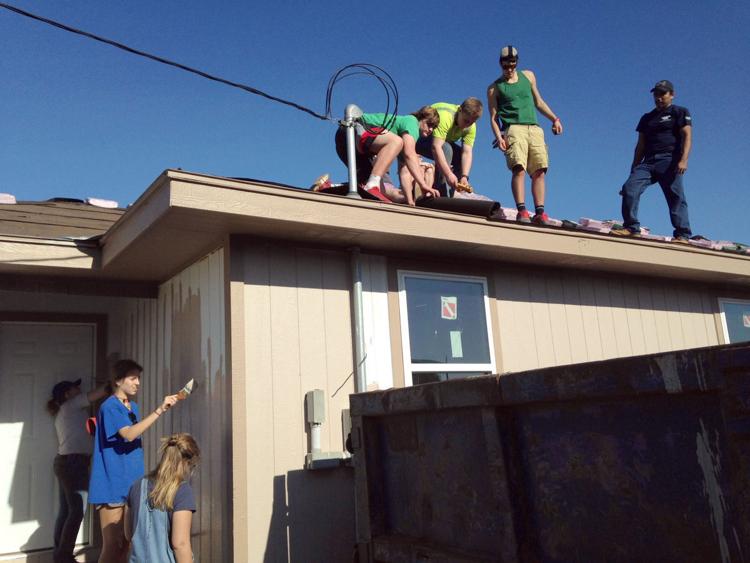 "Most families we worked with were trying to receive refugee status or some status by which they could stay, because of exhortation by gangs, for example," Bolluyt said.
The group spent two days helping to build a home for Proyecto Azteca, a nonprofit organization similar to Habit for Humanity, whereupon families spend time helping volunteers build a home before they become its inhabitants. Students also played with children who had recently crossed the border during a reception outside a community building serving a colonia, which is Spanish for neighborhood.
"I didn't think much about immigration before this," said Annika Stecker, a junior at Spirit Lake High School. "Then we helped build houses and saw houses in a colonia that, in our city, would be torn down."
Garbage in the colonia, she observed, would pile up as there are limited to no garbage services, and many cannot afford the means to take waste to a dump.
Stecker shared her experience back at school during night of J-term presentations on Jan. 18. She also spoke about this mission-type trip to members of her congregation at First Presbyterian Church in Spirit Lake.
Like Stecker, Connor Jensen, a junior at Spirit Lake High, had never met a recent immigrant before this experience. Jensen recalled hearing from a newcomer who saw a person lose his legs while jumping off a moving train during their dangerous trek north toward the border.
"It is crazy what they go through," Jensen said.
Bolluyt said he hopes a group from Spirit Lake can return to serve Proyecto Azteca in a future J-term. In the past, he and his wife, Dana Bolluyt, have directed J-term groups to, for example, Joplin, Missouri, to help build a home in the wake of the deadly tornado that struck that city in 2011. Dana Bolluyt also piloted a J-term group to Costa Rica.
"We got to see humanity at its finest," Bolluyt said of this J-term trek. "We saw people serving others, like the 67-year-old woman who volunteers from 8 a.m. to 8 p.m. every day at the respite center."
Said Jensen: "I feel really grateful to recognize and appreciate all we have."