I was initially really excited to see "The Lion King" when it came out in theaters last month, since the original was so fantastic and our sons loved it.
But frankly, we're living quite enough of the "Circle of Life" in our home to last us a while.
Our 13-year-old beagle, Benji, is dying. And he's giving us a glimpse of old age that neither Jerry nor I were really prepared for or interested in.
We got Benji when he was 2 years old. His entrance into our family is a bit of a saga of its own. Our youngest, Andy, was in elementary school at the time and we already had one dog, Buster, who was best buds with our older son, Alex.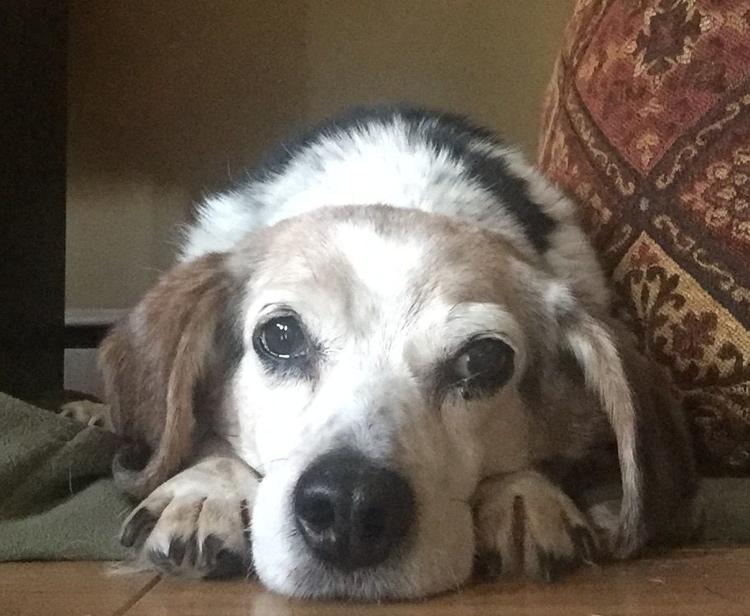 One day while Andy and I were at a mall shopping, we passed by a pet shop with a Jack Russell terrier puppy in the window. The puppy was all white except for a brown spot around its eye.
Andy named her "Dot" on the spot. And he became obsessed.
I don't use the word "obsessed" lightly here; anyone who knows our youngest knows that when he gets something in his head, he won't let it go. In this case, it began with quiet tears as we left the mall. By the time we got home, I thought he'd move on to other interests and forget about the dog in the pet store window.
Wrong. That very night I received a letter from my son listing all the positives having another dog in the house would bring our family.
The next day, Andy asked me to take him to the mall to see Dot and maybe hold her this time. When I said no, there were more tears.
Ditto the next day and the day after and the day after. You see where this is going, right? If you've ever been on the receiving side of one of these kinds of things, eventually, for your own sanity, you break. You can't help it.
Off to the mall we went. And predictably, Dot was no longer there. After comforting Andy I figured it was finally over.
Wrong again. A week later, I received a call from Andy's teacher who asked me to take a look at the journal he had been assigned to keep as part of his English class. 
For 14 straight days, it consisted of the same sentence written over and over again: "I saw a dog I loved named Dot and I want my mom and dad to buy her but they won't."
The teacher suggested therapy. We went out and rescued Benji instead.
You have free articles remaining.
Benji has criss-crossed the country with us on vacations, has moved three times, watched his boy leave the house for good (theoretically, but that's another column) and was even featured on the cover of a special section about pets (a perk of being the fur baby of two editors).
He will follow a scent to the ends of the earth, is never ever too full to beg, and up until about six months ago, still acted like a puppy.
But while we were living in Delaware, we noticed Benji starting to have trouble getting up and down the stairs. When we took him to the vet he was diagnosed with a common beagle ailment – hip dysplasia – and given medication. A neighbor who cares for dogs also gave us a special essential oil rub she made for him for massages. He loved it.
Then, he became unable to keep his food down. Diagnosis: an intestinal issue that made him so constipated he became nauseous. More medication.
Finally came the coughing. Croup-y and accompanied by great gasps for breath, these scared the bejeezus out of us. 
And it got worse as we drove across the country to Iowa. Our new veterinarian gave us the bad news: Benji had congestive heart failure. Prognosis? A few days or a few years; it was never really certain. He was given yet another medication.
Of course while all this is happening, Jerry and I, who are not exactly spring chickens ourselves, are experiencing our own struggles with aging that mirror some of Benji's:
Benji has run into our screen door more times than we can count because he sight is failing. And it now takes both Jerry and I to thread a needle and sew a button back on a shirt since I can't see anything up close and he can't see anything far away. 
Benji is nearly deaf. You cannot approach him from behind because he doesn't hear you and you can scare him so badly he'll leave a puddle on the floor. I, on the other hand, can no longer laugh or cough hard because I might leave a puddle on the floor. Thanks, childbirth.
It's funny and it's sad and it's inevitable. And it's hit us hard. We really aren't empty nesters; there's still a baby in our house and he's going through his last – and toughest journey.
So we wait. We clean up the messes when he can't make it to the door to get outside and we feed him so many table scraps that's he's gained a couple of pounds already since March. We laugh when he runs into the screen door and we kneel next to his ears and shout to get him to go outside.
We carry him up and down the stairs when he's too tired to make it himself.
The vet tells us we'll know when it's "time." But will we? We wonder and ask ourselves, whose time? Ours? Or Benji's?