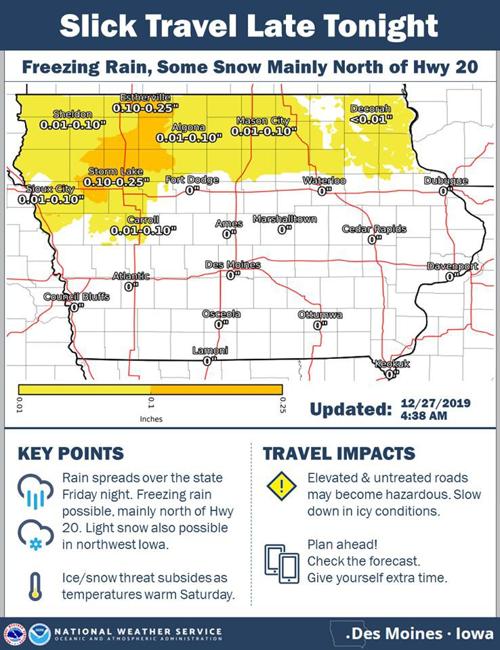 Though Iowans enjoyed an unprecedentedly warm — and in some cases record-breaking — Christmas, it looks like the opposite can be expected this weekend.
According to the National Weather Service, a storm system moving across the Great Plains this weekend will bring rain and possibly snow, creating the potential for wintry travel impacts.
In Mason City, Friday's high will near 36 degrees.
That evening, snow can be expected before 4 a.m. Saturday morning, which could mix with sleet between 4 and 5 a.m., followed by sleet or freezing rain, according to the National Weather Service.
You have free articles remaining.
Saturday's high will be around 44 degrees.
Little to no snow or ice accumulation is anticipated. New precipitation may amount to between three quarters and one inch.
On Sunday, rain perhaps mixed with snow is remains a possibility, with a high near 42 and a low near 22.
With that in mind, check weather and road conditions before travelling this weekend.
I-35 at Dows Webcam
I-35 at Clear Lake Webcam
I-35 at Clear Lake Webcam 2
I-35 at Clear Lake Webcam 3
I-35 Rest Area North of Clear Lake
I-35 at Joice Webcam
I-35 at Northwood exit
I-35 at Ames
US-18 near Mason City
US-18 at Spencer
US-18 near Floyd
US-218 near Plainfield
Highway 9 near Decorah
Highway 9 near Estherville
I-35 south of Albert Lea, Minnesota
I-35 at Owatonna
Cape Canaveral Florida Webcam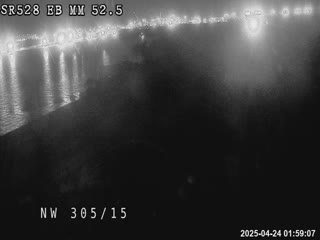 Highway 52 Rochester