And the difficulty for governments at all levels right now is that they need to consider all of those costs at the same time.
In the North Iowa area, that's meant that municipalities are thinking about how to spend now to combat facets of the pandemic while also thinking about how they'll be able to spend once it's over. 
For the here and now, local governments are spending to bolster supplies: more personal protective equipment, more cleaning supplies, more sneeze guards, overtime for certain essential workers. Those sorts of things. 
Through the week of May 4, Mason City Administrator Aaron Burnett estimated that the city's spent under $50,000 but said that it's "hard to tell what our expenses due to COVID will be in the upcoming fiscal year." Hampton Administrator Ron Dunt shared that the city doesn't have a total COVID cost just that it's ongoing, which Algona City Administrator Curt Wiseman echoed. 
It's the future costs that will be higher.
"The City of Algona is anticipating a $200,000-300,000 total annual revenue loss from Hotel/Motel Tax, Local Option Sales Tax, and Road Use Tax," Wiseman said.
Burnett has previously said that a decline of 8-10% in revenue for Mason City wouldn't be outside the realm of possibility. Northwood City Administrator Amber Julseth knows that not only will road use and local option sales tax funds be affected but also casino revenues since Diamond Jo has had to stay closed during the pandemic. Dunt said that he wasn't sure Hampton could make up all its costs but felt that "once the economy gets back on track we will gain some more predictable costs and revenues."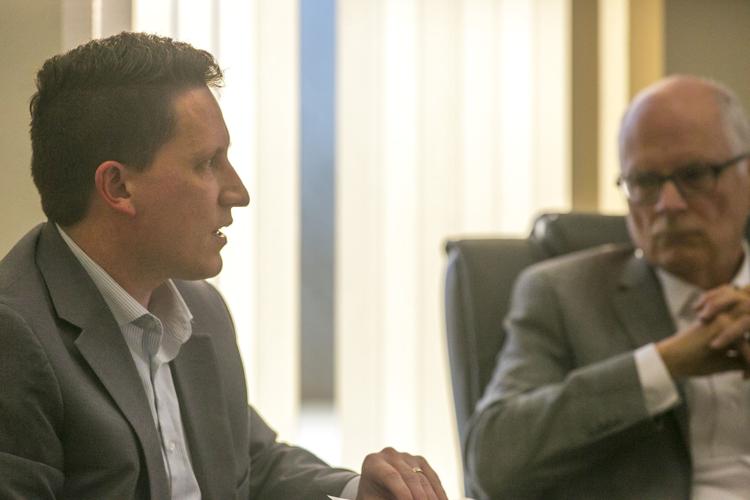 Near the end of March, the Iowa Department of Transportation (IDOT) notified local governments that a 25% reduction in monthly deposits of road use tax funds to cities and counties could be expected to due decreases in traffic and auto sales. Which could mean tens of thousands of dollars a month gone. Just this week, the city council in Muscatine was told that the local option sales tax revenue is estimated to decrease $255,000 in the final four months of 2019-2020 and $587,400 for 2020-2021. 
Higher unemployment numbers add to these problems too as they impact tax revenues. And though some jobs will come back quickly, it can be difficult to lower longer-term unemployment levels. One study from 2012 found that getting unemployment from 7.8% to 6.5% could take years even if monthly job growth averaged 150,000. Since the pandemic began to impact Iowa in March, new unemployment claims in the state are nearly 300,000.
And these revenue disruptions don't happen in a vacuum. They're compounding.
If city revenues are lightened, projects can be set aside and programs can be dialed back.
Wiseman said that Algona is planning to partially offset losses by delaying some capital purchases. Burnett has said before that city-based needs could be delayed or nixed. 
As with so much else, what exactly gets delayed or dropped depends on public health factors more than anything.
"We are hopeful that costs will continue to stay low with our low numbers of cases in the community," Burnett said. 
What a Globe Gazette News+ membership can do for you:
A deeper examination of local issues than you'll find anywhere else.
Two products in one – not everything that's in the print edition of the Globe Gazette is on our website, and not everything on our website is in the print edition.
Access to newspapers.com archives dating back two years.
The ability to carry your local news with you and receive alerts instantly as news unfolds.
Advertising that frequently gets you deals you won't find anywhere else.
Everyday heroes: North Iowans on the front lines of COVID-19
Reach Reporter Jared McNett at 641-421-0527. Follow him on Twitter and Instagram at @TwoHeadedBoy98. 
Concerned about COVID-19?
Sign up now to get the most recent coronavirus headlines and other important local and national news sent to your email inbox daily.