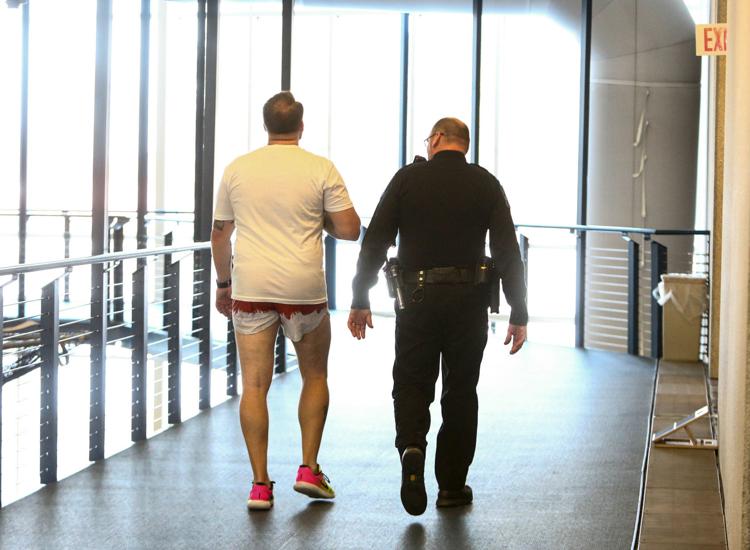 At a time when police budgets have become a focal point in broader conversations about reforming law enforcement, budget expenditures for municipal departments in North Iowa have trended under national averages while sheriff department spending has hovered closer to nationwide percentages. 
For Mason City, police department and crime prevention spending for 2020 is estimated to be $6,651,507 or about 7.82% of all expenditures while 2019 spending totaled $6,445,868 and accounted for 10.11% of all expenditures. Based on data from the Urban Institute, which focuses on the effects of policy on the community, police spending in 2017 accounted for "over 13 percent of municipal direct general expenditures, 9 percent of township expenditures, and 8 percent of county expenditures." 
Estimated spending on health and social services for 2020 totaled $395,205 or about .4% while 2019 spending was $377,253 or .5% of all expenditures.
But with such spending, the Urban Institute notes that "91 percent of direct spending on public welfare occurred at the state level" and in 37 states "local spending accounted for less than 5 percent of total direct general expenditures on public welfare."
And with that, law enforcement officers have taken on more and more responsibilities over the decades so that it's often the default response for someone to call the police when they don't know what to do.
"At times it's sometimes easier to make a police officer a social worker if people aren't going to fund in the area they should to begin with," Mason City Police Chief Jeff Brinkley said. Brinkley agreed that officers are asked to take on an overabundance of issues in a community. "It happens every year that someone calls the 911 on Thanksgiving to ask for the temperature to cook the turkey," he joked.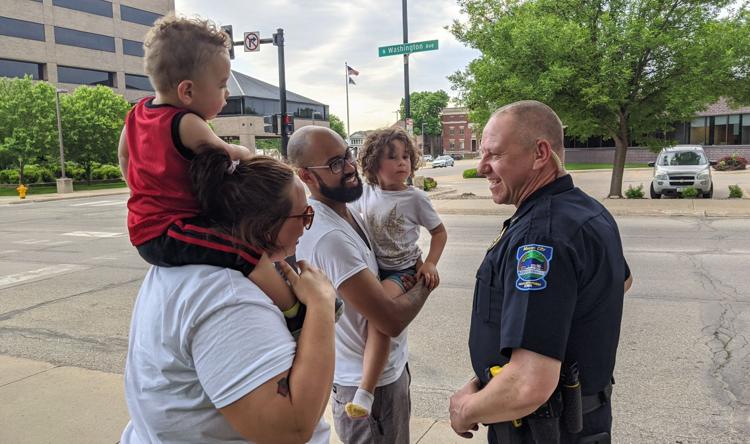 Brinkley said that he does believe municipalities spending more on certain local programs could make law enforcement's job easier if the spending was correctly targeted. He said that drug and alcohol programs would be worth focusing on more because they can be ignored even when they do tangible good.
"Those kinds of programs that can help keep people out of jail and be a functional member of society, those are always the goal," Brinkley said. One Brinkley pointed to is something like Family Treatment Court which is an option for families when the Department of Human Services is involved because of substance abuse issues. The court meets once a week, in the afternoon, and provides hands-on supervision and services to those families that need it.
Cerro Gordo County Sheriff Kevin Pals concurred while also noting that even some of the best programs, with better funding, can miss people. "(It works) If it is done right and I'm not sure anyone has answers for some of the mental health issues across Iowa and the whole United States and unfortunately there are a small number of people who don't want help from us or social services," he said. 
About 19.99% of the Cerro Gordo County 2019/2020 budget went toward law enforcement and about 20.24% of the 2018/2019 budget was devoted to law enforcement. Physical health and social service programs claimed about 17.05% in 2019/2020 and 17.96% in 2018/2019.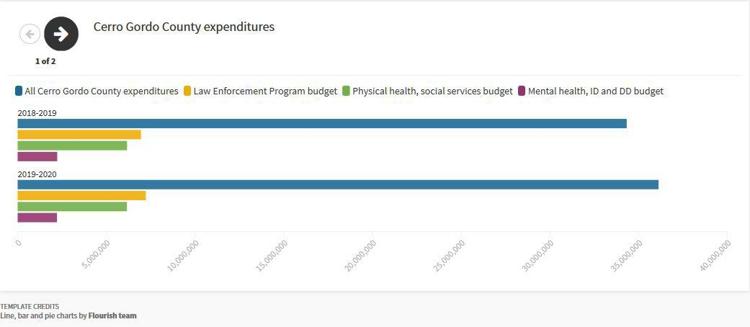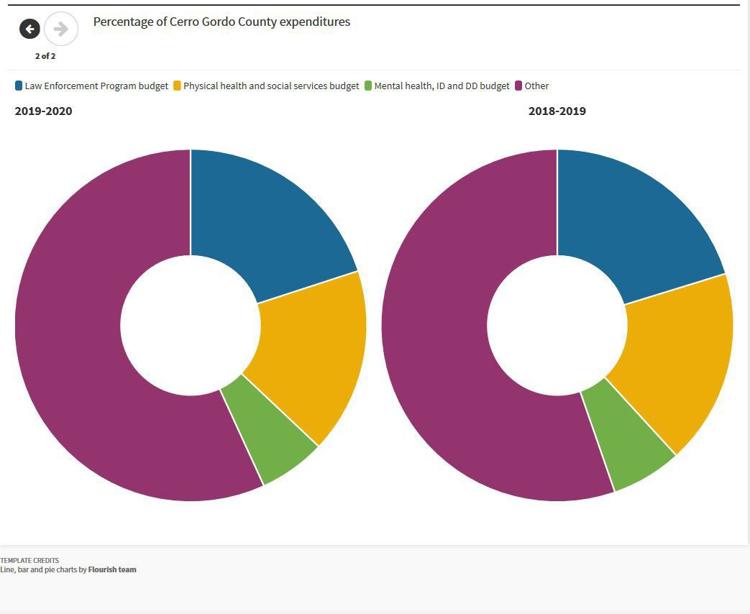 Pals also expressed some skepticism about directly rerouting funding from law enforcement to other social services being the fix either. He said that anywhere from 80 to 85% of his department's budget is spent on personnel and losing money would mean losing personnel which he argued could have a negative local effect. "The ability to help the community is obviously going to drastically drop," Pals said.
But Pals does think that law enforcement organizations can do more to bolster the communities they serve in regardless of what the funding equations are.
He said that one big one for the sheriff's office is bringing on people that don't just treat what they do as a job. "We want people who enter our field and choose it as a career and not a job and we like it when people get involved in community events, civic organizations, talking to youth or adults that we see to talk with just no agenda," Pals said. "That's how people get to know us and how we get to know the people we serve. We want our employees to be involved in the community."
And Brinkley agrees.  "I think are job is really to lead in tolerance and certainly, as people come to Mason City, we have the opportunity to share our community norms but also learn about other people and other cultures," he said.
One thing that he believes helps his department build a better rapport with the community is that officers live within 10 miles of the city limits which puts them close to home. A 2014 article from the data website FiveThirtyEight pointed out that "on average, among the 75 U.S. cities with the largest police forces, 60 percent of police officers reside outside the city limits" though a more recent piece by USA Today suggested that such residencies aren't that impactful.
For Brinkley, it boils down to accountability. "We get held accountable all the time which means we get the chance to engage with our community."
What a Globe Gazette News+ membership can do for you:
A deeper examination of local issues than you'll find anywhere else.
Two products in one – not everything that's in the print edition of the Globe Gazette is on our website, and not everything on our website is in the print edition.
Access to newspapers.com archives dating back two years.
The ability to carry your local news with you and receive alerts instantly as news unfolds.
Advertising that frequently gets you deals you won't find anywhere else.
Jared McNett covers local government for the Globe Gazette. You can reach him at Jared.McNett@globgazette.com or by phone at 641-421-0527. Follow Jared on Twitter at @TwoHeadedBoy98.
Be the first to know
Get local news delivered to your inbox!