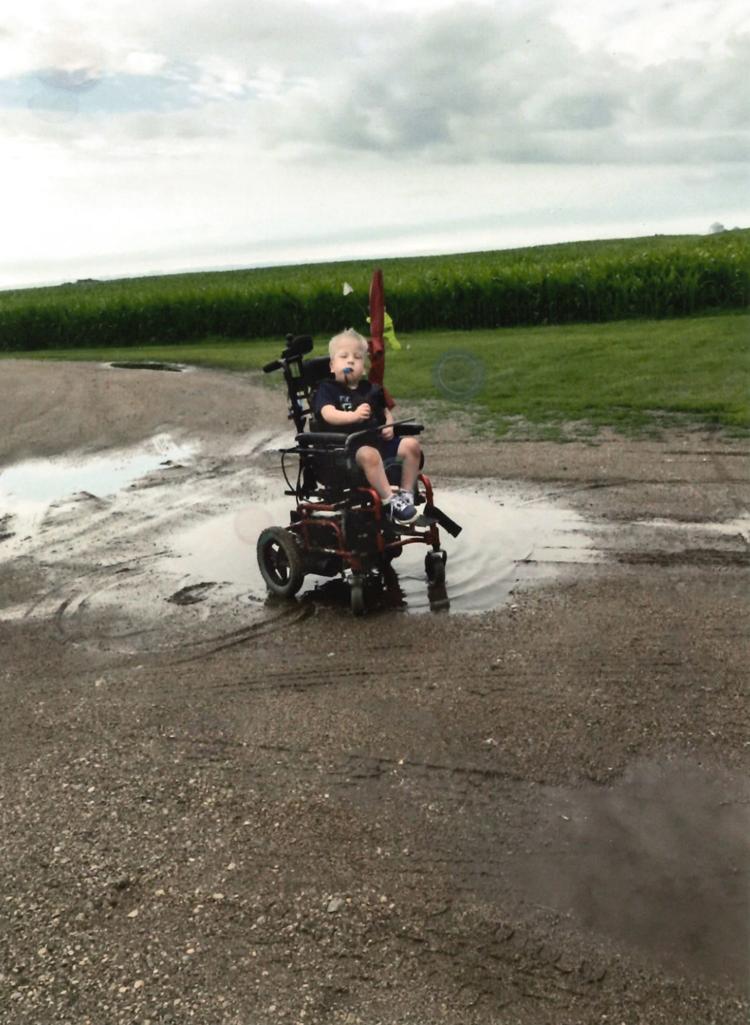 When Swea City residents Chelsi and Trey Deling appeared before their five-member city council in late November 2019, they had a singular request for the body and Mayor Wendy Zielske: they wanted the road in front of their family home fixed so that it would be more easily accessible for their son. 
A month later, they made some progress on the matter at a December council meeting. Before the year is up, they hope they'll at least have some needed repairs. 
Corbin Deling, 8, has to use a wheelchair to go to school and get out and about with his parents because he has mobility issues. The Delings have said that those issues are compounded by the road their house is on because it's prone to frost boils, which cause uneven terrain and drainage problems.
In 2018, local workers had to lay several loads of new gravel out on the road. The family has had to take Corbin to the hospital numerous times, for a variety of medical issues, and worry about such problems slowing them down when time is of the essence. 
By their own count, there was a six-week stretch the previous winter when neither Corbin nor a school bus could use the road at all. At least once, one of his grandparents, Deb Govern, had to carry him down the road to as close as the school bus could get to the Delings' house. 
What could be done
When the Delings appeared at that Nov. 20 meeting, Chelsi asked as quickly as she could: "Where are we with the road?"
Part of Zielske's response was that the city, which has a population floating just above 500, doesn't have a legal obligation to maintain the road the Delings live on in a way that's any different from any other road in Swea City. 
After the meeting, she added to that point to offer more context. "It's a matter of does the road require maintenance?" Zielske asked. "It doesn't. None of the council is heartless. It has been played like that."
You have free articles remaining.
Another point Zielske made sure to make was that the street is on a FEMA listing from a series of springtime storms that tore through the area and did some form of damage to most of Swea City's roads. "With FEMA money, we can't upgrade, but we can repair," she said.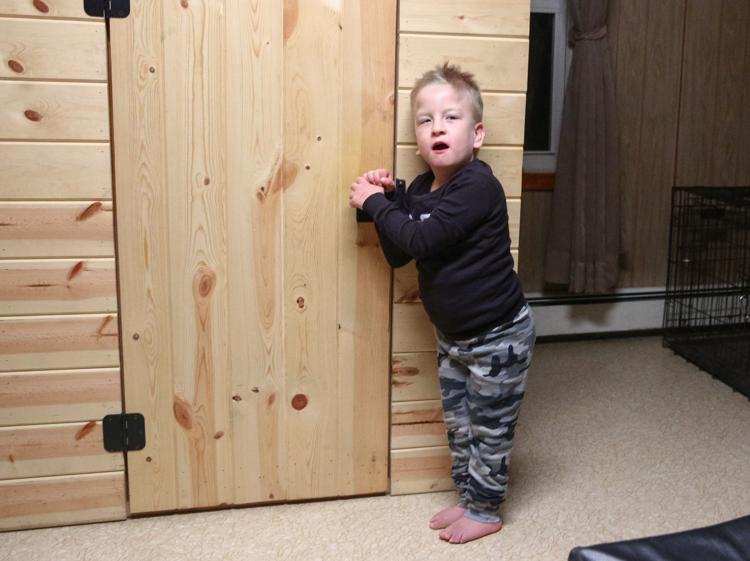 What will be done
Now, before the year is up, it's likely that the road in front of the Delings' house will be repaired.
A motion at the December Swea City Council meeting carried 5-0 that that street would be addressed, along with all of the streets in town with filed FEMA damage. 
According to Zielske, workers hope to have repairs made by early spring when the roads are feasible to do work on. She said the city will have to pay about 15% of the total but isn't sure what that final number will be yet.
"(We're) still waiting on a final quote from them. There's a lot of moving parts on that process. It's a huge in a small town like this to do some street repair that's beneficial to the citizens," Zielske said. 
Chelsi Deling is happy that the road will get repaired, at some point this spring, but a mix of confusion and frustration still lingers for her.
"They said that they are going to fix our road through the grant money they are going to receive but they did say that our road is not a top priority," she said. "It's getting done but it's getting done after all the other roads, which I think is completely wrong. That totally puts aside why we're doing this. We're raising this thing about Corbin's health and safety and they're worrying about the roads."
She did credit more recent conditions on the road for not further exacerbating her son's accessibility issues. According to Deling, the city has been decent about snow removal and roads have been cleared in a "timely manner." 
One thing Deling is even more thankful about: Corbin hasn't been in the hospital this winter. So far. She said he's missed time from school in part because of issues stemming from his long-term chronic-lung issues, but the family is managing. 
"It really isn't affecting him, but it affects us as parents," Deling said. 
What a Globe Gazette News+ membership can do for you:
A deeper examination of local issues than you'll find anywhere else.
Two products in one – not everything that's in the print edition of the Globe Gazette is on our website, and not everything on our website is in the print edition.
Access to newspapers.com archives dating back two years.
The ability to carry your local news with you and receive alerts instantly as news unfolds.
Advertising that frequently gets you deals you won't find anywhere else.
Reach Reporter Jared McNett at 641-421-0527. Follow him on Twitter and Instagram at @TwoHeadedBoy98.