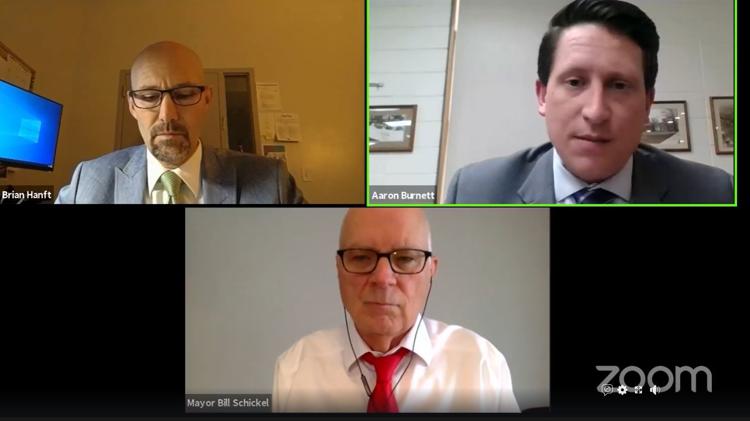 As businesses across Cerro Gordo County move toward re-opening, many of the effects of the ongoing COVID-19 pandemic have stayed in place. 
Daily testing is still occurring and 1,747 county residents have been tested through Wednesday. Unemployment claims continue to come in and a full 10% of residents have officially filed for unemployment (claims are at 4,112). Social distancing guidelines and mask recommendations remain. They haven't dissipated just because things are inching toward some semblance of normalcy.
During his time at the Cerro Gordo County Public Health press conference on Wednesday afternoon, Executive Director Brian Hanft stressed that citizens should wear such face coverings when going out and that essential errands should continue to be the predominant reason folks leave their house. As for those businesses that are starting back up, Hanft said that owners and staff are "working on complying" with Cerro Gordo Public Health but a few have tested the fence.
"We have received some reports that (some) are stretching the limits of the Governor's proclamation," Hanft said. However, the number of reports about offending businesses is less than 10 right now. If residents notice more cases, Hanft said his department is establishing a complaint process.
Along with that currently small concern, there are other things officials are worrying about.
As Mason City Administrator Aaron Burnett pointed out, the city also has to figure out the best way to re-open to citizens. The city's looked at installing glass at city hall to protect workers and is considering ways to limit the flow of people into the building. If such measures are put into place, city hall could be back open in two to three weeks but that time frame isn't concrete yet. 
The city has to worry about its budget as well. 
"We have to be honest, there's going to be a decrease in revenues there," Burnett said about what the next fiscal year will look like. One source that's likely to be hit hard is the road use tax fund  and so too is the hotel-motel fund as Burnett said that 20% occupancy for lodgings isn't uncommon right now. If there's a silver lining, Burnett pointed out that the city is conservative when it budgets which could help when adjusting for revenue loss.
Those losses are being especially felt with the downtown multipurpose arena which will soon pass two months with no usage, a "stark contrast" as Burnett called it. He added that certain events are being moved back to later in the year but that, in some ways, everyone is "shooting in the dark" as to when is a good idea to schedule public events.
While city officials said that they're looking into a number of strategies to deal with COVID-19, they're taking a slightly more hands off approach with certain issues. 
Burnett said that the city's not looking into passing any temporary local ordinances that would require people to wear masks in public (though Cerro Gordo Public Health does continue to make that request) but Mason City Mayor Bill Schickel and the city council could act on that if they wanted to.
"Obviously we're leaving all options on the table and we're asking people to wear masks in public," Schickel said. "The key is to not let down our guard."
What a Globe Gazette News+ membership can do for you:
A deeper examination of local issues than you'll find anywhere else.
Two products in one – not everything that's in the print edition of the Globe Gazette is on our website, and not everything on our website is in the print edition.
Access to newspapers.com archives dating back two years.
The ability to carry your local news with you and receive alerts instantly as news unfolds.
Advertising that frequently gets you deals you won't find anywhere else.
Reach Reporter Jared McNett at 641-421-0527. Follow him on Twitter and Instagram at @TwoHeadedBoy98. 
Concerned about COVID-19?
Sign up now to get the most recent coronavirus headlines and other important local and national news sent to your email inbox daily.