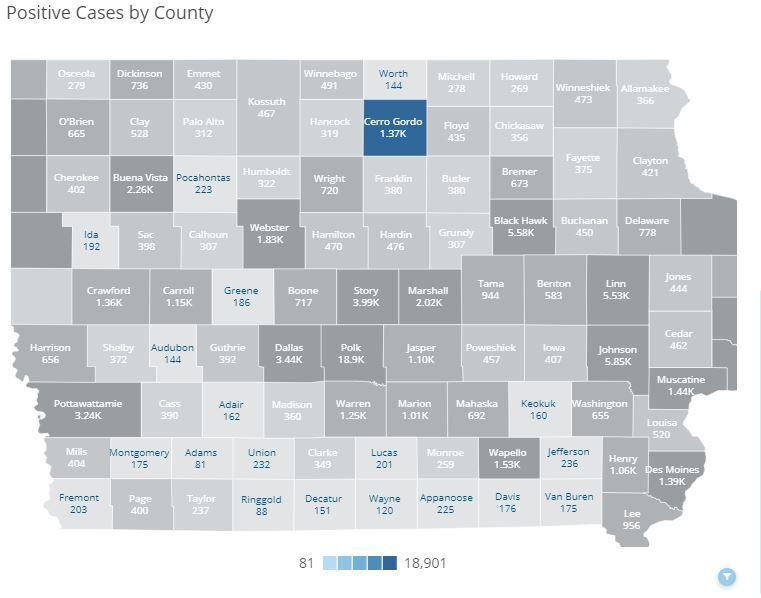 The closest that the total for new reported cases has gotten in the three months since then is 179. That was on Friday.
Through Monday, there have now been 1,366 total lab-confirmed cases of COVID-19 in Cerro Gordo County. Of those, 296 are active cases, while 1,045 people have recovered from the virus.
In the past week, two more people died in the county with COVID-19. Adults from ages 18 to 40 continue to account for the most cases. In the past week, four students in the Mason City Community School District tested positive for COVID-19.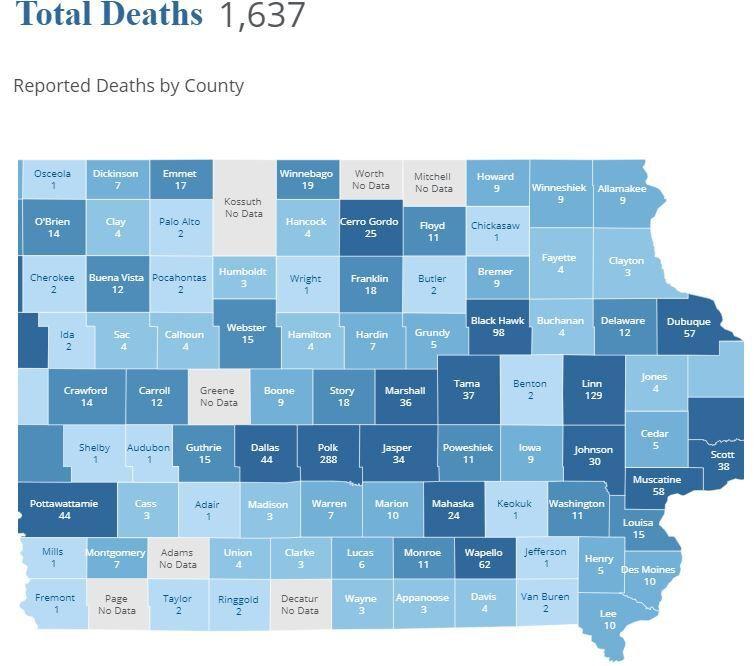 Over the past two weeks, the average for positive cases in the county is at 7.9 percent, which is higher than stretches of the spring when it was at about 7.5 percent, but it is down from the summertime when the average got above 8 percent.
For the state as a whole, the positive case rate is 10.7 percent. The latest White House Coronavirus Task Force report, released Friday by state officials in response to an inquiry, said that 49 Iowa counties are in the worst "red zone" — an increase of 11 counties since the week before — and that another 19 counties are in a slightly less volatile "orange zone" — an increase of four counties. Another 21 counties are in the "yellow" zone — which dropped by seven counties from the week before. Cerro Gordo and Worth counties in North Iowa are two of only 10 of Iowa's 99 counties not in any hot zone. Every other North Iowa county is in a yellow, orange or red 'hot zone."
Neighboring Hancock County actually just saw its highest total for daily positive cases in the past week when it reported 67 on Oct. 20. Statistics from the Department of Public Health show that that was then equal on Oct. 21 and Oct. 26. In total have been 319 positive cases for the county.
In the North Central Iowa area as a whole, the county with the highest number of cases per population of 100,000 continues to be Wright County with 720 total. However, it still hasn't seen peaks that have gotten anywhere close to June of this year when one day saw 170 positive cases.
By the same metric, the "best performing" county is Worth, which has had 144 total cases since the pandemic began.
What a Globe Gazette News+ membership can do for you:
A deeper examination of local issues than you'll find anywhere else.
Two products in one – not everything that's in the print edition of the Globe Gazette is on our website, and not everything on our website is in the print edition.
Access to newspapers.com archives dating back two years.
The ability to carry your local news with you and receive alerts instantly as news unfolds.
Advertising that frequently gets you deals you won't find anywhere else.
Jared McNett covers local government for the Globe Gazette. You can reach him at Jared.McNett@globegazette.com or by phone at 641-421-0527. Follow Jared on Twitter at @TwoHeadedBoy98.