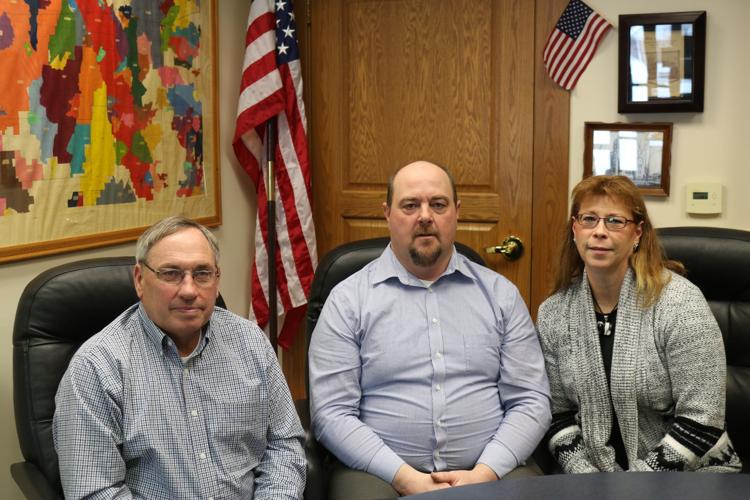 DES MOINES — State Rep. Louie Zumbach is a "big believer" in local control, but when local officials won't listen to their constituents, "it falls on me."
Zumbach, a Coggon Republican, has introduced legislation to limit salaries for county supervisors to no more than the median income in the county.
In Cerro Gordo County, where board supervisors have voted for pay freezes over the past four years, that would mean a reduction in pay of about $2,000 (from about $52,000 down to $50,00). 
Tim Latham, the board chair for Cerro Gordo, said that that reduction, if the legislation went into effect, wouldn't much bother him because salary isn't the point.
"You've gotta make a living but, at the same time, I guess I'm not totally into it for the money part. It's wanting to do what's good for the county and the community."
Other supervisors across North Iowa tend to agree with Latham even if they could potentially benefit from the legislation.
Hancock County Supervisor Jerry Tlach admitted he still hadn't familiarized himself with enough of the ins and outs of Zumbach's legislation but then shared an anecdote from when he first ran.
"When I ran for this job, somebody asked me what does this pay? And I said I have no idea," Tlach said. 
Tlach added that the Hancock Board has left salaries for other county officials alone but has taken increases down to zero for supervisors which means there's about a $20,000 gap between what the supervisors make for their work and what the median income in Hancock is.
"We are compensated justly in our position given we received an increase last year," Rayhons said.
"Last year we had no raise and we didn't question that at all," Francis said. She then went on to say again that, even though supervisor responsibilities have steadily increased over time (she sits on about 11 different boards), pay isn't a massive concern. 
AJ Stone, who serves as a Worth County Supervisor, admitted as well that there isn't much likely to change with such legislation because his county has also kept salaries in place for several years. 
"I guess it probably isn't going to affect Worth County much because we're considered part time and not full time so it's not gonna change," Stone said.
Where it could have a significant effect is in some of the larger counties in Iowa.
In Linn County, where Zumbach lives, supervisor salaries would drop by about $50,000 if his legislation became law.
His legislation has nothing to do with the possibility he'll run for county board this fall, Zumbach said Thursday. He hasn't made a decision on whether to seek re-election to a third term or run for supervisor.
After rebuffing pay raises for the last two years, Linn County supervisors agreed in March to accept increases worth over 11 percent — from $103,889 to $115,726 — to put the three of them on par with the annual salaries for the county recorder, auditor and treasurer.
Zumbach doesn't think that's what Linn County residents expect of their supervisors.
Several years ago, voters expanded the board from three to five members. Voters, at least those in rural Linn County, expected the salaries of the three supervisors to be split five ways, Zumbach said.
"It didn't take very long before they had it jacked back up," Zumbach said.
Then in 2018, Linn County residents voted to reduce the size of the board from five to three. Supervisors voted to freeze their pay and reject an increase recommended by the country compensation board.
In 2019, "they promptly gave themselves another raise," Zumbach said. "I just don't believe that they're listening to their constituents."
"I'm more than willing to do it for that," he said about the $62,000 figure, which is more than double the $25,000 a year legislators are paid. "Actually, that may be too much. I believe you're here for service, public service."
Latham doesn't disagree with that entirely but does think that there are maybe some misconceptions about the work supervisors are doing.
"I know a lot of people think it's a part-time job but it's not a part-time. I may only spend a couple of hours a day in the building here, and some days more, but there's lots of meetings. I think I sit on nine other boards that are dictated by the job that I have responsibilities to," he said. 
The Iowa State Association of Counties is registered against the legislation. Others are undecided.
Linn County supervisors did not immediately respond to a request for comment and a State Government subcommittee hearing is planned for next week.
What a Globe Gazette News+ membership can do for you:
A deeper examination of local issues than you'll find anywhere else.
Two products in one – not everything that's in the print edition of the Globe Gazette is on our website, and not everything on our website is in the print edition.
Access to newspapers.com archives dating back two years.
The ability to carry your local news with you and receive alerts instantly as news unfolds.
Advertising that frequently gets you deals you won't find anywhere else.
Reach Reporter Jared McNett at 641-421-0527. Follow him on Twitter and Instagram at @TwoHeadedBoy98. 
Be the first to know
Get local news delivered to your inbox!