CHANHASSEN, Minn. (AP) — Paisley Park, where Prince lived and worked, welcomed back select fans Wednesday to mark the fifth anniversary of his…
JOHNSTON, Iowa (AP) — Gov. Kim Reynolds implored Iowans on Wednesday to get vaccinated for COVID-19, however she refused to acknowledge that s…
GRUNDY CENTER, Iowa (AP) — A man charged in the shooting death of an Iowa Highway Patrol trooper was released from a hospital Wednesday and tr…
DES MOINES, Iowa (AP) — Des Moines police have identified a man whose body was discovered early this week alongside a submerged vehicle near a…
DES MOINES, Iowa (AP) — A former Des Moines Public Schools janitor convicted of sexually abusing a young child has been sentenced to 20 years …
ALGONA, Iowa (AP) — Authorities in northern Iowa are investigating the death of a teenage girl who was found unconscious at a hog facility bui…
DES MOINES, Iowa (AP) — Nearly half of Iowa's counties have rejected new doses of COVID-19 vaccine because of a lack of demand, state official…
OTTUMWA, Iowa (AP) — Two Iowa men convicted for their roles in a violent 2018 home-invasion robbery followed by a shootout with police have be…
EAGLE GROVE, Iowa (AP) — A judge has found a man suspected of killing a coworker at a northern Iowa meat processing plant too mentally unfit t…
CEDAR RAPIDS, Iowa (AP) — Police in Cedar Rapids have identified a man who was found fatally shot last week in a driveway several blocks east …
DES MOINES, Iowa (AP) — Authorities in Des Moines have charged two white men accused of attacking a Black man on a residential street in front…
WATERLOO, Iowa (AP) — A Waterloo man who held police at bay for hours while firing shots from inside his apartment has been sentenced to priso…
DES MOINES, Iowa (AP) — A top workplace safety regulator warned the Republican leaders of the Iowa Legislature that conditions inside the stat…
WAVERLY, Iowa (AP) — A Waverly man was killed in an apparent farming accident north of Waverly, law enforcement officials said.
PLEASANT HILL, Iowa (AP) — Authorities have charged a Des Moines couple after their 16-year-old special needs son was found severely malnouris…
IOWA CITY, Iowa (AP) — An insurance company for the City of Cedar Rapids will pay $8 million to a Black motorist who was paralyzed after a whi…
Dubuque Telegraph Herald. April 14, 2021.
DES MOINES, Iowa (AP) — Des Moines police were investigating the discovery Sunday of a body and submerged vehicle near a boat ramp.
JANESVILLE, Iowa (AP) — An 18-year-old Iowa man was arrested after he crashed a stolen vehicle while fleeing from authorities.
DES MOINES, Iowa (AP) — Des Main police are facing pushback after putting a sergeant who has been disciplined for excessive force on a five-pe…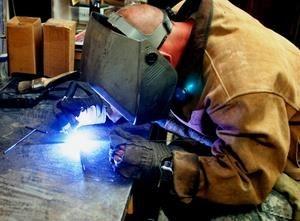 J & J Machining, Welding & Fabricating
DUBUQUE, Iowa (AP) — When the COVID-19 pandemic emerged in 2020, it wasn't only Henry Matthiessen's art business that had to change.
MASON CITY, Iowa (AP) — At least once in the past several years, Klemme resident Ben Petersen has had to monitor a goat stuck in a tree as a p…
SIOUX CENTER, Iowa (AP) — Growing up in the Sioux Center area, Brandon Huisman would fall asleep at night listening to radio station KDCR.
CEDAR RAPIDS, Iowa (AP) — Some versions of the "Swan Lake" ballet end in tragedy, others transform the tale into triumph.
WASHINGTON (AP) — A member of the far-right Oath Keepers militia group and heavy metal guitarist on Friday became the first defendant to plead…
TRENTON, N.J. (AP) — Ebele Azikiwe was in the sixth grade last year when February came and it was time to learn about Black history again. She…
SIOUX CITY, Iowa (AP) — A Sioux City man has pleaded guilty to smuggling gun silencers into the United States, federal prosecutors said.