The son of Bobby Schilling, Republican primary candidate for Iowa's 2nd Congressional District, is coming under fire for posting homophobic and transphobic comments on Twitter. 
Terry Schilling, 33, announced May 21 he would be taking over his father's campaign after Bobby announced he was diagnosed with cancer and undergoing treatment. 
In a now-deleted Tweet from May 22, 2019, Terry Schilling wrote, "I have zero problem explaining heterosexual sex to my kids if they ask — it's how babies are made. Am I really a snowflake for not wanting to explain butt sex to my kids? 'Dad, can two dads have kids together? Why do they get married? How do they have kids?'
"'Yes, two dads can get married and can have kids, but they have to hire a woman to implant an embryo in her uterus and carry the baby to term, then the two dads take the baby away from the mom, just like a puppy.'
"Is this the conversation I should have with my kids?" Schilling wrote. "Parents, you're not snowflakes for not wanting to explain the sordid world of gay couples — who really don't get married anyway."
Same sex marriage was legalized in the state of Iowa on April 3, 2009. The U.S. Supreme Court legalized same sex marriage in all 50 states in June, 2015. 
A Twitter user by the handle of @dawall reposted the Tweets on Monday and tagged Terry Schilling, saying, "Weird, some of your best Tweets have gone missing. That's OK, we archived a few." 
Terry replied the same day to @dawall, "I will give you even better ones in the future!" and added a hashtag, "#womencanthavepenises." He followed with one more Tweet, "Would you like me to send some *really* offensive ones right now? I can get some good ones going."
Terry lives in northern Virginia with his wife and five children. He is executive director of the American Principles Project. The APP lists among its founding principles, "the union of one man and one woman as the definition of marriage," and "recognition of the reality of human beings as divided into two distinct and complementary biological sexes."
On Feb. 1, Terry tweeted, "Why do trans people pick the dumbest names after they transition?" The tweet was deleted Monday. But when Twitter user @TheJimmyFeeney retweeted a screen shot of it, Terry replied, "I'm going to develop a trans name generator. Will send to you once the site is up. Will be a ton of fun."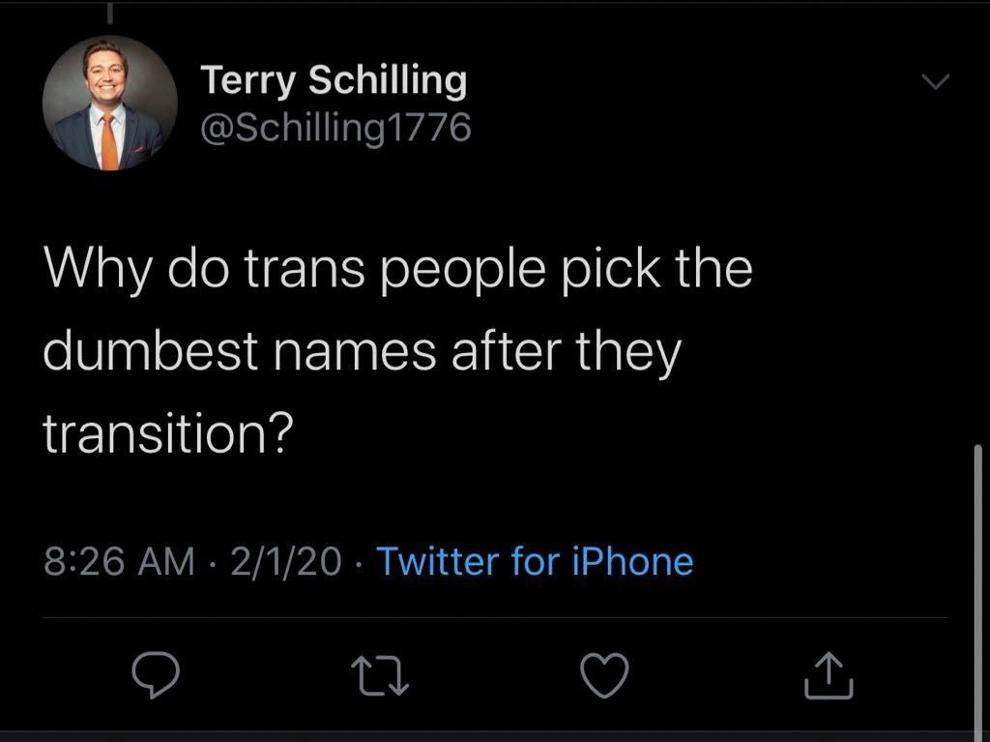 Terry said Wednesday that he stands behind his comments.
"I don't regret anything," he said. "It's all truth and it's how most Americans feel."
Terry explained that as executive director for the APP, he is concerned with how sex education is being taught in schools and the influence it has on children. He said his group is working toward legislation that will regulate online pornography and implement age restrictions, making it harder for children to access. 
"What we're building is the NRA for families," he said. "Just like how the National Rifle Association organizes gun owners in public policy and politics to protect their rights, we are organizing families and parents to protect their rights in public policy and make it easier to raise children (and) to protect your children."
Terry said his goal is to protect children from "really bad curriculum" being taught in schools, including "homosexuality, how to change your gender and teaching kids how to masturbate. Really graphic stuff we should be keeping away from kids.
"Obviously I was trying to be descriptive and really drive home the point of what we're getting at. 
"I regularly clean up my Twitter and delete everything that's older than a few months because I don't want to be taken out of context in the future," Terry said. "Ten years from now, people are going to read it and they're not going to understand what it means. They're going to think that I'm being serious. Lots of people clean up their Twitter on a regular basis."
Terry doesn't think his social media comments will negatively impact his father's campaign. 
"My positions and my Tweets have nothing to do with my dad's public policy platform," Terry said. "Although I will tell you, he is very concerned about what our kids are learning in school and doesn't think they should be learning how to masturbate. It's really important we keep our kids pure for as long as possible.
"The only way this would have a negative impact on the campaign is if voters actually want their kids to learn about very offensive forms of sexuality and being taught how to masturbate in school. That's the only way this will reflect poorly. I'm not worried about it; it is a Conservative primary.
"If you want your kids learning about homosexual sex and learning how to masturbate in school, by all means, vote for the Democrat — vote for (opponent Mariannette) Miller-Meeks." 
Terry said his Tweets are not homophobic. 
"I have many gay friends, I love them all," he said. "I hang out with them, I've had beers with them, I've smoked cigarettes with them.
"Most of my gay friends don't think kids should be learning about this stuff in school, either, which is why I feel even more confident this is not going to backfire or be a negative for the campaign.