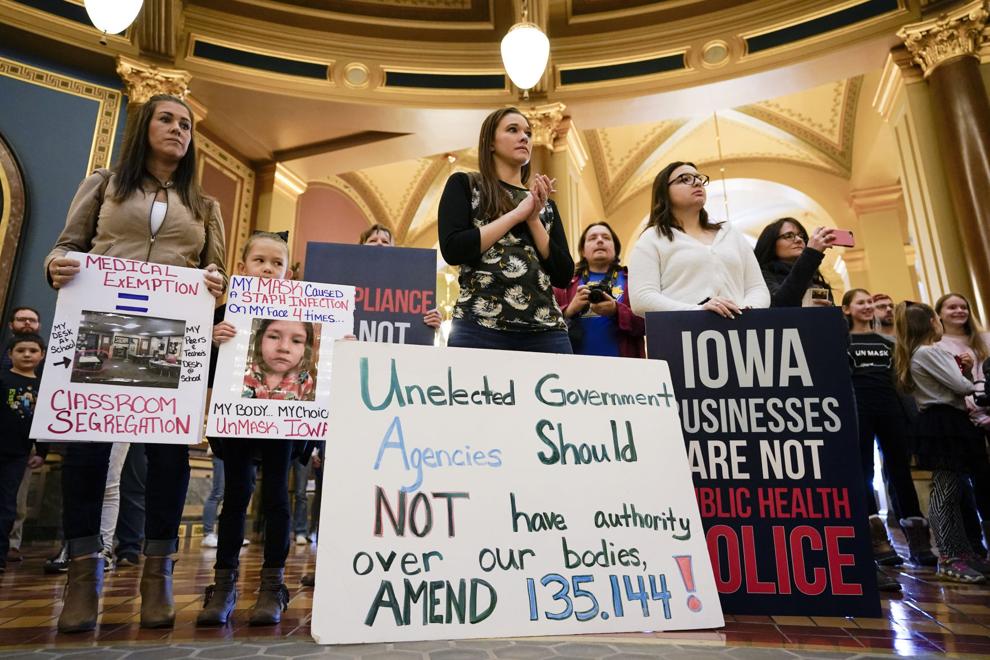 DES MOINES — State lawmakers returned to the Iowa Capitol on Monday, with the state still in the throes of the COVID-19 pandemic, to perform their work for this year's legislative session.
They were joined inside the Capitol by hundreds of anti-mask protesters.
Hundreds of people — few, if any of them wearing face coverings — packed into the Iowa Capitol rotunda on Monday and stood shoulder-to-shoulder as they protested mask-wearing and other public health measures designed to slow the spread of the new coronavirus and the COVID-19 pandemic.
Some of the protesters then went to the Senate and House chamber galleries to observe the short opening day's proceedings.
Iowa's current public health order requires people to wear masks in public when inside and around others for more than 15 minutes. But those orders do not apply to the Iowa Capitol, where state lawmakers are able to create their own rules of operation.
Collection: Read about the 2021 Iowa legislative session
2021 Iowa Legislative Session Preview Series
Tuesday, Jan. 5: Redistricting, tax policy and the budget
Wednesday, Jan. 6: Higher education
Thursday, Jan. 7: K-12 education funding and policy
Friday, Jan. 8: Criminal justice reform
Saturday, Jan. 9: Hot-button issues
Sunday, Jan. 10: The digital divide, and demographics of the new Iowa Legislature
Republicans, who with their majorities in the Iowa House and Senate determine rules for the chambers, decided against requiring face masks for visitors to the Capitol.
More than 4,000 Iowans and more than 374,000 Americans have died from COVID-19, according to state and federal data. The global pandemic has claimed nearly 2 million lives.
Iowa's COVID-19 numbers have been falling steadily since a dramatic spike in cases, hospitalizations and deaths during November and December. However, those numbers recently have started to increase again.
Infectious disease and public health experts are in near-unanimous agreement that maintaining at least 6 feet of physical distance from others and wearing face coverings are among the best ways to slow the virus' spread.
"Of course it's concerning anytime you've got large groups of people who aren't wearing masks. And indoors you know there's an elevated likelihood of coronavirus transmission. So that's a concern," said Senate Minority Leader Zach Wahls, D-Coralville. "This could all come to an end if the majority (Republicans) would decide that the statehouse should follow the same rules as everyday Iowans under the governor's public health emergency declaration."
The bureau sought comment or reaction from Republican Senate Majority Leader Jack Whitver, Republican House Speaker Pat Grassley, Republican Gov. Kim Reynolds, and the state public health department. As of early Monday afternoon, none had responded.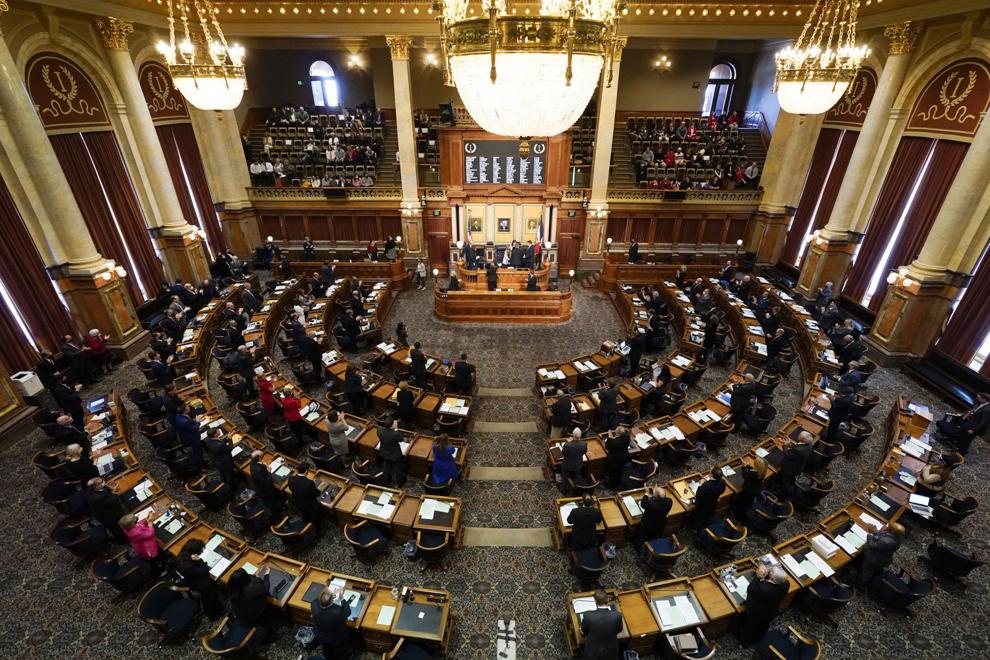 The first day of the session was typically ceremonial, with legislative leaders giving opening-day remarks.
Wahls began his remarks by asking all legislators to stand for a moment of silence and prayer for the Iowans and Americans who have died due to COVID-19. And he shared a story of a constituent, a Coralville U.S. Postal Service worker, who died from COVID-19.
"We all have stories just like this one in the communities we represent. We will all carry the scars of this pandemic with us for the rest of our lives and as we get back to work for the people of this great state," Wahls said.
Whitver also mentioned the pandemic. He said Republicans' conservative budgeting practices prepared the state to weather any financial storm due to the pandemic, and talked about the strain the pandemic has had on businesses and people who live in or have a loved one who lives in a nursing home.
"This year we are focused on putting our state back on a path of success and prosperity after all these challenges. To paraphrase Ronald Reagan: the best recovery plan is a job. This recovery plan means sticking to those same principles guiding us for the last several years."
Collection: Read about the 2021 Iowa legislative session
2021 Iowa Legislative Session Preview Series
Tuesday, Jan. 5: Redistricting, tax policy and the budget
Wednesday, Jan. 6: Higher education
Thursday, Jan. 7: K-12 education funding and policy
Friday, Jan. 8: Criminal justice reform
Saturday, Jan. 9: Hot-button issues
Sunday, Jan. 10: The digital divide, and demographics of the new Iowa Legislature