The Iowa Department of Public Health has been notified of 85 additional positive cases of Iowans with COVID-19, for a total of 699 positive ca…
Watch live as Gov. Kim Reynolds gives an update on the latest COVID-19 information. Reynolds is scheduled to speak beginning at 2:30 p.m.
DES MOINES — Leaders in the Iowa Legislature announced plans Thursday to extend the "pause" in their 2020 session until at least April 30 due …
Iowa schools are ordered to close through April 30, Gov. Kim Reynolds announced during her COVID-19 press conference Thursday.
Nearly nine out of 10 Americans are confident the nation will survive the coronavirus pandemic, according to new findings by the Grinnell Coll…
Two more deaths related to the novel coronavirus in Iowa were confirmed Thursday by state public health officials.
DES MOINES — The number of Iowans seeking government unemployment benefits after losing their jobs due to the coronavirus pandemic has topped …
IOWA CITY — Abortion providers dropped their request Wednesday for an emergency injunction against an order from Gov. Kim Reynolds banning "no…
State tax collections took a 9.1 percent plunge last month, but the decline was not due to the COVID-19 pandemic but rather a more aggressive …
Despite being impeached and his early handling of the coronavirus crisis, President Donald Trump's approval rating has improved over the past …
At the same press conference, it was also announced that 40% of businesses surveyed are looking at possible layoffs but trying to avoid them.
Deere & Company is not producing face shields in plants across Iowa, as Iowa Gov. Kim Reynolds asserted in a press conference Monday. 
It's pretty obvious that traffic volume on the state's roads has fallen as the number of Iowans working from home and shelt­ering at home has …
Iowa's largest public employees' retirement fund took a $6.4 billion hit when the COVID-19 pandemic and other factors plunged the U.S. stock m…
Gov. Kim Reynolds said Monday Iowa continues to see increased positive test results and deaths associated with the COVID-19 outbreak and she w…
The novel coronavirus is on a trajectory to peak in Iowa during the next two to three weeks, according to a state public health official.
Iowa Workforce Development announced Monday that employees unable to work for COVID-19-related reasons won't have to use available paid leave …
A temporary ban on surgical abortions in Iowa as part of the state's response to the novel coronavirus pandemic is being challenged in court.
Linn County has recorded its first death as a result of the novel coronavirus as the number of positive cases in Linn and Johnson counties con…
I will never forget Dean Borg, for myriad reasons. But one reason stands above the rest.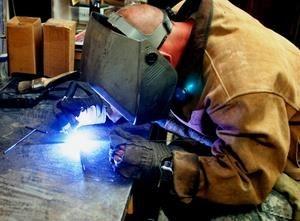 J & J Machining, Welding & Fabricating
Iowa's courts are still operating, even if only at emergency levels, the chief justice of the state's Supreme Court said Friday.
Effective immediately, children do not have to accompany the adults picking up grab-and-go meals at Iowa's 303 meal sites, most of them at K-1…
Local officials do not have the authority to issue shelter-at-home orders for their communities, Gov. Kim Reynolds said Thursday, likely endin…
U.S. Sen. Amy Klobuchar's husband has been released from a hospital where he was being treated for low oxygen and pneumonia as a result of the…
Waiters, waitresses, bartenders, hotel employees and other workers in Iowa's accommodation and food services industries who were idled due to …
Iowa Democratic Party officials say they are using Wednesday's six-year anniversary of Iowa Republican Sen. Joni Ernst's "Squeal" advertisemen…
Gov. Kim Reynolds said Wednesday there's no need to impose stringent shelter-in-place restrictions as long as Iowans continue to abide by volu…