At the Friday morning ribbon cutting for the new multipurpose arena in downtown Mason City, the mood was one of celebration. Celebration of where things had been, where thing stand now and where local officials hope things will go.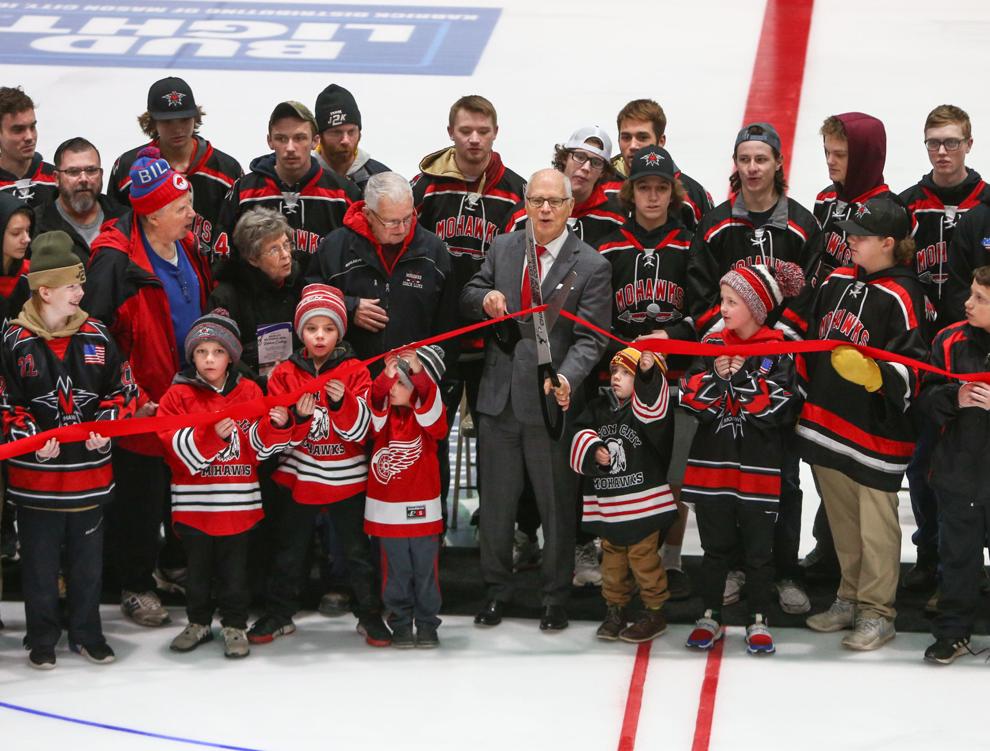 Of those who spoke, Mason City Recreation Superintendent Brian Pauly gave the most apt summation of how much things had developed in the course of a year and change. He pointed out that, 383 days ago, those in attendance would've been standing in a decommissioned J.C. Penney store looking at dust and concrete. Instead, they had new boards, new glass and fresh ice to take in.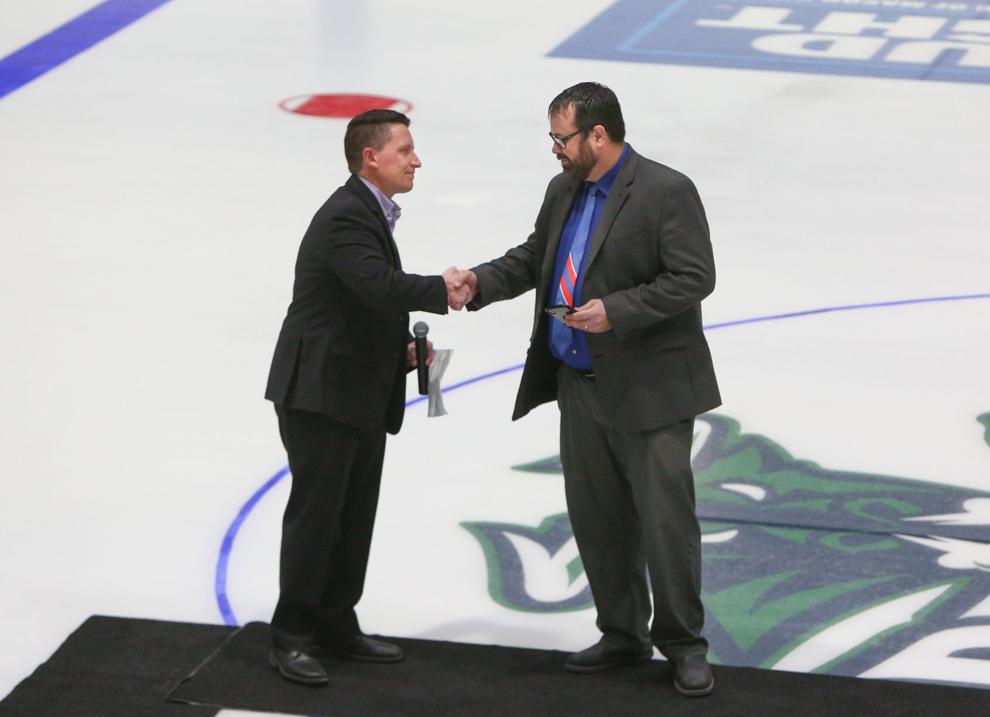 That mood carried over to those gathering in the arena as well. 
Resident Jack Hull was surprised by the finished product. 
"It's better than what I thought it was gonna be. I didn't think it was gonna be this grand of a scale," he said. Though he isn't a seasoned hockey vet, Hull said that he fully intended to catch a game and show up for the Sunday free skate.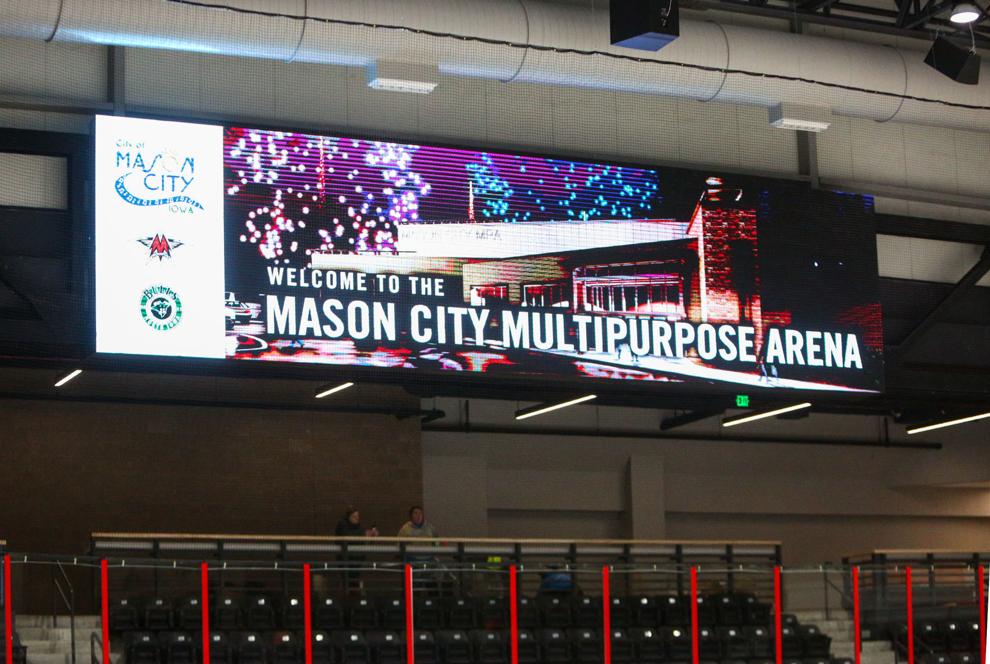 So, of course, if the uninitiated in the audience were excited, the hockey folks with long memories were more than excited. 
A longtime coach, the 86-year-old Hanna was around in the earliest days of hockey in Mason City. He remembers when the teams had to play on outdoor rinks behind the old Sears building in town. To get the right amount of ice, the rink would have to be flooded by the parks department. Hanna got to do the first skate at the arena on Thursday afternoon and was elated to be back.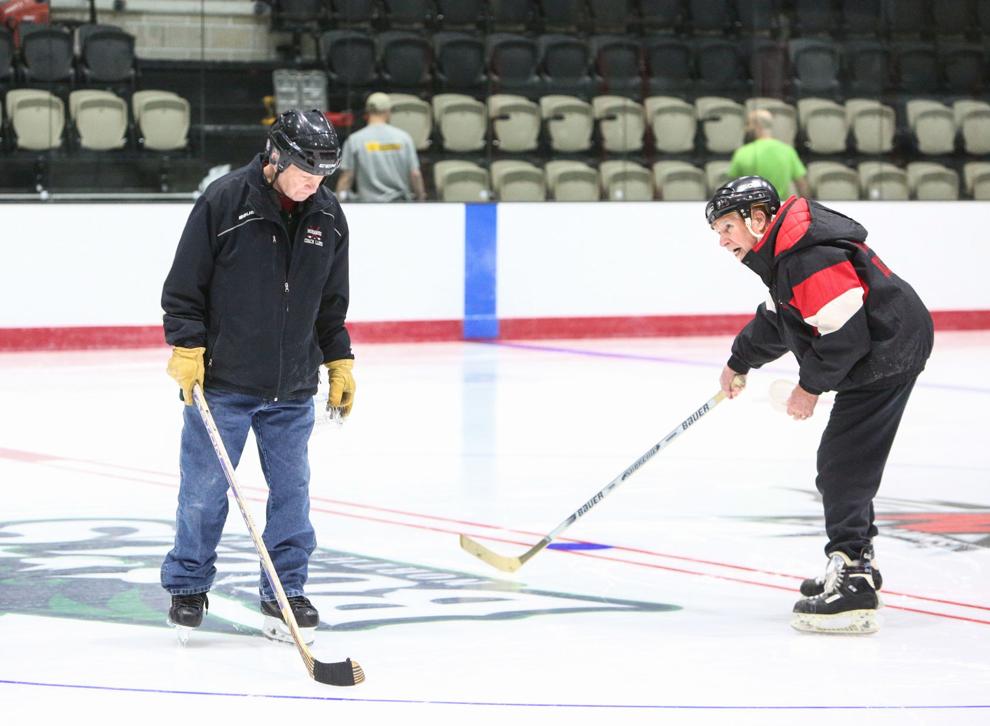 "For me it was quite an experience because I haven't skated in three years but it was wonderful to get on the ice," Hanna shared. Before he did laps around the new rink, Hanna got to put melted snow from the old arena at center ice of the new place to pass the memories.
"It's just a progression. We've got a lot of old memories and now we're going to make some new ones."
Part of that progression for Mason City Youth Hockey is to lock in the rest of its sponsorship opportunities to satisfy its part of the lease agreement with Mason City. 
At present time, it still needs sponsors for the arena naming rights, the ice naming rights, the training and shooting room and the Zamboni, which are multi-year items that total about $1.7 million. 
Mason City Youth Hockey Association President Steve Crane isn't worried about it. Crane recently said that the process has been going well and that they've had nice responses from potential donors while also noting the kind of undertaking such a campaign can be. 
"It's a big commitment so it takes a little time for people to decide what they want to do," he said. 
In the shorter term, there's still lighter work to be done as events start happening. 
Workers need to do some touch-up painting throughout the arena, the locker rooms have to be finished off and the entrances await completion.
Since the work officially began in February, the city had to address about $1 million in work change orders for the $14 million-plus project. But such orders aren't wholly uncommon.
According to one study of over 12,000 projects, conducted by the Independent Project Analysis (IPA) group, on average, over 35 percent of all construction projects will have a major change order at some point during the process. 
But in listening to city officials at the event, that all registers as an inevitability.
It's something already settled.
As City Administrator Aaron Burnett put it: "It was an ambitious goal but we made it happen."
What a Globe Gazette News+ membership can do for you:
A deeper examination of local issues than you'll find anywhere else.
Two products in one – not everything that's in the print edition of the Globe Gazette is on our website, and not everything on our website is in the print edition.
Access to newspapers.com archives dating back two years.
The ability to carry your local news with you and receive alerts instantly as news unfolds.
Advertising that frequently gets you deals you won't find anywhere else.
Reach Reporter Jared McNett at 641-421-0527. Follow him on Twitter and Instagram at @TwoHeadedBoy98.