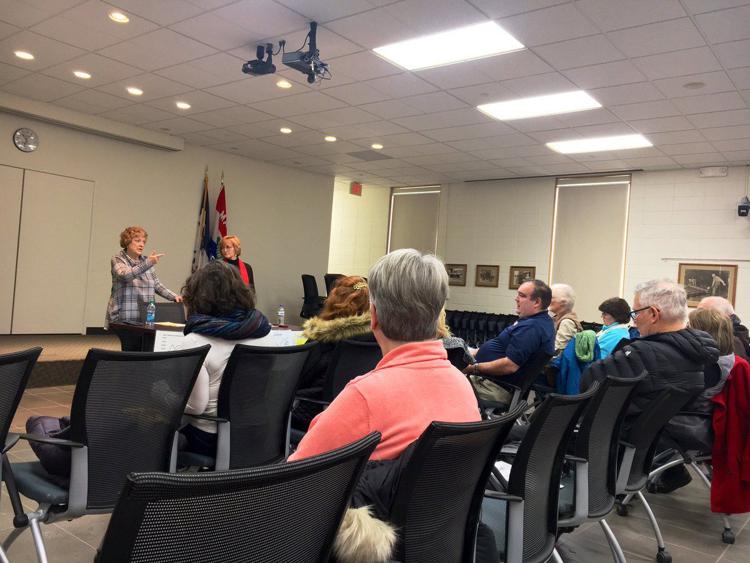 At the start of State Senator Amanda Ragan's (D-Mason City) and State Representative Sharon Steckman's listening post at the Mason City Public Library on Saturday morning, Ragan made a point to say that the state legislature's session would be over and done with in no time.
"These 100 days are going to go really fast," Ragan said. And there would be a lot brought up and discussed and voted on in those 100 days. 
So in their legislative preview for the year, Ragan and Steckman covered a lot of ground.
Medical services
Healthcare came up the earliest in the discussion, especially around the matter of EMS services. 
"That takes a rig out of Mason City," Sachen stated. 
Which is why Sachen, Ragan and Steckman then made clear that making EMS an "essential service" would mean governmental bodies would have to provide EMS. They said outright that they would like to put an initiative into the Iowa Code. 
Mental health
One continuing issue for EMS services across the state, as well as the broader community, is the issue of mental health. 
You have free articles remaining.
According to Sachen, mental health is such an issue for EMS that it's often even surprising to him.
"I could not believe the numbers of mental health transports for EMS," Sachen said.
The Iowa chapter of the National Alliance on Mental Illness has reported that Iowa's mental health ranking is mixed, especially when it comes to the availability of mental health services. 
Steckman said that at least one fix that could work, early on, is making sure that schools have more on-site counseling. 
But both her and Ragan also acknowledged that funding for two mental health bills they helped pass was lacking. Which they believe would need to change before finding a more permanent, effective solution.
Schools
As for the whole of the school system and education, there was concern from the audience that the communal approach to educational commitments and opportunities is slipping. Which Ragan responded to by saying that not only is it important to invest in students but their instructors as well.
"That's the most important thing in the classroom," she said. 
One thing that Steckman said had weakened that particular resource was a series of state-level changes to collective bargaining that union activists maintain unfairly classified different kinds of public workers and raised barriers to union dues collection and re-certification. She went to add that "Things get cut because public education isn't being prioritized."
Summing up the progress made and the improvements still needed, Ragan again told the crowd: "Quality education is our best investment."
What a Globe Gazette News+ membership can do for you:
A deeper examination of local issues than you'll find anywhere else.
Two products in one – not everything that's in the print edition of the Globe Gazette is on our website, and not everything on our website is in the print edition.
Access to newspapers.com archives dating back two years.
The ability to carry your local news with you and receive alerts instantly as news unfolds.
Advertising that frequently gets you deals you won't find anywhere else.
Looking forward in 2020
From sports to entertainment to government and more, here's what you can expect so far in the new decade.
Reach Reporter Jared McNett at 641-421-0527. Follow him on Twitter and Instagram at @TwoHeadedBoy98.