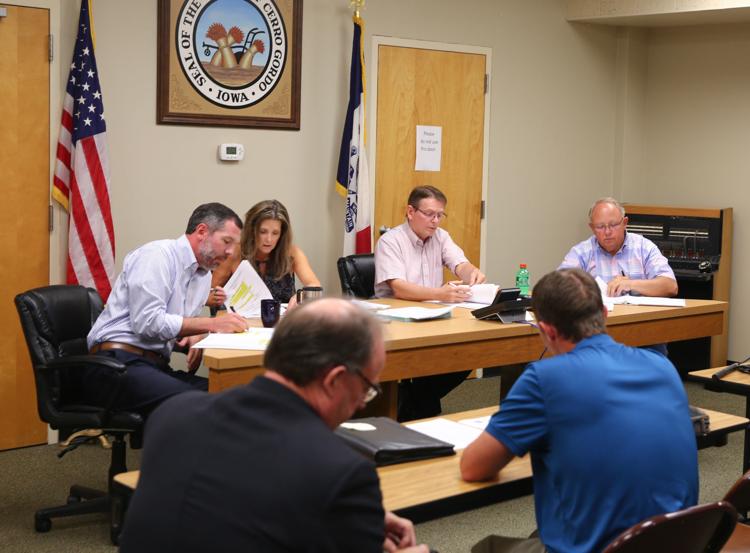 In one case, the board was there to decide whether or not to adopt salary recommendations for county-level elected positions. With the other, the three-member panel of Casey Callanan, Tim Latham and Chris Watts had to decide on tweaking the county's dock assignment policy and the attached fees. 
Both were unanimously approved. 
Compensation
With those adoptions, elected county officials will receive a 2.75% pay increase. That was decided on by the Cerro Gordo County Compensation Board, on Dec. 13, and will not include the board supervisors themselves (as per a motion from Callanan that got a 3-0 vote of approval). 
In approving the freeze, Watts reflected on the recent history of the board and restated a campaign promise of his.
You have free articles remaining.
"It's now been four years in a row that the county supervisors have taken this action," Watts said.
Five salaries will shift as a result of the board's decision including the county: attorney, auditor, recorder, sheriff and treasurer. Attorney will go from $126,768 to $130,254. Auditor changes from $83,116 to $85,263. Recorder ticks up to $80,263 from $78,116. Sheriff goes from $106,113 to $109,031. And treasurer bumps up to $80,263 from $78,116. 
Dock fees
Anyone in Cerro Gordo County with a public dock assignment can expect a change for 2020. 
Fees now will total $200 per assignment which Cerro Gordo Planning and Zoning Administrator John Robbins said is more in line with Clear Lake public dock fees. Before, it would be $50 per hoist and $250 per dock.
According to Robbins, such fees had never been reviewed since the Iowa DNR first allowed the county to offer public dock assignments. 
Along with evenly distributing fees among those with assignments, Robbins said that he expected the move would provide extra revenue for staff time and administration of the county docks. 
What a Globe Gazette News+ membership can do for you:
A deeper examination of local issues than you'll find anywhere else.
Two products in one – not everything that's in the print edition of the Globe Gazette is on our website, and not everything on our website is in the print edition.
Access to newspapers.com archives dating back two years.
The ability to carry your local news with you and receive alerts instantly as news unfolds.
Advertising that frequently gets you deals you won't find anywhere else.
Looking forward in 2020
From sports to entertainment to government and more, here's what you can expect so far in the new decade.
Reach Reporter Jared McNett at 641-421-0527. Follow him on Twitter and Instagram at @TwoHeadedBoy98.