A long-running Mason City mystery might now be solved. 
Wednesday afternoon, Mason City Police arrested Doran Maklenburg, 47, on three counts of unauthorized possession of an offensive weapon that they believe is connection with the loud booms that have been heard all across town.
"We're extremely confident (of the connection) and it took awhile to get this evidence to the point we could make an arrest," Mason City Police Captain Mike McKelvey said. "Hopefully residents of Mason City will get a good night sleep now."
Court filings assert that Maklenburg "knowingly, and without authorization" possessed a bomb containing an unknown gas that could cause an incendiary explosion which qualifies it as "an offensive weapon." Possession of such a weapon is a Class D felony which is punishable by up to five years' imprisonment and a fine of between $750 and $7,500. 
While the arrest was made on Wednesday, the court filing alleges that the precipitating incident occurred at 4:14 a.m. on Sept. 21. Maklenburg was jailed but has since been bonded out according to McKelvey. 
"If or when it goes to trial, people will see what we have," he said.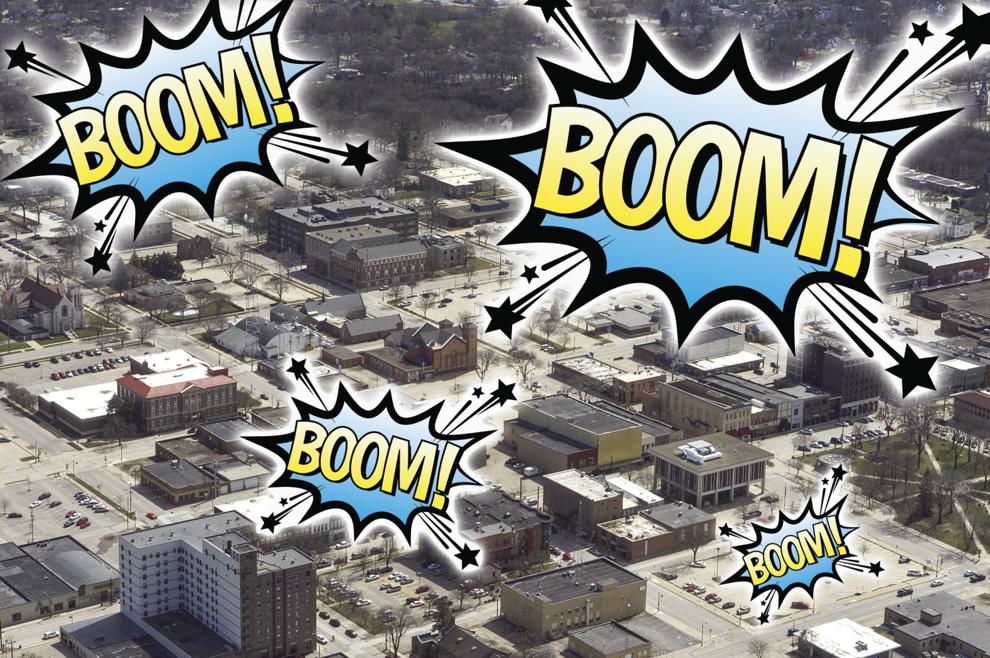 Over the course of the saga of the booms, residents around town have had a number of explanations for culprits as well as locations. 
Some people would insist they only heard it in the southeast part of town, while others insisted it was farther north. Even the intensity of the boom isn't wholly agreed upon.
"In a couple of cases we have found that they have had a business or industrial cause, in one case we found one person who had made a homemade firework, and many of the rest we are unsure about," Mason City Police Chief Jeff Brinkley said in Dec. 2019. 
The booms were a constant source of speculation on the North Iowa Rant & Rave Facebook page. On there, commenters mapped booms at or near: Ninth Street Southeast, North Madison Avenue, East Park, 12th Street Southeast, South Virginia Avenue, North Kentucky Avenue, the Southside McDonald's and the entire east side of town. 
What a Globe Gazette News+ membership can do for you:
A deeper examination of local issues than you'll find anywhere else.
Two products in one – not everything that's in the print edition of the Globe Gazette is on our website, and not everything on our website is in the print edition.
Access to newspapers.com archives dating back two years.
The ability to carry your local news with you and receive alerts instantly as news unfolds.
Advertising that frequently gets you deals you won't find anywhere else.
Crime and courts news in September
Crime and courts news from the Globe Gazette this month:
Jared McNett covers local government for the Globe Gazette. You can reach him at Jared.McNett@globegazette.com or by phone at 641-421-0527. Follow Jared on Twitter at @TwoHeadedBoy98.