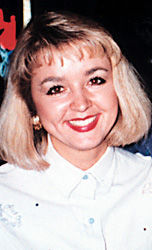 Every year at this time, memories of Jodi Huisentruit are stirred again. 
It was June 27, 1995, when she disappeared, apparently while on her way to work as a morning anchor for KIMT-TV. It was determined she had been inducted.
But her disappearance remains unsolved.
Every so often, new "clues" are produced, such as was the case of a Minneapolis TV station late last week. The station's reporter said their new information could possibly help officials in their ongoing investigation. We hope so because everyone wants to believe that Jodi just might be alive somewhere. And if not, that at least the mystery can be solved for the sake of her family and friends.
If there's any comfort to be taken from it all, it's that Jodi won't be forgotten. Not here, anyway.
Friends, fans and simply those who simply care remembered Saturday by completing her trip from near her apartment to KIMT in a "Walk for Jodi: Finishing the Journey."
And although she has been declared legally dead, Mason City Police Chief Mike Lashbrook said department is "still very committed to this investigation and will always be until Jodi is found and whoever is responsible is held accountable."
Somewhere, we believe someone knows what happened to Jodi. For the sake of decency and mercy to her family, we hope they tell authorities what they know and, if it comes to that, accept the consequences.