Brandon Ketchum's treatment by the VA in Iowa City included "shortcomings" that may or may not have contributed to his death by suicide, according to a report released Thursday.
The Office of Inspector General for the Department of Veterans Affairs, or VA OIG, has been reviewing Brandon's treatment for a year. The thrice-deployed Davenport veteran died July 8, 2016, just hours after being told the psychiatric unit at the VA hospital in Iowa City was full.
Several members of Congress demanded an inquiry, including Iowa U.S. Sens. Joni Ernst and Chuck Grassley, Republicans, and U.S. Rep. Dave Loebsack, a Democrat.
The OIG's office concluded that it is "difficult to determine" to what extent, if any, "shortcomings" in Brandon's treatment at the VA contributed to his death.
Members of his family asked Thursday for time to absorb the contents of the report before commenting on it.
The report listed several process recommendations, based on the shortcomings identified during the year-long review. Specifically, the OIG recommended the VA more closely follow policies, regarding follow-ups when veterans fail to show up for appointments; updating mental-health treatment plans; and making sure a coordinator is assigned to every veteran in treatment.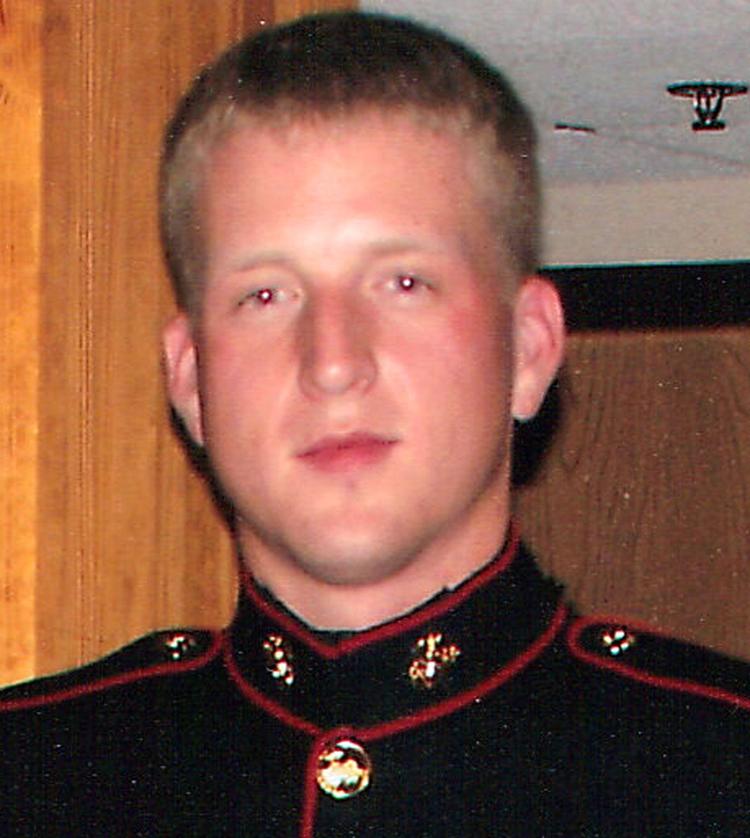 Additionally, the report indicated that the psychiatrist who last saw Brandon did not have a complete picture of his mental-health status at the time, because Brandon walked out of the appointment.
"The patient's final appointment with his psychiatrist was the day prior to his death, during which he reported experiencing a recurrence of certain MH (mental health) issues and requested inpatient admission," the report states. "The psychiatrist documented that the patient denied other active problems in need of attention. The psychiatrist told the patient the inpatient unit was full and that he would 'probably not' be admitted, as his treatment could be started on an outpatient basis.
"Though not documented, the psychiatrist told us the patient declined his offer to remain in the outpatient MH (mental health) clinic while receiving treatment for his reported MH issue. Documentation in the EHR (electronic health records) shows that the psychiatrist inquired about the patient's finances and his caregiver girlfriend's request that he have a VA (Veterans Affairs) payee, asking the patient for his thoughts on the matter.
"The patient responded, saying 'My thoughts about it don't matter. They are going to do what they want to do. They won't let me come in the hospital to get help, but they'll take my money.'
"The psychiatrist documented that the patient then 'abruptly' left the appointment prior to completing the full session, and that the psychiatrist followed him to his car in an effort to re-engage him in care. The psychiatrist noted in the EHR (electronic health records) that the appointment lasted only a few minutes. He also documented 'I don't find an indication for hospitalization, though I was not able to make a complete suicide risk assessment due to veteran leaving the appt [sic] prematurely.'
Brandon Ketchum's name is headed for the U.S. Congress.
"The psychiatrist documented, and phone records confirm, his two attempts to reach the patient by phone later that day and once the afternoon of the following day."
By then, Brandon was gone. His girlfriend, Kristine Nichols, discovered his body in the bedroom of his home on the morning of July 8.
The OIG concluded that the psychiatrist who last saw Brandon followed VA policy, adding that missing information from outside sources abbreviated the doctor's ability to fully evaluate him.
"We found that the patient requested inpatient MH admission the day prior to his death and was not admitted," the report states. "The psychiatrist's decision not to admit the patient was within acceptable practice based on the information available to him at the time.
"However, if the admitting psychiatrist had been aware of the extent of the patient's psychosocial struggles, as discussed later in this report, the psychiatrist may have decided to admit the patient. Moreover, the psychiatrist made a good faith effort to re-engage the patient after he abruptly left the session."
Information that was not supplied to the doctor included details of struggles Brandon was experiencing in personal relationships and indications others had that he was considering suicide.
The report also details Brandon's several-year history with mental-health treatment through the VA, including at least three previous suicide attempts. He was diagnosed with PTSD prior to his third deployment, and he "likely" suffered a traumatic brain injury during his last deployment. He had multiple hospital admissions and experience with residential treatment.
Not only has spring come and gone, but it's been nearly a year since Sgt. Brandon Ketchum su…
Brandon was "flagged" several times for being at high risk for suicide. He once was accused of making threats to the VA and was picked up by police and admitted to residential treatment, according to the report.
While his interactions with the VA were ongoing and widespread, documentation of his treatment was lacking. Specifically, the OIG pointed to several issues the VA has since agreed to correct:
• From 2013 to 2015, Brandon had four separate treatment plans, "... however, those plans were not updated following a number of significant events."
You have free articles remaining.
• Protocol was not followed when Brandon missed scheduled appointments. Policy requires VA staff to make and document three follow-up calls when veterans miss appointments.
• The VA system failed to assign Brandon a mental-health treatment coordinator after he switched treatment locations. Coordinators are critical in the treatment process, according to the report.
The report also elaborated on specific "shortcomings," including:
"Another note from a counseling session after the patient reported depression indicates that the patient 'was agreeable to seeking VHA (Veterans Health Administration) support and preventing things from becoming worse' and that the patient agreed to speak with his psychiatrist regarding medications to help treat depression. Other than having the psychiatrist co-sign the note and noting an appointment over a month away, the EHR (electronic health record) does not contain documentation of plans to ensure the patient connected with his psychiatrist to address his depression.
"Several days later, during a nurse's visit to the patient's home, the patient shared that he was 'not in a good place.' Despite repeated expressions of despair to individual clinicians, the treatment team was not brought together to discuss the patient and/or update his treatment plan."
In the end, his doctor categorized part of the problem with Brandon's treatment was the difficulty in getting to the bottom of his symptoms.
"About a month prior to his death, the patient reported an exacerbation of depression and told his psychologist, 'I haven't felt this depressed in a couple of years,'" according to the report. "His psychiatrist explained that in complex cases such as this, it is difficult to sort out depression versus symptoms of PTSD. The psychiatrist stated his intention to address the patient's depression if the truncated final appointment had continued."
On Thursday afternoon, Grassley, Ernst and Loebsack, along with Sen. Ron Johnson, R-Wis., responded to the report in a joint statement:
"This case is a tragic example of why we must do better for our veterans. It also illustrates the importance of having independent watchdogs at federal agencies. Inspectors general review agency work and point out problems that need to be fixed and ensure that policies and procedures in place are adequate.
"In this case, the inspector general report made four recommendations (including a post-suicide review recommendation) to improve mental health treatment for veterans going forward, but could not determine if these shortcomings impacted Brandon's care. With an average of 20 veterans committing suicide a day, the VA must do everything in its power to extend help before it is too late.
"When it comes to caring for these brave men and women, there is no room for error. We expect the VA to implement the recommendations thoroughly and carefully, and we intend to make sure the VA does so."
The director of the Iowa City VA Health Care System, Judy Johnson-Mekota, offered assurances she is taking the OIG recommendations seriously.
Brandon Ketchum should have never been in Iraq. The U.S. Marine Corps veteran should have ne…
"On behalf of the Iowa City VA, I want to express my sympathy and condolences for the family of Mr. Ketchum," she said in a statement Thursday. "My thoughts are with them today. I am committed to always strengthening our suicide prevention program, and recommendations such as this OIG report only help us to improve in those efforts. As a health care system we are committed to continuous improvement as part of our daily work, and we welcome the opportunity to better serve our Veteran patients and their families."
In Brandon's final Facebook post, just hours before he died, he clearly didn't think the VA was interested in serving him.
"They gave up on me, so why shouldn't I give up on myself?" he wrote. "Right now, that is the only viable option given my circumstances and frame of mind."
That tormented frame of mind led those who love Brandon to write in his obituary that he "lost his battle with PTSD."
His brother, Brad Ketchum, also a combat veteran, lamented in the weeks following his death, "Maybe they could have saved him this time. But what about next time?"
Members of Iowa's congressional delegation want to know why an Iowa veteran who committed su…
Brandon's family and close friends knew as well as the VA that he had been existing on an emotional battlefield for several years. Victories were followed by defeat. And the cycle repeated.
Neither the VA nor anyone else could save Brandon, ultimately. And we'll never know whether those procedural shortcomings contributed to his death.
But we do know that his death now has contributed to progress in the system that is charged with helping veterans like him. I'm told Brandon would like that.