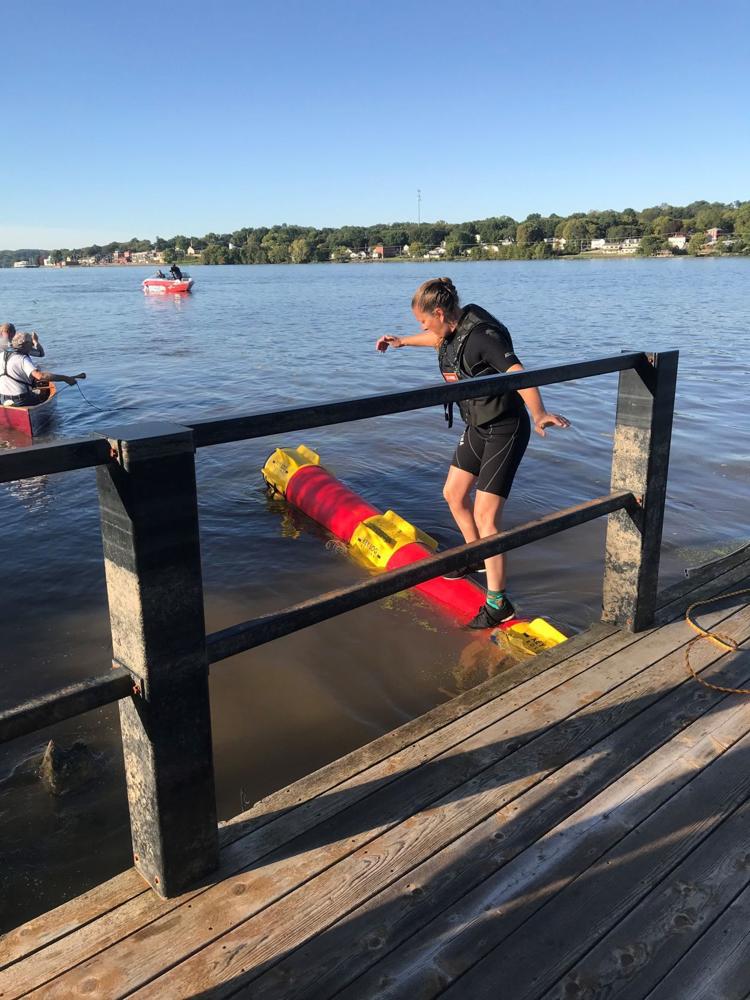 It took almost a year of planning to arrange it, but on Thursday morning, it took Alissa Wetherbee, a professional timber-sports athlete from Maine, just over 30 minutes to travel from Port Byron to LeClaire by crossing the Mississippi River on a rolling log.
It was the first known attempt by anyone to make the crossing while balancing on a rolling log.
Wetherbee completed the feat on a synthetic KeyLog that weighs 65 pounds when empty, but nearly 600 pounds when filled with water — the same weight as a real log.
The log was roped to a canoe loaned by Navarro Canoe Co. of Rock Island, which provided stability and guidance in the river's fast current. Wetherbee's husband, Mike, was one of two men in the canoe, and also the logistics planner for his wife's ambitious feat.
The Wetherbees are founders of Axe Women Loggers of Maine and Pro Timber Sports LLC, which promoted the event. The Axe Women are billed as "IronJills" who compete in professional timber sports such as ax throwing and logrolling. Their motto is: "Be inspired by people doing exceptional things."
The idea to logroll across the Mississippi was born last year when the Wetherbees were traveling Interstate 80 on their way home from a competition in Nebraska.
Stopping for a meal at Riverview Roadhouse in LeClaire, they talked to members of the staff, watched the river roll by, and learned about Tug Fest, the annual celebration that includes a tug-of-war conducted across the Mississippi between LeClaire and Port Byron.
Mike then jokingly asked Alissa if she could logroll across the river. So the whole plan was started by a joke, she said.
They started researching and found no records of anyone attempting such a stunt on the river. So they decided to perform the feat.
You have free articles remaining.
They needed good weather and a calm river to pull it off. Alissa had both on Thursday, allowing her to realize a goal before continuing on to West Virginia for a weekend competition.
Her training consisted of hours of logrolling on lakes and ponds and even the Atlantic Ocean. She trained while keeping up with the Axe Women's busy summer schedule on the road, which will be winding down for the season in mid-October.
"We wanted to say that we did it. We like doing what we can to promote timber sports — it's a great sport, and not a lot of people know about it. We have amazing ladies on our team who work so hard, so anything we can do to promote timber sports, and women in sports, we like to do," Alissa said.
Spectators gathered along the shore and on the dock at Tuggers in Port Byron, where Alissa launched her logroll, and a crowd greeted her as she stepped onto the dock in LeClaire.
A Coast Guard vessel was on standby, and barge companies were alerted of the stunt in advance, allowing Alissa to safely complete her goal to reach Iowa's shores in less than an hour.
Scott Hildebrand of Moline heard about the planned performance and arrived early at Tuggers' dock to take some photos and get a chance to chat with the Wetherbees.
"I love to go and see different things in the Quad-Cities," he said, noting that it was a first to hear about someone wanting to logroll across the river.
Wetherbee has been logrolling for 18 years, participating in family-friendly shows, teaching others the sport, and winning competitions. The website states that The Axe Women of Maine are world champion choppers, sawyers, logrollers and ax throwers. They perform all over the United States and Canada at agricultural fairs, music festivals, professional baseball games and woodsmen's shows. They even held an impromptu ax-throwing clinic in LeClaire.
The Wetherbees celebrated the accomplishment Thursday afternoon by having lunch at Riverview Roadhouse, where it all began nearly a year ago to the day. 
Alissa joked that despite her practice and experience, the river was stronger than she imagined. "I don't think I'll do it again," she said with a laugh.