As Democratic and Republican members of the House of Representatives held marathon hearings on Wednesday to debate impeachment articles against President Donald Trump for his alleged attempts to trade Ukrainian aid for dirt on 2020 Democratic candidate Joe Biden, the Globe Gazette asked North Iowa residents in person and online where they stood on impeachment, and whether or not the president was guilty of what he had been charged with.
U.S. Rep. Abby Finkenauer, a Democrat who represents Iowa's 1st Congressional Distrist, will support two articles of impeachment against Presi…
On the Globe Gazette's Facebook page, there were more than 70 comments on the prompt: "How would you vote [on impeachment] and why?"
Some of the North Iowans who tended to favor impeachment argued that the president should be impeached because "No one is above the law" and he had overstepped his executive authority.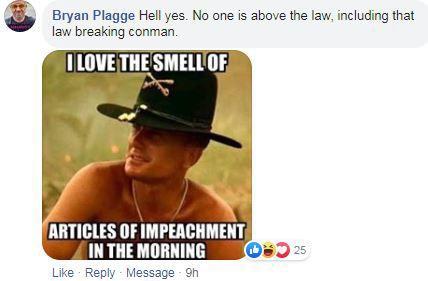 North Iowa residents who were asked, in-person, about impeachment tended to be more evenly divided on the matter. 
Dan Young, who identifies as a Republican but takes issue with some of the president's behavior, said that he was against the impeachment process because Democratic representatives hadn't conducted a fair process. 
You have free articles remaining.
"(They're) trying to get him out of office any way they can. Nobody's gotten to see the accusers." 
As for what he would characterize as an impeachable offense, Young believed that more proof for a clearer offense was needed. 
Dennis Root, who identified as a Democrat, said that he supported impeachment largely because of the transcript of President Trump's call to Ukrainian President Volodymyr Zelensky where he is alleged to have pressured the Ukrainian leader into looking into former-Vice President Biden and his son Hunter. 
"When he said, 'I've got a favor to ask,' that's all he had to do," Root declared. 
Another resident, who declined to give his name but identified as an Independent, said that he really doesn't support the government as a whole but thinks that Congressional Democrats have "a strong case" against the president. "He's made so many mistakes and I think this is just adding to it." 
Not everyone asked about the impeachment efforts had a real position to stake. Some were nonplussed about the allegations or uninterested in the affair altogether.
Of those who were asked about the issue and declined to respond, at least two said that they "haven't been following it." Which isn't wholly uncommon. Although there isn't a wealth of polling to get a sense of what percent of Americans are and aren't paying attention to the hearings, there is anecdotal evidence of citizens throughout the country not tuning in.
Whether or not that particular stance shifts remains to be seen.
What a Globe Gazette News+ membership can do for you:
A deeper examination of local issues than you'll find anywhere else.
Two products in one – not everything that's in the print edition of the Globe Gazette is on our website, and not everything on our website is in the print edition.
Access to newspapers.com archives dating back two years.
The ability to carry your local news with you and receive alerts instantly as news unfolds.
Advertising that frequently gets you deals you won't find anywhere else.
Reach Reporter Jared McNett at 641-421-0527. Follow him on Twitter and Instagram at @TwoHeadedBoy98.