Bicyclers in North Iowa will be happy to know there is another event where they can hop back in saddle and pedal for a good cause happening this week.
The environmental activist group Citizen Climate Advocates of North Central Iowa and Environment Iowa are hosting a weeklong event called Bike for Climate Week of Action.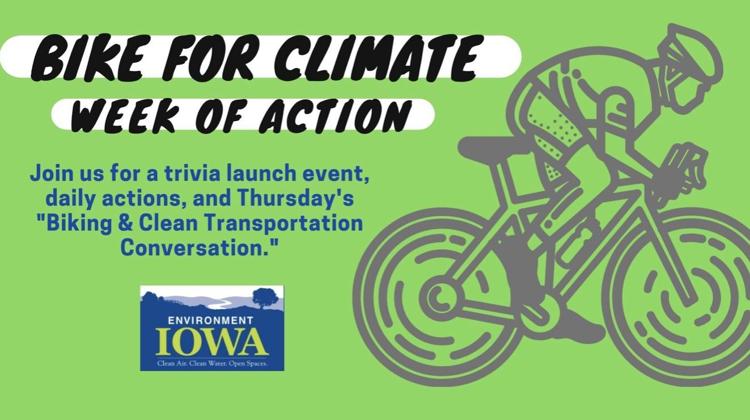 "I think it's an event that can bring people together from whatever background that they care about biking for and get everybody thinking of why we care about it and why we need to advocate together," said Joshua Swift, event organizer for Environment Iowa.
The Bike for Climate Week of Action started Monday and will be held from until Sunday. The week will feature daily events and actions where participants can post on social media, sign petitions, call elected officials and participate in trivia and educational events. Participants can take the pledge online to get involved.
In a time that normally is consumed by RAGRBAI, Swift thinks that now is the best time to hold an event like this. That, paired with the fact that active transportation methods are more an important than ever, makes for what Environment Iowa hopes is a perfect event.
"Pollution from cars is a major contributor to Global Warming and single occupancy cars taking short trips are incredibly inefficient," Swift said. "We really believe that Americans should have more options other than getting in their car to get to work or to run errands recreation-wise. We know in Iowa, July is usually a pretty big month for biking and cycling."
Biking and Clean Transportation Conversation, is scheduled on zoom for Thursday at 6 p.m. Participants who choose to get on their bikes are encouraged to post on social media using the hashtags #Bike4Climate and #ActOnClimate.
Swift says in a more digital and socially distant world, these zoom meetings and social media postings are important.
"I'm just excited to talk about something that so many people can relate to," Swift said. "Whether they're just somebody that likes getting outdoors on the recreation side, somebody that likes doing it for their health and fitness or somebody who likes getting on their bike as much as possible in order to cut back on their carbon footprint."
Environment Iowa has nine different co-sponsors for the event. One of them is the Citizen Climate Advocates of North Iowa. Don Hofstrand, a leader for the CCA, is encouraging his nearly 450 members to get out and get involved in this initiative.
"Basic premise here is Environment Iowa is trying to get the word out about climate change and get people involved in it," Hofstrand said. "I just thought if we can help them, we'd be happy to do that."
The CCA is a volunteer group in North Iowa that has taken aim at combating climate change and making other groups, businesses and citizens aware of the initiative. So when Hofstrand was made aware of this event, he jumped at the opportunity to get his group involved.
"We just like to work with other groups who are trying to do basically the same thing we are," Hofstrand said.
Be the first to know
Get local news delivered to your inbox!